Nothing held a low-key surprise announcement at MWC 2023 last week. The mini-event happened at Qualcomm's booth, where a handful of media members gathered to witness the mysterious reveal. It had to be Qualcomm-related, so the Nothing Phone (2) made the most sense for the teaser.
That's what Nothing and Qualcomm ended up teasing. Nothing CEO Carl Pei confirmed that the Nothing Phone (2) will rock a flagship Snapdragon 8 Series chip. The exec didn't specify which model chip at the time, however.
Now, a week later, we know it won't be the brand-new Snapdragon 8 Gen 2 processor. And we know that thanks to an accidental confirmation from a Qualcomm exec.
Pei's unusual wording last week indicated that Nothing might not use the latest and greatest Qualcomm chip in the Nothing Phone (2). The CEO said that a Snapdragon 8 chip would power the handset, carefully avoiding any specifics regarding the model.
Qualcomm has made three Snapdragon 8 System-on-Chip (SoC) versions: 8 Gen 1, 8 Plus Gen 1, and 8 Gen 2. A fourth might always drop later this year if Qualcomm has an 8 Plus Gen 2 SoC on its roadmap.
Buyers waiting for a true flagship smartphone from Nothing should not expect a 2023 CPU to power the Phone (2). The British startup isn't quite there. The folks at 91mobiles were quick to capture a screenshot of a LinkedIn post where Qualcomm's Alex Katouzian confirmed the type of chip Nothing will use in its next-generation phone.
Katouzian is Qualcomm's SVP and GM of Mobile, Compute, and XR business unit. He must know what Nothing is doing with the next-gen phone. The exec deleted his post., but the screenshot below proves you can't really remove stuff from the internet once you've shared it.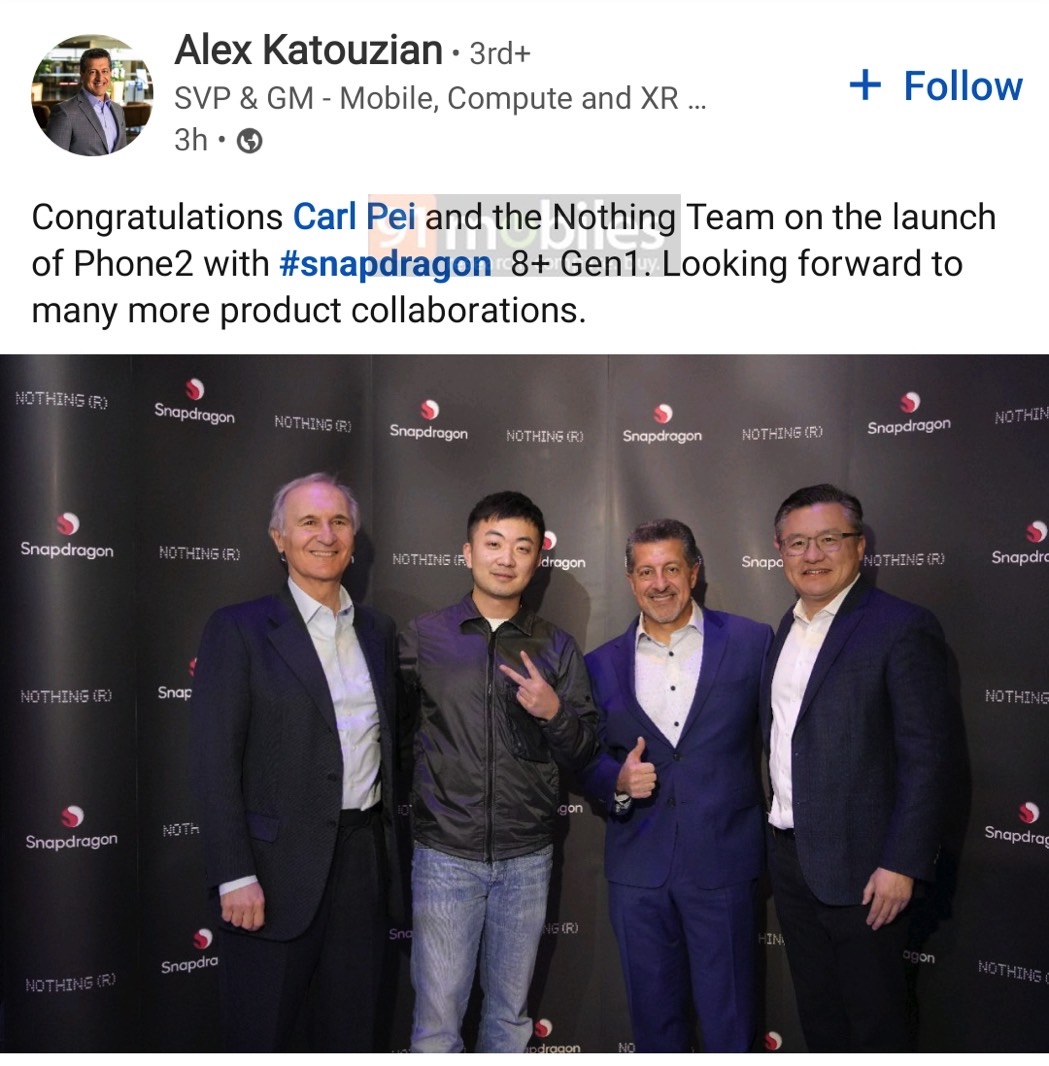 The Qualcomm exec said the Phone (2) will rock a Snapdragon 8 Plus Gen 1 chip, which will probably end speculation faster than Nothing would have wanted it. Katouzian might have made a mistake, but that seems unlikely.
The chip choice might be a disappointment for those people who'd love to see a Nothing handset that can match the power of the Galaxy S23 series. And the Snapdragon 8 Gen 2 is an amazing SoC for flagship Androids this year. Just check out this real-life Galaxy S23 Ultra vs. iPhone 14 Pro Max speed test.
But the Snapdragon 8 Plus Gen 1 is still a great alternative. It's the flagship processor that Samsung used for both 2022 foldables, the Galaxy Z Fold 4 and Flip 4.
Also, the chip choice should be good news for the Nothing Phone (2)'s price. The old chipset is more affordable, so the new Nothing handset shouldn't be as expensive as flagship phones like the Galaxy S23.
For example, the Realme GT3 phone, with a battery that recharges at 240W speeds, starts at $649. It's a 2023 flagship that rocks the same Snapdragon 8 Plus Gen 1 SoC. The base Galaxy S23 starts at $799. Meanwhile, the mid-range Nothing Phone (1) sells for under $500 in Europe and other markets.