One of the annoying things we have to deal with regularly is smartphone glare. But TCL developed a screen technology called NXTPAPER for tablets and smartphones, giving them a paper-like look similar to e-readers. And there's no glare at all, which is amazing. TCL further perfected the screen tech to introduce version 2.0 this year, which can be seen on the brand new 11-inch NXTPAPER 11 tablet that was just launched at MWC 2023.
And let me tell you, I'd buy this Android laptop just for the screen.
It's annoying to have to keep adjusting the display to avoid glare. This is something that always bothers me on my smart devices. It's not just outdoors, where the sun will surely impact your screen-viewing experience. Light bouncing off the screen indoors can be just as annoying, especially for someone like me, who is photosensitive and has a problem with light in general.
The following image I took at TCL's booth is all you need to understand how amazing NXTPAPER is. We have two 11-inch tablets sitting next to each other, and they're both brand new. TCL launched the Tab 11 and the NXTPAPER 11 at MWC in Barcelona, Spain.
I don't have to tell you which is which.
The image also shows one of the difficulties with taking photos at a show like MWC. There are so many annoying reflections you have to accommodate.
The image of the NXTPAPER 11 on the right is crisp and clear, and there's no light reflection whatsoever. The $249 tablet is great just for consuming content, whether it's video streaming or reading books.
NXTPAPER 2.0 tech is up to 150% brighter than the first version, reaching up to 500 nits. According to TCL, the screen reaches full brightness while exceeding TÜV Rheinland levels of blue light reduction. The tablet also auto-adjusts the screen temperature based on its environment.
The anti-glare functionality is achieved via a multi-layer screen design that diffuses light rather than altering it. Also, artificial intelligence helps out with color performance. AI Visual Boost makes the colors "bolder and more lifelike."
Aside from the 11-inch NXTPAPER 2.0 2K Full HD+, the Android tablet features a MediaTek Helio P60T processor, front-and-back 8-megapixel cameras, four speakers, Bluetooth 5.0, nano SIM connectivity, and an 8,000 mAh battery with 18W charging and reverse wireless charging support. The tablet also runs Android 13 out of the box.
The tablet is also incredibly light (462g) and thin (6.9mm), making it a pleasure to hold.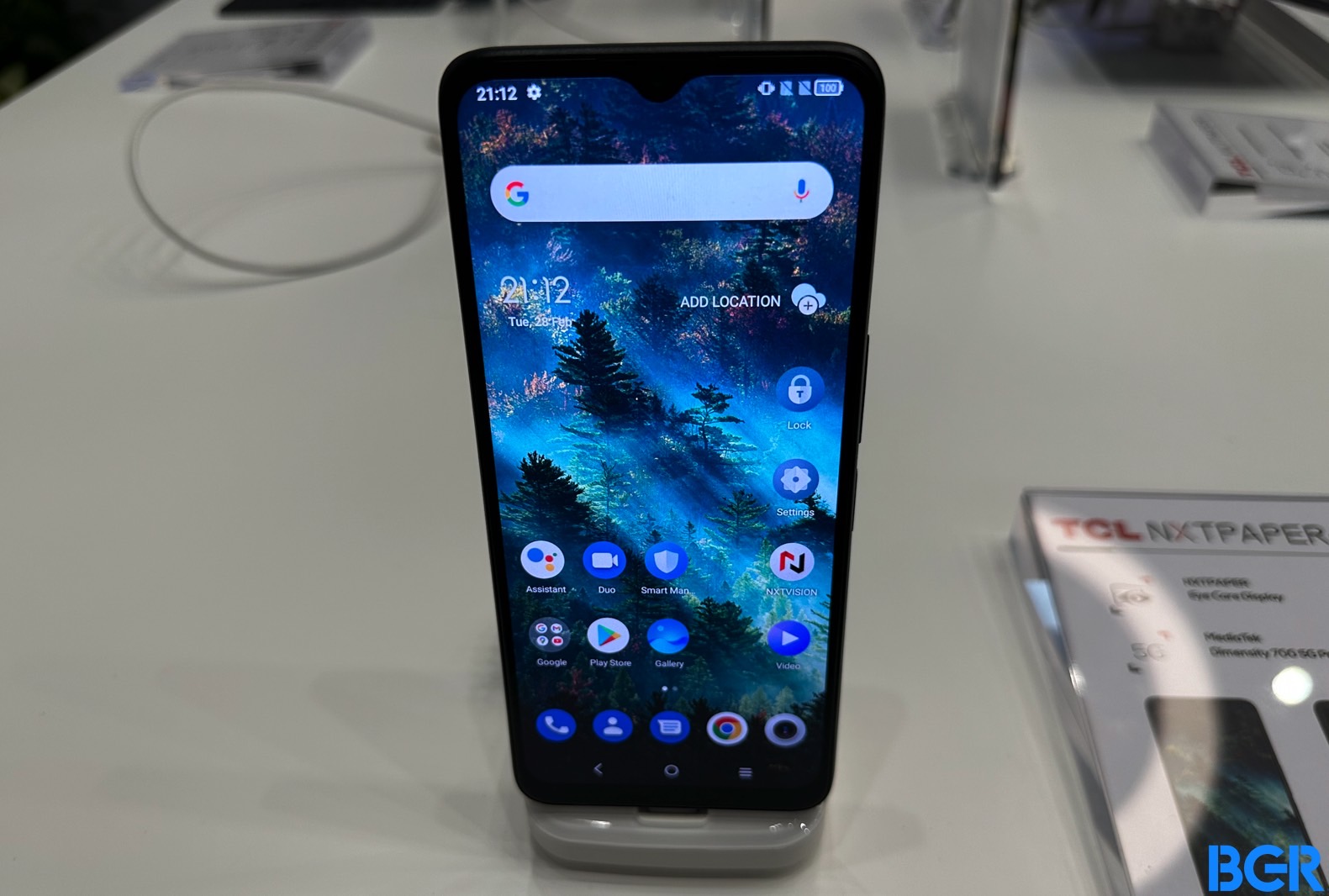 The TCL Tab 11 packs almost the same hardware as the NXTPAPER 11. But the 11-inch LCD screen means you'll only pay $179 for the cheaper model.
Interestingly, TCL also demoed NXTPAPER tech for smartphones at MWC 2023. But the NXTPAPER phone above is only a concept for the time being. If you are looking for affordable phones from TCL, you should check out the TCL 40 X, 40 X XE, and 40 XL models the company announced at the show.