Google is reportedly preparing to pitch buyers the idea that just a single-lens camera on the back of the Pixel 3 phones will deliver results just as good as two- or three-lens setups. But the same Pixel 3 is rumored to have a dual-lens camera on the front, which is puzzling enough. At the same time, companies like Huawei, Samsung, and Apple are already employing triple-lens cameras on their phones or rumored to do so. And HMD Global is doing something even crazier, according to a new leak: A Nokia phone with five cameras on the back.
The image below, discovered by IT Home, shows what appears to be the rear design of a Nokia-branded phone that has the model number TA-1094. The same model has been associated in the past with that mythical Nokia 9 flagship that HMD never launched.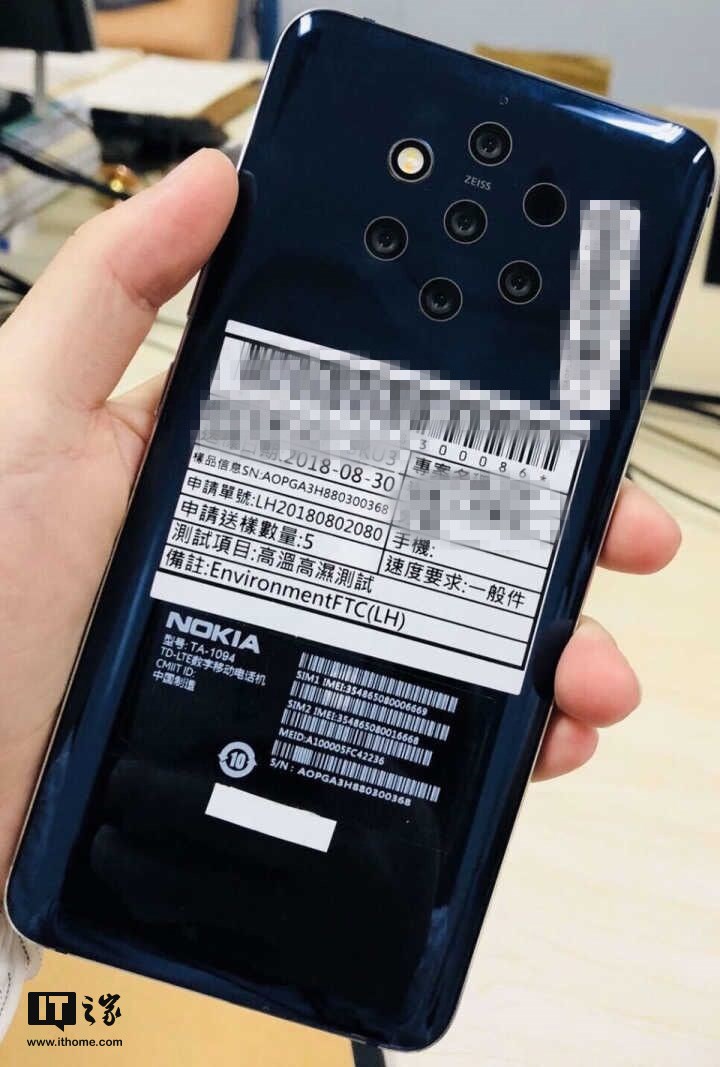 Not many details are known about the device in these images. We are looking at a rather large device and the phone would have to be of considerable size to accommodate the camera setup in the picture, which is made of five distinct lenses and a camera flash. It's unclear at this time what the extra cameras are supposed to deliver, aside from better zoom than everyone else in the business. The only triple-cam phone on the market right now is the Huawei P20 Pro, which does 3x optical zoom and 5x hybrid zoom. You can go up to 10x, but that's digital zoom.
We also know that HMD repurchased the PureView brand from Microsoft, although there's no indication PureView cameras are returning to Nokia phones. What's clear here is that the camera array in the prototype above has Zeiss optics in it.
While we wait for Nokia to finally announce the Nokia 9, we can tell you that at least a few triple-cam phones are scheduled to launch in the coming months, including the Huawei Mate 20 Pro and the Samsung Galaxy S10. The OnePlus 6T expected to debut next month is also rumored to receive a triple camera of its own.