The Nintendo Switch 2 is coming in the second half of 2024, rumors say. It's currently the most hotly anticipated console out there. But courtesy of Microsoft's own documentation from the FTC lawsuit, we know a brand new Xbox Series X should hit stores in late October 2024. The new Microsoft console has an exciting new design, 2TB of storage, a specs bump, a new controller, and the same $499 price tag.
With usual console leaks, such details would need months to be confirmed. But since this information comes from official Microsoft documents, the Xbox Series X refresh and the new controller are likely already in development. They will probably deliver the design and performance upgrades Microsoft details in its documents.
Found by The Verge, the slides detailing Microsoft's console plans might have been mistakenly added to the FTC vs. Microsoft case. Whatever the reason, the Xbox Series X redesign is out in the open, complete with almost everything else about the console.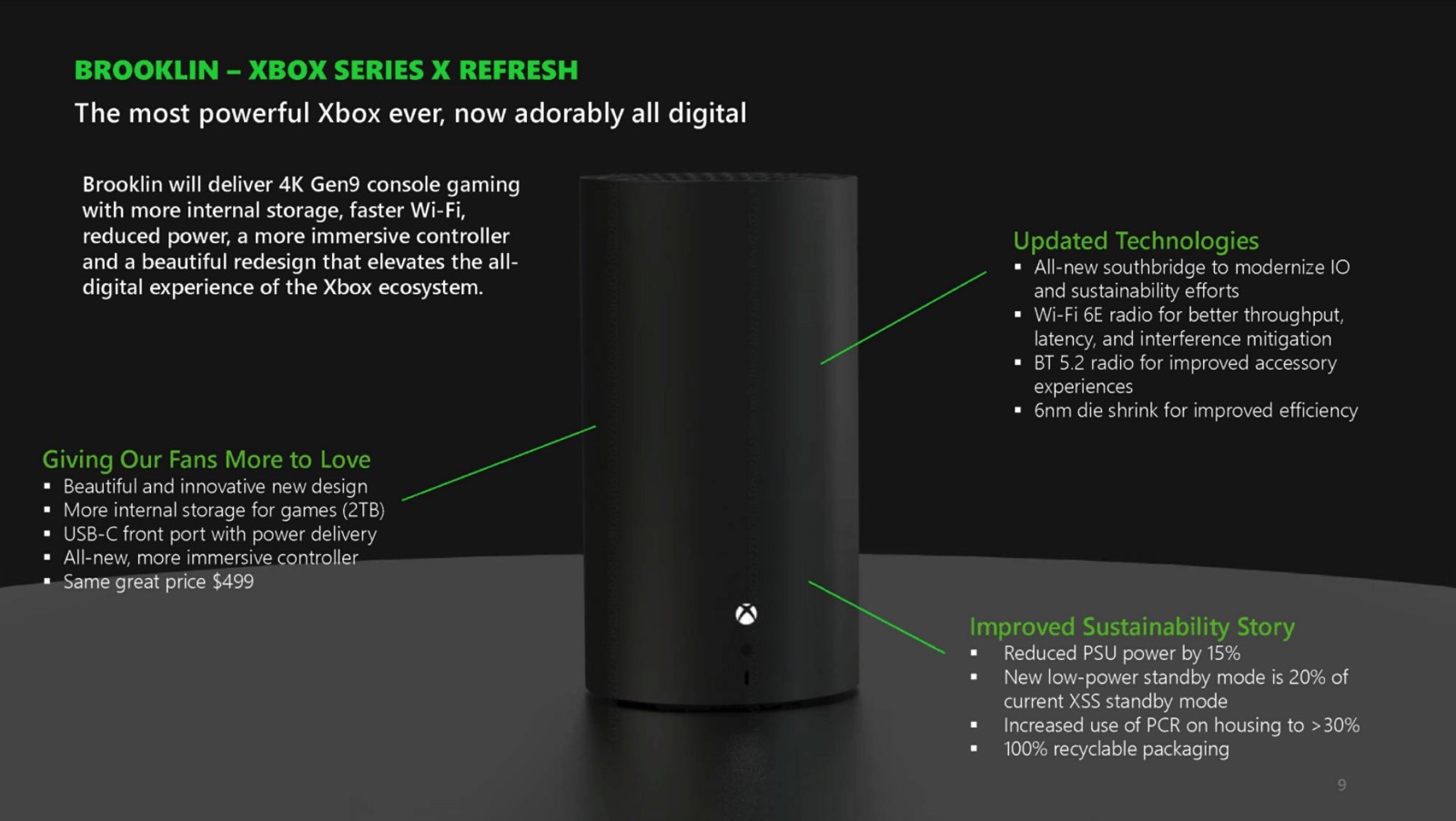 As you can see in the image above, the new console looks like a cylinder. It's a big departure from the current "fridge" design. The console also lacks a disk drive, but it'll ship with 2TB of storage. The console will also feature a USB-C port on the front.
Other specs improvements include a 6nm die to improve efficiency, 16GB of RAM, Wi-Fi 6E support, Bluetooth 5.2 connectivity, and a PSU power reduction of up to 15%. Dubbed Brooklin, the 2024 Xbox Series X will deliver up to 12TB in GPU power and support 4K gameplay.
According to a different slide, the new Xbox Series X will launch in late October 2024. Priced at $499, this will be Microsoft's best gaming offering next year. Microsoft will also release an updated Xbox Series S model in late August, per the same document.
Microsoft documents also include information about the new Xbox controller, Sebile. That's a code name, like Brooklin for the redesigned Xbox Series X. The new controller supports a direct connection to the cloud, Bluetooth 5.2, and Xbox Wireless 2.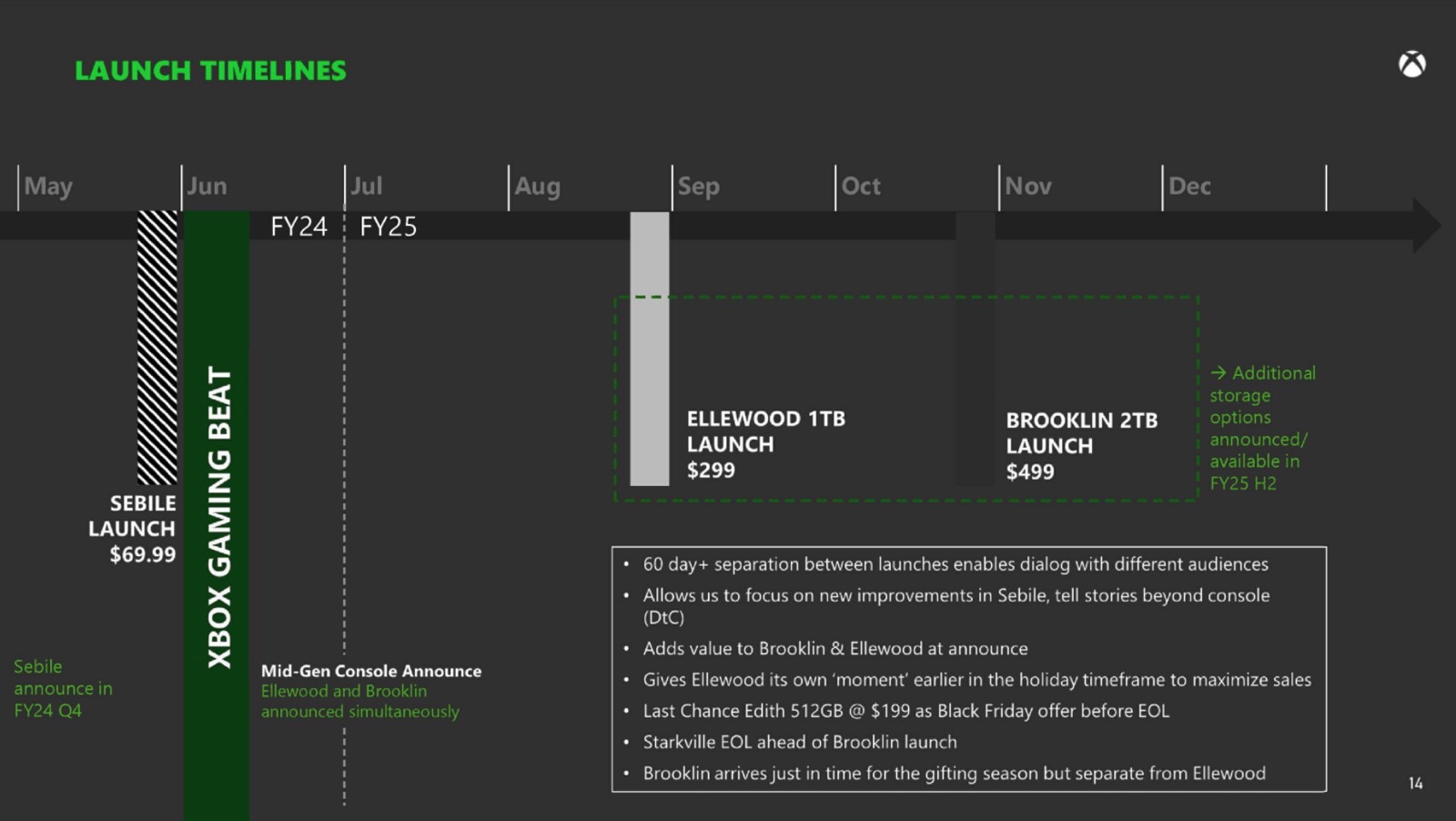 The company also lists a few interesting features for the new two-tone controller. It'll offer precision haptic feedback, VCA haptics that double as speakers, and quieter buttons and thumbsticks. As for the thumbsticks, they should be modular, whatever that might mean. Microsoft says they will have improved longevity and feature "continued build improvements."
The new controller will feature a rechargeable and swappable battery and support a "lift to wake" feature.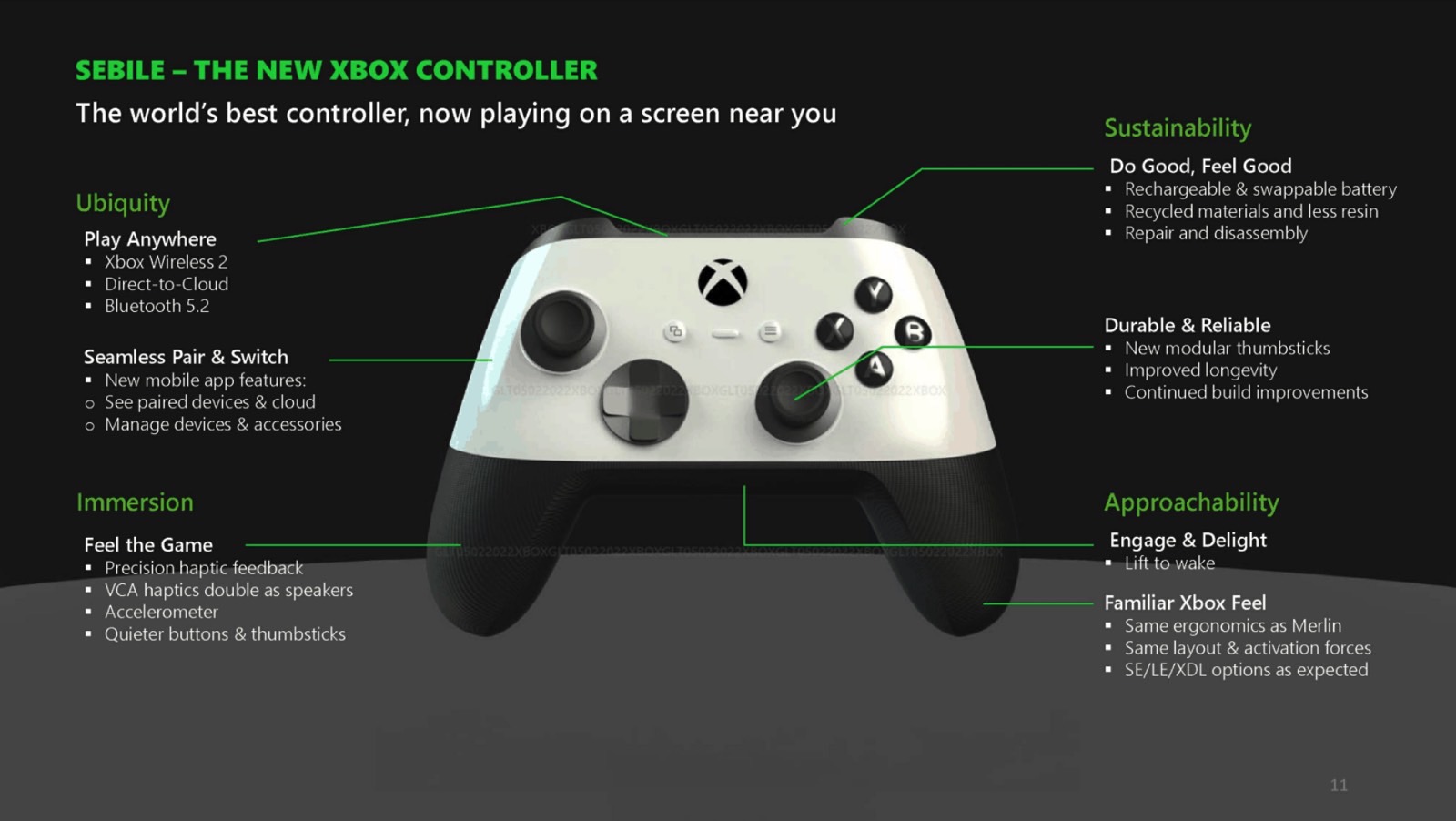 Sebile is coming in late May for $69.99, so you'll be able to get it and use it with your current Xbox consoles. The new Xbox Series X will ship with a Sebile controller in the box.