In the battle for online video supremacy, Netflix unquestionably has a leg up on the competition when it comes to original programming. In 2016 alone, for example, Netflix plans to introduce more than 600 hours of original content across every type of genre imaginable. All the more impressive is that Netflix anticipates a time when 50% of its library will be comprised of Netflix originals.
When it comes to overall customer satisfaction, however, Netflix's lead over the competition is shrinking rapidly. According to a new research report from UBS (via Business Insider), both Hulu and Amazon have experienced significant gains in this regard since 2014.
DON'T MISS: Meet the Pixel XL, Google's upcoming 'Nexus' phablet
Over the last 18 months, Netflix's customer satisfaction rate has remained somewhat stagnant with 59% of surveyed respondents indicating that they are "very satisfied" with the service. During the same time frame, Hulu's customer satisfaction rate jumped from 46% to 53% while Amazon's customer satisfaction rate jumped from 44% to 58%.
The chart below illustrates how quickly the customer satisfaction gap is closing.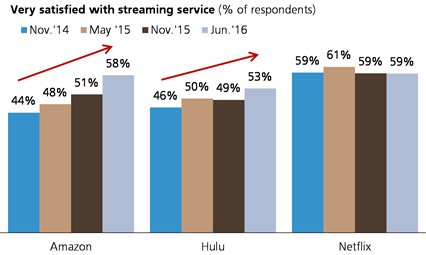 While Netflix obviously isn't going anywhere, the chart above illustrates that Netflix is facing stronger competition than ever before. It's certainly no secret that both Hulu and Amazon have extensive libraries of TV shows and movies, but both services have recently opted to more closely follow Netflix's lead and invest heavily in original content. Amazon in particular has enjoyed quite a bit of success in this regard, with the company's widely beloved series Transparent even winning the Golden Globe Award for Best Television Series (Musical or Comedy) last year.
Looking ahead, it stands to reason that the ability for Amazon, Hulu and Netflix to grow will hinge on their ability to roll out compelling original content that draws in viewers and keeps them hooked. To this point, UBS writes: "We also found viewers of Netflix's original series are growing, with roughly 40% of U.S. subs watching most or all episodes, up from ~31% a year ago."
Of course, there is an art, if you will, to rolling out original content, and even though Netflix aims to cater to every demographic, UBS questions if this strategy always pays dividends in practice. As an example, UBS points to the relatively weak reception of The Get Down — a hip hop musical — and The Ranch.
Again, the story here isn't that Netflix is on its way out the door. On the contrary, the main takeaway from UBS' report is that both Amazon and Hulu are learning how to play the content game more shrewdly with each passing month.