Over the past couple of weeks, I've been using Moonly, which I dare to say is the most complete app for anyone looking for all things astrology on the iPhone. It shows the Moon's rhythm and how it affects your life; you can find answers with tarot cards and rune knowledge, get inspired by daily affirmations, and even listen to meditations and sounds to help improve your mental health.
More recently, the app added a Birth Chart to make these experiences more personal so you can learn more about yourself. Unlike many apps, Moonly focused on Eastern astrology using Vedic astrology calculations.
The app's founder, Vitaliy Urban, says his goal is for people to "become more conscious, to get to know themselves better, to love and accept themselves in their uniqueness. We want to help them by giving them tools for self-development and self-improvement. And the Birth Chart is the most powerful tool for this."
Moonly has five different tabs, each packed with tools to help you understand your feelings and what could impact your day.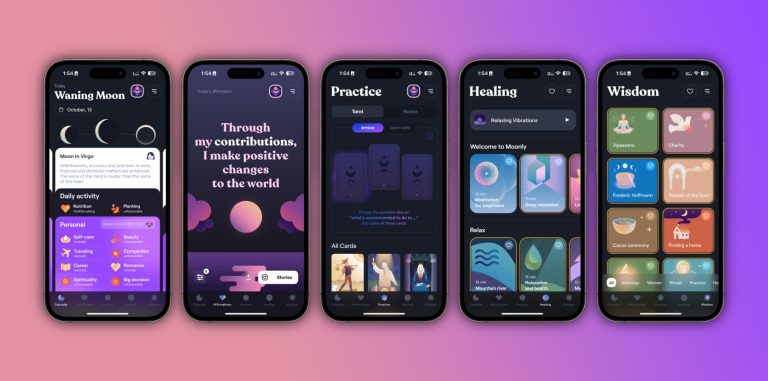 Calendar: It shows your daily activities and what you should be focusing on throughout your day. Should you focus on your career, a romantic interest, or a big decision you need to make? It uses your Birth Chart in addition to the phase of the Moon.
Affirmations: You can choose between six different categories to receive affirmation phrases. It's also a great widget to have on your iPhone Home Screen.
Practice: Ask a question using tarot or runes to understand how you should approach a matter. The apps give you three possibilities of how that card/rune could be interpreted, so even if you don't have the knowledge, Moonly helps you analyze the meaning.
Healing: Vibrations, mantras, and meditations that you can choose to practice. The app gives several options to help you work through emotions, family, relationships, etc.
Wisdom: These are several stories and tips to help you understand Vedas, astrology, chakras, and more.
Basically, for everything that you tap on Moonly, you can get an explanation – or share it online with others. The app is full of features, and with the new Birth Chart feature, it's easier to get personal recommendations and essential insights on how you perceive the world and vice-versa.
The app is free to download on the App Store but offers a subscription to unlock all the features. The Birth Chart is a standalone purchase you only need to make once. You can try the app for a few days before you start paying for it, too.