As we inch closer towards Model 3 mass production, still slated to begin in July, the number of Model 3 sightings out in the wild continue to roll in. Most recently, an eagle-eyed Tesla enthusiast spotted a brand new silver Model 3 near Tesla headquarters this week. The silver Model 3 spotting comes just a few short days after someone spotted a red Model 3. As it stands now, we've seen five different Model 3 colors out on the road thus far: blue, white, black, and of course, red, and silver.
Originally posted to Reddit, here's the silver Model 3 out for a little cruise. At this point, the final design is essentially locked in, with the company now increasing road testing on its highly anticipated mass market EV.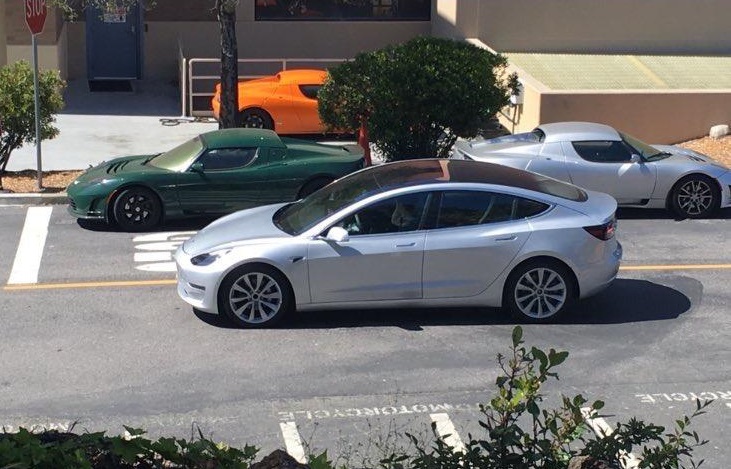 If all goes according to plan, Tesla will begin mass production in July and will begin delivering Model 3 units to early reservation holders before 2018. Incidentally, a new research note from Morgan Stanley analyst Adam Jonas claims that Tesla might be unable to actually deliver the Model 3 on schedule, hardly a ridiculous idea given Tesla's history of missing important deadlines. So even though Tesla maintains that it has learned from past mistakes, and even though Tesla claims that it's production process has become far more efficient, Jonas nonetheless believes that Model 3 deliveries may be non-existent this year while adding that Tesla will continue to burn through capital.
Jonas' note reads in part:
Following 1Q results, we have updated our model and now have a higher estimate of OP loss in 2017 and 2018. Following these adjustments (mainly higher R&D, SG&A and the impact of higher capex), we now expect Tesla to remain loss-making on a US GAAP basis until late 2019. Our estimate of cash burn for 2017 widens to $3.1 billion from $2.3 billion previously, taking our forecast of gross cash to under $1 billion by the end of 2018. By itself, these changes to our model would have taken our price target to $292… Our price target thus remains unchanged at $305, or roughly 6% downside from the current stock price.
Jonas also added that he expects Tesla's autonomous driving features won't be all that unique. "While shared autonomy may not be a winner-take-all game," Jonas writes, "we have an increasingly difficult time imagining Tesla as the dominant player and as a stand-alone company longer term… We expect much larger and more well-capitalized competitors to unveil strategies that directly address sustainable transport and mobility."
Suffice it to say, the next few months for Tesla will be incredibly interesting.