If you need to get in touch fast with someone who falls in the millennial demographic category, you're probably aware that you've got tons of communications options to choose from. Anything from email to Snapchat, iMessage, Instagram and the like. Younger generations of consumers practically live on their mobile devices.
Try to reach a millennial with a phone call, though, and it shouldn't come as a surprise that you'll likely be met with crickets. Millennials may live on their smartphones, but they despise using those devices to do the very thing they were first invented for — to actually talk (verbally) with other people.
A new survey from gadget retail site BankMyCell tries to unpack some of the reasons why that's the case and actually comes up with a pretty textured picture of why younger consumers love their phones but hate talking on them.
Some background on who was surveyed: BankMyCell talked to more than 1,200 respondents between 22 and 37 years old. All are from the US, and the survey was conducted from October 1 through October 31. Top of the list as far as reasons why millennials say they don't like to talk on the phone? It's "too time-consuming."
Said another way, they apparently don't like the fact that phone calls mean you have to go through the niceties of verbal conversation. Making small talk. Greeting and saying goodbye. All the things you can avoid, of course, with something like a quick text.
Blogger Hillel Fuld makes a similar point in this piece he wrote for Inc. magazine in recent days. While he doesn't target his comments specifically at millennials, here's how he nevertheless puts it: "It's simple: if you text or email someone, they can respond on their time. But if you call someone, they need to respond right now on your time. It's just inconsiderate."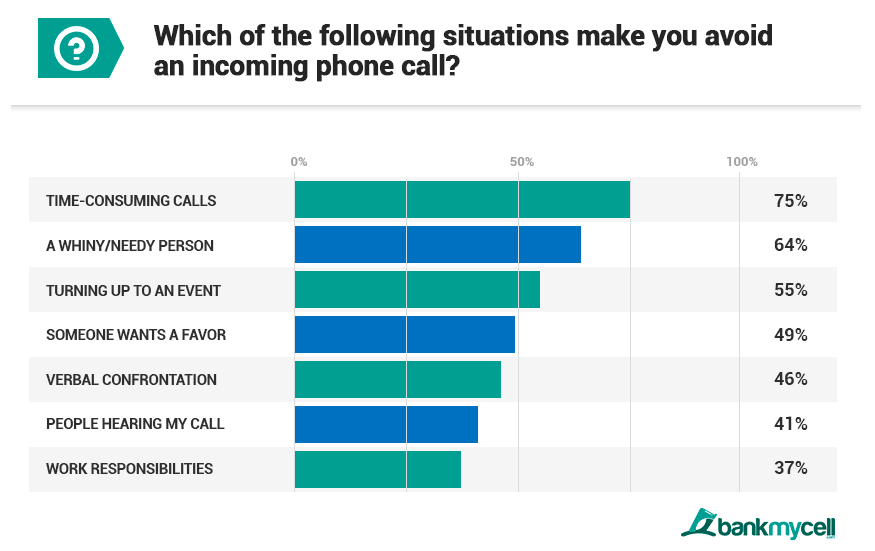 Interestingly, respondents to this survey say that when it comes to who they're most often dodging calls from — who it is they especially don't want to actually talk on the phone to — you'd think it would be work colleagues. Wrong. They're mostly avoiding friends and family. 81% of respondents also acknowledged that they often feel anxious about talking on the phone. Indeed, that they sometimes have to work up the courage to do so.
From the survey, "Being in front of a screen since they were born can attribute to people not having the ability to connect effortlessly with others. This particular phenomenon has a name (telephonophobia) and it's essentially defined by a mental anxiety of interacting with others on the phone. Almost one in five respondents have felt they have to prepare themselves before making a call.
"When you break this down you can see why people opt to hide behind emails and messaging. 'Am I going to come across bad or say something wrong?' When you talk to someone on the phone, you can feel vulnerable as you have less time to professionally convey your opinion or articulate your reply. Unfortunately, without people challenging themselves and hiding behind technology, they risk not developing these communication skills and becoming increasingly isolated."
The survey findings go on to refer to this demographic as "generation mute." It's because they've grown up in a digital age in which they've adopted alternate primary forms of communication, leading to a decline in voice calls. Certainly, the rise in robocalls, telemarketers and spam calls likely don't help.

All that said, the findings here if nothing else should serve as a reminder to put that phone down if you ever need to get in touch with a millennial. They're actually just a text away.