If the phrase "mechanical keyboard" conjures up images of diehard gamers stuffing Cheetos into their faces and then pounding synthetic cheese dust into the keys of a multi-colored backlit keyboard, you haven't met lofree. This keyboard flies in the face of everything you think you know about mechanical keyboards, offering a fantastic typing experience and cutting-edge keyboard technology hiding beneath a wonderfully retro design. You may have seen this keyboard pop up on a gadget blog or two over the course of the past few months, but now the company behind it is finally ready to begin taking orders.
The lofree keyboard is a wireless mechanical keyboard that works with any Mac, Windows PC, Android device or iOS device. It's styled after a retro typewriter, but it drags the designs of old into the future with a beautiful modern design.
Spherical keycaps are mounted on Gateron switches that sound very much like an old typewriter as you peck away. The caps feature ergonomic indentations that help ensure a perfect strike each time, and the keyboard itself sits on rubber feet that prevent it from sliding around your desk as you type. The rubber feet also angle the keyboard toward the user for optimal comfort while typing.
The lofree mechanical keyboard includes a built-in 4,000 mAh battery that the company says lasts for up to 15 months of usage with the backlighting turned off. That usage time is significantly decreased with the backlight on, of course. Here are lofree's estimates for usage per charge:
Bluetooth Working Time (Backlit Off): Around 15 months (Single Charge)
Bluetooth Working Time (Backlit 40%): Around 1584 hrs (Single Charge)
Bluetooth Working Time (Backlit 70%): Around 1008 hrs (Single Charge)
Bluetooth Working Time (Backlit 100%): Around 720 hrs (Single Charge)
The keyboard can also be connected to a computer and used in wired mode, in which case it charged while it's being used and never runs out of juice.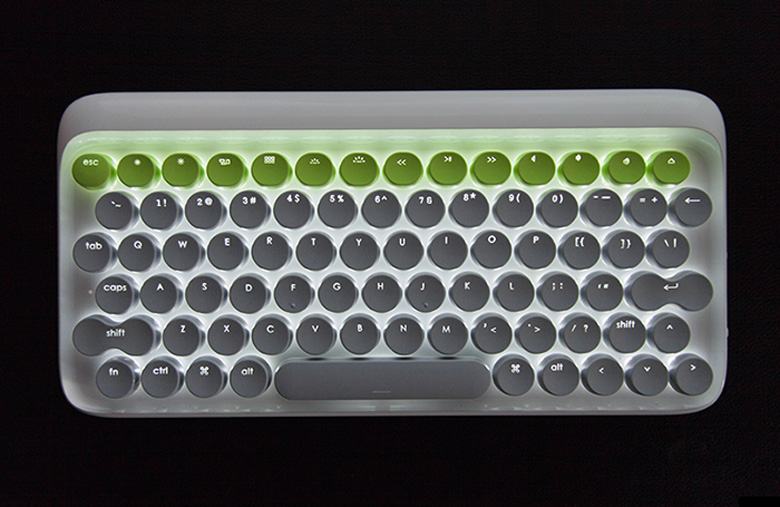 I've been testing the lofree keyboard for a short while now, and I like it a lot. Personally, I prefer short-throw keyboards so the lofree model isn't for me. I can still appreciate the gorgeous retro design though, and I found that this keyboard delivers on every promise its just-launched Indiegogo campaign makes. It's comfortable to type on, it's very solid, and it absolutely has the flair of an old-school typewriter.
The lofree campaign on Indiegogo has a "flexible goal" of $10,000, but that goal is meaningless as far as backers are concerned. The company says its keyboards will begin shipping in May regardless of how much money is raised by the campaign, and lofree already has a deal in place with Amazon, which will begin selling its keyboards the following month in June.
When the lofree keyboard launches on Amazon, it will cost $99. On Indiegogo, however, the first 2,000 early bird orders will get a keyboard for $74. Another 3,000 units are available at $79, and 5,000 more lofree keyboards are being offered for $84 each. The keyboard is available in three different colors during the campaign, and all Indiegogo backers will have their orders shipped in May.