The iPhone X's notch will play a huge role in the future of Android phones, and the first Android P developer release cements that idea. Google's next major Android update will support this particular display design. But even before Android P debuts, we'll see plenty of iPhone X clones launch with their own notch variation. In fact, here's a graphic that shows 20 different Android powered iPhone X clones in one image.
It's not just lesser known Chinese brands that are copying the iPhone X, but also more significant players in the business. Asus, Huawei, and even LG are on that list. All of them have announced, or are about to unveil, their own iPhone X-like handsets. A new report now says that LG's G7 — or whatever the company ends up calling it — will have a notch that can be hidden by the user.
What that means is that you'll be able to choose between full-notch and no-notch modes on the phone, not that there will be two versions of the handset.
Asus mocked the Fruit company during its MWC press event a few weeks ago, and said that the new Zenfone 5's notch will go away in apps. We've since shown you why Asus's approach is incredibly ugly and needs further polishing.
LG appears to have a similar solution in place, a leaked video suggested during MWC. Apparently, LG demoed the G7 behind closed doors, and a clip shows the phone's ability to hide the notch, presumably in Asus fashion. TechRadar can now confirm that the phone's software has an option that will allow G7 buyers to choose their desired screen experience.
Here are the two different notch modes side-by-side: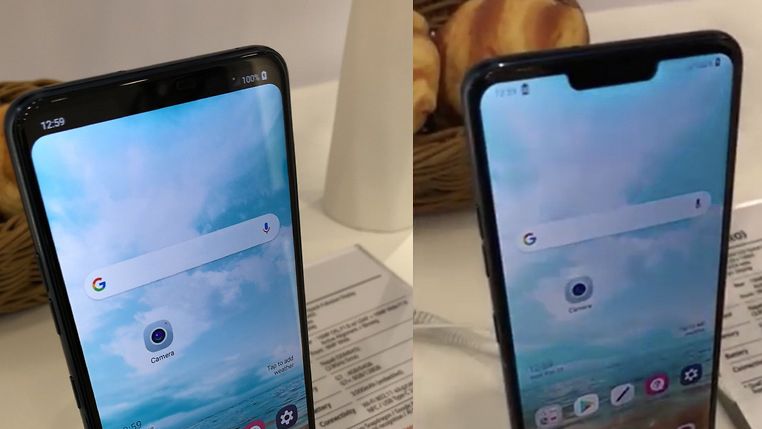 The no-notch G7 mode looks pretty much like a G6 successor, complete with rounded corners. However, the screen ears flanking the notch are still in use, as they display the time and notifications on the left side and battery level on the right side. It's just that LG's applying a black bar at the top to hide the notch in this mode. It's up to the user to choose which look to go for.
This is just a rumor for the time being, so we'll have to wait for LG's rumored spring G7 launch to learn more about its iPhone X clone.