This is one of the most insanely cool tech demonstrations I have ever seen.
Meta CEO Mark Zuckerberg has been on the podcast train lately. The executive just came off the stage at Meta Connect 2023, the company's annual developer conference. At the event, the company announced the Meta Quest 3 mixed-reality headset, the next generation of its Smart Glasses with Ray-Ban, and a slew of updates with AI, including a new Meta assistant and 28 AI characters for users to interact with on Facebook, Instagram, and WhatsApp.
Zuckerberg joined The Verge's Alex Heath on the Decoder podcast to talk about all of the new announcements, but that interview — as good and interesting as it is — was in the real world and filmed. That will make sense in a second, I promise. If you want to check out that interview, though, you can watch it on YouTube below. It's a really insightful interview (good job, Alex) and even touches on that Elon Musk fight:
However, the more interesting interview is the one that Zuckerberg did with Lex Fridman — and it doesn't have to do with the content of the interview at all, but everything to do with WHERE they did the interview. For this particular interview, Fridman joined Zuckerberg in the Metaverse to talk about all of the company's AR and VR ambitions. However, instead of being a cartoonish version of themselves, they both appear as photorealistic versions of themselves.
You can watch the interview in all of its Metaverse glory below:
The reaction from Fridman was evident. The host was quite overwhelmed with how realistic the experience felt. While it can be tough to discern exactly what the experience is like when looking at a 2D screen, Fridman talked about how incredible the experience felt by simply looking at Zuckerberg and, despite them being far away from each other, feeling his presence right in front of him. He also noted how precise the expressiveness came across, enabling him to read Zuckerberg's body language. He actually said, "I'm already forgetting that you're not real."
Speaking of bodies, they two didn't have any when talking with each other. Zuckerberg said that was a tougher challenge that they still need to solve (much like they took years to bring legs to avatars in Meta Horizon Worlds), but that once they do, people could do things together in the Metaverse while looking fully like themselves. That is an incredible proposition if the company can actually pull it off.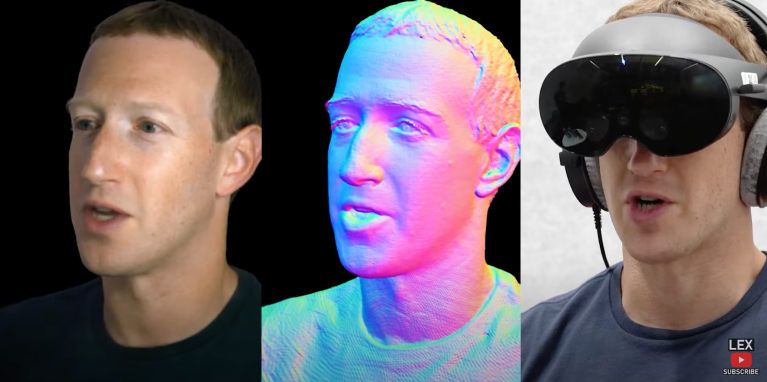 Zuckerberg says that this future is still at least three years away, but that the company continues to work on it. If you're looking to do a scan of yourself and look as real as Fridman and Zuckerberg, you're out of luck right now. That requires a comprehensive scan with custom equipment. However, the company hopes that, in the future, you might be able to achieve such a scan using something as simple as your smartphone — something it actually showed a demo of at Meta Connect 2022. Apple is already attempting to do a version of this with its upcoming Vision Pro headset and an iPhone.
Even watching this interview on my television, I was blown away at how real it looked. I changed the screenshot I took for the thumbnail of this article because the screenshot of just the two of them looked too realistic to highlight the fact that they weren't. It's an impressive technology, and if Meta can actually bring it to the masses, it could boost its use cases.
Maybe we all will end up in the Metaverse after all.