I almost never cover crowdfunding campaigns. I love that services like Kickstarter and Indiegogo give entrepreneurs a platform to fund projects without giving up control or equity. But making products is hard. There are so many things that can, and most often do go wrong. I happily cover crowdfunded gadgets once they start shipping, but I try to keep our readers' best interest in mind and stay away from covering products before they actually exist.
Today, I'm making a rare exception for a product called Konnected.
Konnected is one of those products that you hear about and instantly think, "why doesn't this exist already?" In a nutshell, the Konnected Alarm Panel is designed mainly for people who live in homes with wired alarm systems but who do not want to pay exorbitant monthly fees for traditional monitored alarm service.
Right now, the wired alarm system in your home is completely useless unless you're willing to pay a company like Vivint, ADT, Slomins, or a similar company a steep monthly fee. But many people are of the opinion that the services these companies provide aren't actually very useful. The hardware part of the alarm is the most important part, and intruders are likely to be scared off when the siren sounds.
Homeowners' unwillingness to pay hefty monthly fees has spawned a whole new market of "smart alarm" systems from companies like Nest. With these systems, you can purchase a series of sensors for doors, windows, and motion detection, and connect them all to a hub and a siren. But why start from scratch if you live in a house that's already wired with sensors that are far more reliable and never need batteries?
That's where Konnected comes into play. It's a DIY product that allows you to take the components of the alarm system you already have and transform them into a smart alarm system.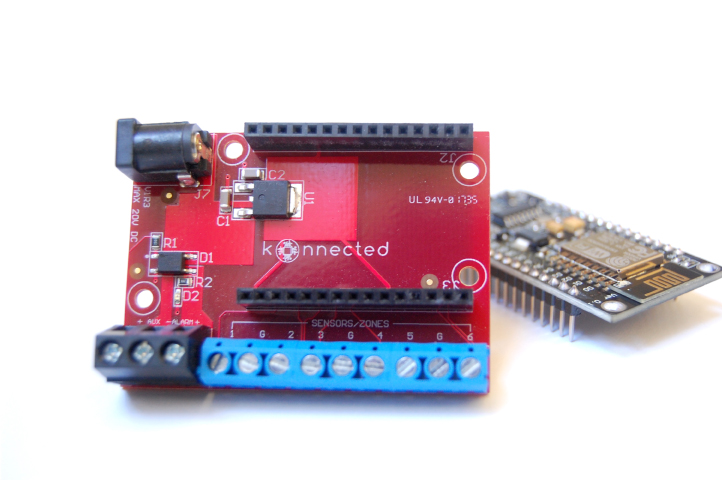 Now, it's important to note that Konnected isn't a simple plug-and-play box. The window, door, and motion sensors throughout your home all have wiring that runs through your walls and terminates in your basement or garage at a master panel. The Konnected board replaces that panel, or at least parts of it, and makes the whole system "connected" by adding Wi-Fi and special Konnected software.
Popular smart home hub SmartThings becomes the brain of your alarm system, and the annoying pin code panels by your front and back doors are taken out of the equation (though Konnected can show you how to replace them with tablets, which is pretty cool). Why use a PIN when your alarm is now smart? You can set schedules based on time, or even arm and disarm the system based on presence. And since SmartThings is compatible with so many different security products, you can easily expand your system with more motion detectors, open/close sensors, leak sensors, and so on.
While Konnected and SmartThings make system expansion incredibly easy, the initial setup isn't so simple. Because it's not a plug and play box, as I mentioned, you'll need to spend some time getting Konnected installed. The first step is to get a SmartThings hub (which is on sale right now on Amazon for just $49.99) and use SmartThings' web-based integrated development environment (IDE) to install Konnected software from GitHub. Note that this is open source software that has been in use by the public for quite some time, but there are security implications here and we haven't dug into the code ourselves.
Once that's don, you'll need to go to the alarm panel in your basement or garage and physically rewire the sensors to the new Konnected Alarm Panel.
For tinkerers who enjoy this sort of thing and have experience, the entire installation from start to finish will probably take less than an hour. For anyone else, I would recommend setting aside at least a few hours for the installation. It's not overly difficult, but it definitely takes patience. This is not my forte — I didn't own a SmartThings Hub before I set out to try Konnected. In fact, I didn't even have a GitHub account. I was still able to pull off the installation in a few hours though, and I didn't even have access to any installation videos, which will be available at launch and will make the process much simpler.
Think of it like this: if you can install a Nest Thermostat or a Rachio sprinkler controller, you can handle the hardware part of the Konnected Alarm Panel installation. And if you have patience and can follow instructions, the software side is pretty easy. Of note, you can buy a Konnected panel and a SmartThings Hub and then pay a handyman to install it, and it'll still pay for itself in a few months compared to the monthly fees you'll pay ADT and other alarm companies.
Konnected founder Nate Clark has offered people an early version of the Konnected panel for some time now, and hundreds of people already use it. The project is also entirely open source. With his Kickstarter campaign though, Clark is looking to offer a product that is slightly more refined, and he's also creating tools that make it more accessible. You'll still need to be something of a DIYer to install Konnected, but you certainly don't need a master's in electrical engineering.
Clark is offering Early Bird kits for as little as $49 in his Kickstarter campaign, which just went live on Tuesday morning. A limited number of $59 and $69 kits are also available, and it will retail for $89 at launch. This includes all the parts you'll need for a standard alarm system up to six zones, and Konnected is infinitely expandable so it'll work with larger systems as well. All I needed was one 6-zone kit for my home, but you'll need to inspect your current alarm panel to see how many zones you have.
The Konnected Kickstarter campaign is live right now, and it has a funding goal of $25,000. The first round of shipments to campaign backers is scheduled to begin two months from now in January.