Apple's new iPhone 7 and iPhone 7 Plus look a great deal like the iPhone 6s and iPhone 6s Plus that came before them… and the iPhone 6 and iPhone 6 Plus that came before them. Apple knew that reusing the same design for a third year would impact people's perception despite all of the internal upgrades touted by this year's new iPhone models, so the company added two new color options to its iPhone lineup in 2016. The first new color is a matte black that replaced last year's Space Gray. It's dark and sleek, and it could be a response to the fact that just about every other smartphone maker on the planet is now copying Apple's Space Gray color.
The second new color is Jet Black, and it's unlike anything we've ever seen before on a metal smartphone. The metal finish is treated in a special way, resulting in a glossy mirror finish that looks gorgeous when you take it out of the box. But does that glossy finish still look as gorgeous a few months later? It's time to find out.
When Apple first added the new Jet Black iPhone 7 and iPhone 7 Plus to its website, it made sure to include a special disclaimer. Here it is:
The high-gloss finish of the jet black iPhone 7 is achieved through a precision nine-step anodization and polishing process. Its surface is equally as hard as other anodized Apple products; however, its high shine may show fine micro-abrasions with use. If you are concerned about this, we suggest you use one of the many cases available to protect your iPhone.
Long story short, that's a nice way of saying the Jet Black finish on Apple's new iPhones is prone to scratching. On top of that, people quickly discovered that the glossy finish was also a magnet for grease and grime. Here's a photo of a Jet Black iPhone 7 Plus being handled in an Apple store that I found and tweeted back in September:
The iPhone 7's stunning jet black finish goes through a nine-step process of anodization and polishing before being slathered with courage pic.twitter.com/7iaH86fi9T

— Zach Epstein (@zacharye) September 20, 2016
Despite issues with scratching and oil, some people who wanted the new Jet Black finish said they didn't want to use a case. It makes sense, in a way — why buy an iPhone with the hot new Jet Black finish and then cover it up with a case? Well, now it's time to see how the Jet Black iPhone 7 fares after spending three months in a user's hands (and pockets) without any protective case. Spoiler: Not so good.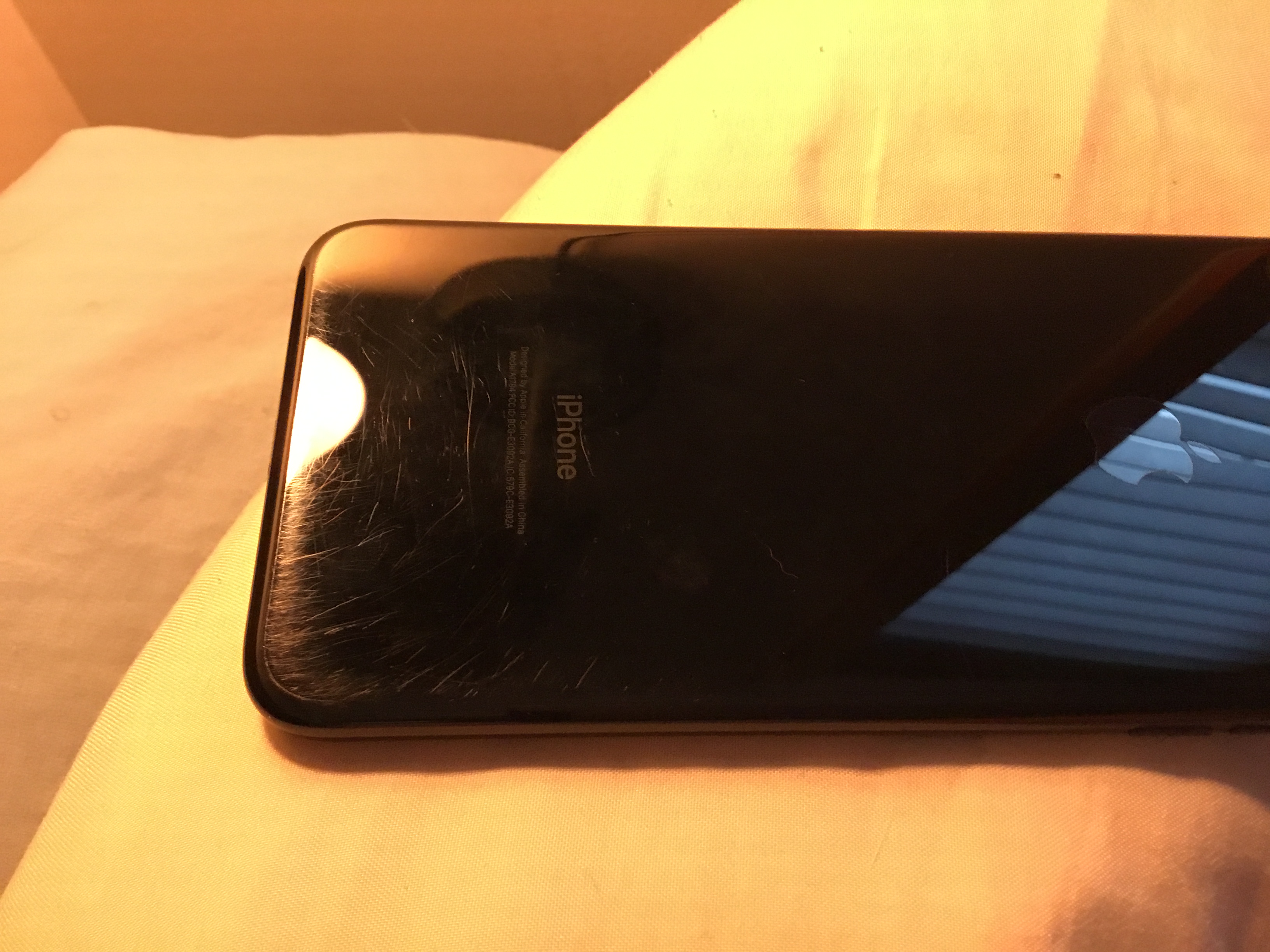 The photo above is one of several images posted by Reddit user "robhue" showing what his Jet Black iPhone 7 Plus case looks like. It's not pretty. Even with the poor lighting in the photos, you can clearly see scratches and swirling all over the back of the phone, though they're much more apparent at some angles than they are at others.
We've seen a handful of Jet Black iPhones from people who don't use cases, and they all pretty much look the same. In fact, there can often be even worse scratching on Jet Black phones that are in a case, since dirt and dust always seem to work their way into the case and scratch up the phone.
Long story short: if you didn't want to wait around for a Jet Black iPhone to be in stock and you bought another color instead, you should probably consider yourself lucky. Check out the rest of robhue's photos on Reddit.