Earlier this week, we saw the brand new iPhone XS Max pitted against Samsung's Galaxy Note 9 in the first of many, many speed tests. The results were beyond clear, with the iPhone XS Max performing nearly all the tasks shown in the test faster than the Note 9. But the test itself was pretty awful. Different people perform these tests using different methods, but the one used by this particular vlogger was by far the least scientific we've seen. In fact, the entire test was useful only in that it gave us a pretty good idea that Apple's new iPhones are much faster than the best Android flagship out there, but without supplying any actual data. Well, if it's data you want, the speed test you've been waiting for is finally here.
There are so many YouTube users out there who perform these trendy real-world speed tests, and not a single one of them is scientific. The one that always comes the closest, however, is a YouTube vlogger named PhoneBuff. The methodology he devised is the best way to compare real-world performance on two different phones.
PhoneBuff opens a series of apps on each phone in the same order while timing the first "lap." In some cases, he also performs specific functions such as opening a spreadsheet in Excel. This shows us how quickly each phone can open apps of varying complexity and perform key tasks. Then he times a second "lap" that opens each app again from the background, thereby testing how quickly each phone loads apps from RAM. And in this latest edition of his "PhoneBuff style" speed test, he uses a robot to control each phone during the tests in order to help remove some amount of human error.
Again, this is not a scientific test. Android and iOS apps don't have the same code, each phone is running completely different processes in the background that occupy different amounts of resources, and so on. On the flip side of the coin, none of that really matters to the end user so this actually is a pretty good measure of the performance a person will experience while using each phone in the real world.
With all that out of the way, let's see how these two phones compare on paper: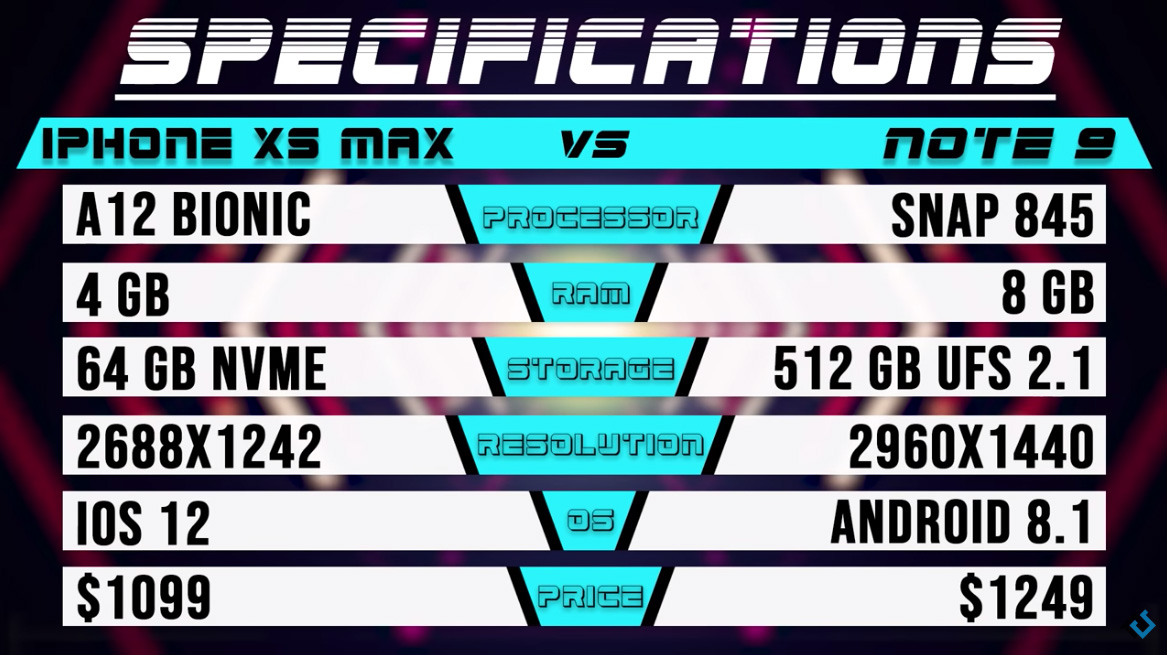 As you can see, the Galaxy Note 9 has twice as much RAM as the iPhone XS Max, and it also has Samsung's latest UFS 2.1 flash storage chip. Meanwhile the iPhone XS Max has the new 7nm A12 Bionic chipset in its favor, as well as slightly fewer pixels to power. How do the two phones fare in this speed test? We won't completely spoil the ending, but we will say that it's not even close. You'll find the full speed test video below, and it's cued up to skip the intro and begin when the speed test actually starts.