iPhone vs Android device speed tests are a well-explored enough genre to have their own YouTube niche, but there's another kind of smartphone speed that gets notably less attention: Cell speeds. The speed of your data connection depends on your device as well as your cell network and the signal quality, and some new research suggests that Android phones have taken out a sizeable lead.
Every year, PCMag tests the US's wireless networks and produces a ranking comparing Verizon, AT&T, T-Mobile, and Sprint. This year's results just came out, and the carrier hierarchy is roughly the same as we've seen before. Verizon leads the pack, with T-Mobile in second, AT&T third, and Sprint bringing up the rear.
But one novel piece of data comes buried in the methodology. PCMag dug into the commercial intelligence tools of Ookla's Speedtest to compare data speeds for iPhone and Samsung Galaxy phones, and the results are stark. Across tens of thousands of data points, the Galaxy S9 is consistently faster than the iPhone X, with download speeds of nearly 45Mbps compared to just above 30Mbps. The difference is down to the lack of LTE-Advanced technology in the iPhone X.
LTE-Advanced is the catch-all name for a handful of new technologies, including 4×4 MIMO, carrier aggregation, 256 QAM, and LTE-U. Qualcomm has a good explainer on what all those exciting acronyms mean, but the short story is that each one is a clever improvement on current LTE tech that provides a modest speed or capacity bump. Working together, they can revolutionize mobile networks.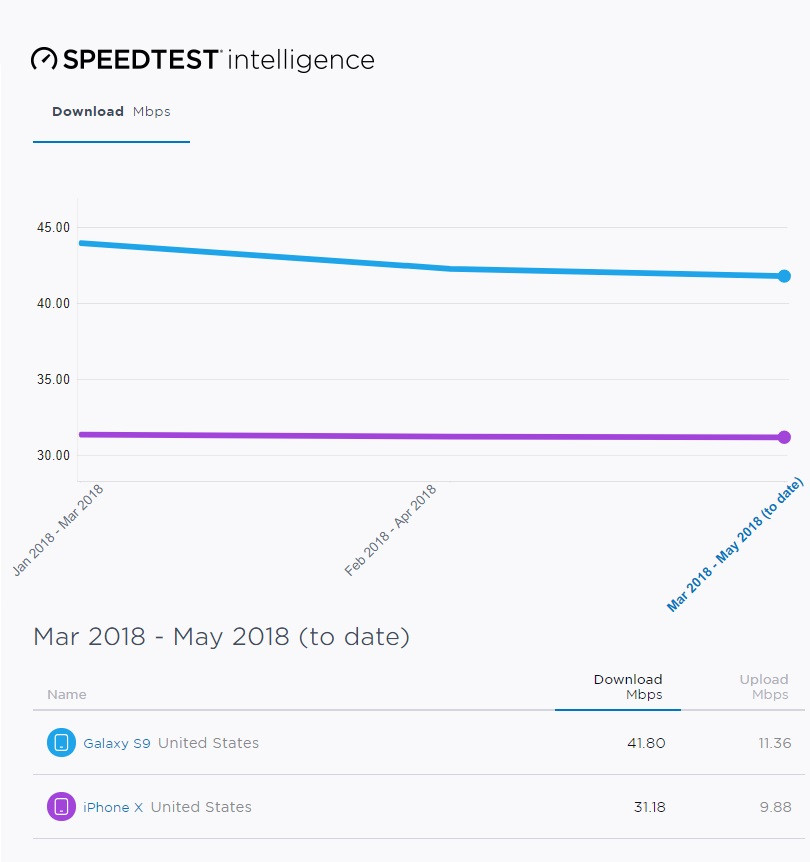 Qualcomm, which makes not only the processors inside most good Android phones, but also the wireless modems, has a habit of pushing the latest and greatest wireless tech into its chipsets. Apple does the Apple thing and takes a slower, more conservative approach, with the new technologies coming to iPhone at least a generation after Android. Part of the argument is that there's no point adopting fancy new LTE technologies that users are unlikely to see in the wild — why rush to add new features if it won't make a difference?
What PCMag's data shows is that having LTE-Advanced technology can make a huge difference right now. The Galaxy S9 30% faster than an iPhone in real-world testing on average, and the difference can be even more pronounced when it comes to top-end speed tests.
What the data also shows is that this isn't a one-off this year with the iPhone X and Galaxy S9. There was a similar gap between the iPhone 7 and Galaxy S8, and between the iPhone 6 and the Galaxy S6 for that matter. Apple consistently trails its number-one rival when it comes to cellular speeds, and things are only going to get worse when you consider the changes coming to cell networks.
Over the next few years, carriers will increasingly lean on new LTE technologies as well as 5G for their networks, enabling the kind of gigabit wireless speeds we've all be hearing about. Right now, the difference between 30Mbps and 40Mbps isn't huge — you can still stream Netflix on either connection, or download apps in seconds. But with the rollout of faster wireless technology, we're going to see new applications like VR that require high-bandwidth, low-latency connections. If the Galaxy SWhatever can support that and the iPhone XVII can't, Samsung is going to have a huge competitive edge, and it will all be thanks to Apple's slow cellular innovation.