Apple's new iPhone X is the first new iPhone since 2014 to feature a new design. 2014, as you'll recall, was the year that Apple finally relented and released iPhone models will larger displays. Apple apparently loved its new designs so much that it reused them not just for the iPhone 6s and 6s Plus models, but for the iPhone 7 and iPhone 8 series as well. The iPhone X features a bold new look though, and it's far more compact than Apple's earlier iPhones thanks to its nearly all-screen design. As compact as it is, however, it's still a bit unwieldy for some users. And the iPhone 8 Plus? It's not comfortable to use with one hand unless you're in the NBA.
Big phones are still insanely popular because people want large displays. But if you wish your oversized iPhone was easier to use with one hand, you're in luck because we've got the perfect solution for you.
There are two pieces to the puzzle for anyone looking to optimize his or her iPhone X or iPhone 6/6s/7/8 Plus for one-handed use. The first is simple: Reachability.
Reachability still isn't promoted as much as it should be by Apple. Making matters worse is the fact that it's now disabled by default on the iPhone X, and it's buried deeper than ever in the Settings app beginning with iOS 11. Once activated, the feature temporarily shifts the iPhone's display contents downward so the user can reach them without straining or using two hands.
Here's a GIF that should reachability in action:
To enable the feature, open the Settings app and navigate to General > Accessibility. Then under "Interaction," enable reachability.
As you can see in the GIF above, a double-touch on the home button (don't press the home button, just touch it twice) invokes reachability on all iPhones with a home button. On the iPhone X, you'll need to swipe downward on the home bar at the bottom of the phone's display. The display then repositions itself as soon as you touch anything.
This nifty feature makes reaching things at the top of the screen much easier, but there's another trick that optimizes your iPhone's home screen for one-handed use at all times. Here's a screenshot from Reddit user sdotsd: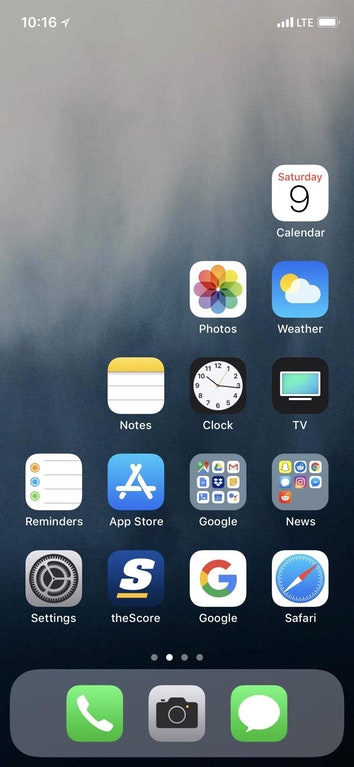 Is it witchcraft? Is it some other type of magic? No, it's a simple "hack" that we've discussed a few times before here on the site. A web app called Makeovr uses your wallpaper to create blank icons with no labels, and it positions them wherever you want empty space. To use it to optimize your iPhone home screen for one-handed use, just visit the makeovr.io website on your phone and follow the instructions.