Apple has a tendency to shock people when it unveils new iPhones. The phones themselves aren't surprising at all to those of us who keep an ear to the ground and hear about every leak and rumor that hits the web. But that's only a very small percentage of iPhone users. Most of Apple's customer base doesn't pay much if any attention to rumors. They might see a report or two on a mainstream news show that fumbles through a few of the more common rumors, but much of what Apple announces each September is new to the majority of Apple's customers. And when they first learn that Apple has done something like removing the headphone jack, they immediately begin to panic.
That's exactly what happened last year when Apple took the wraps off of its tenth-anniversary iPhone, the iPhone X. The phone was a complete reimagining of Apple's iPhone line, and most of the changes were positive. The new design was novel, the stainless steel and glass construction was stunning, and the new OLED display was the best the world had ever seen. But there was one change that instantly caused mass hysteria, and we're sure all of our readers will recall exactly what it was: Face ID. Apple ditched the home button on the iPhone X and Touch ID vanished along with. A new facial recognition system was introduced in its place, and people were not happy at all.
iPhone users love Touch ID. In fact, all smartphone users love fingerprint authentication. Apple wasn't the first smartphone maker to add a fingerprint scanner to a smartphone, but its implementation was a cut above everything else that was available at the time. Android smartphone makers rushed to add similar features to their smartphones, and now every new phone in the world has a fingerprint sensor aside from extremely low-cost phones for emerging markets.
Then Apple went ahead and ditched the fingerprint sensor on the iPhone X.
There is still some debate regarding exactly how it happened. Rumors suggested that Apple had tried to build an in-display fingerprint sensor into the iPhone X in addition to Face ID, but it couldn't get the tech ready for mass production in time. Apple says it never planned to add any type of fingerprint scanning feature to the iPhone X, but still, not everyone believes that to be true.
In the end, all that matters is that the iPhone X doesn't have a fingerprint reader. Making matters even worse for Touch ID fans is the fact that when Apple unveiled Face ID on the iPhone X at last year's press conference, it said that Face ID is the future and it's moving away from Touch ID on all its devices. Before you panic, however, there's something important you should keep in mind: Apple says a lot of things and then ends up backtracking down the road. Remember when Jobs said Apple would never make an iPhone phablet? Yeah, we all know how that turned out.
So, Apple continues to insist publicly that Face ID is replacing Touch ID. We also know that all three of the company's new 2018 iPhone models will have Face ID instead of Touch ID, as will the new iPad Pro the company plans to launch next month. But while all this is going on in public, Apple continues to work behind closed doors on different ways to bring fingerprint sensors back to its devices. And now, it may have found the perfect solution that will allow it to bring back Touch ID on devices that still have "all-screen" displays, like the iPhone X.
As covered in a recent report from Patently Apple, the company has invented a new technology that could allow Apple to add fingerprint reading capabilities to devices without the need for a home button.
A couple of China-based smartphone makers already offer phone models with optical fingerprint readers embedded in the display. Next year, Samsung is expected to become the first company to use an ultrasonic fingerprint sensor on the Galaxy S10, and it will also be embedded in the display. Apple's new patent covers technology that is different from either of the aforementioned solutions, but the end game is the same: A user would be able to unlock an iPhone, open a secure app, or authenticate a mobile payment simply by placing his or her finger on the phone's display.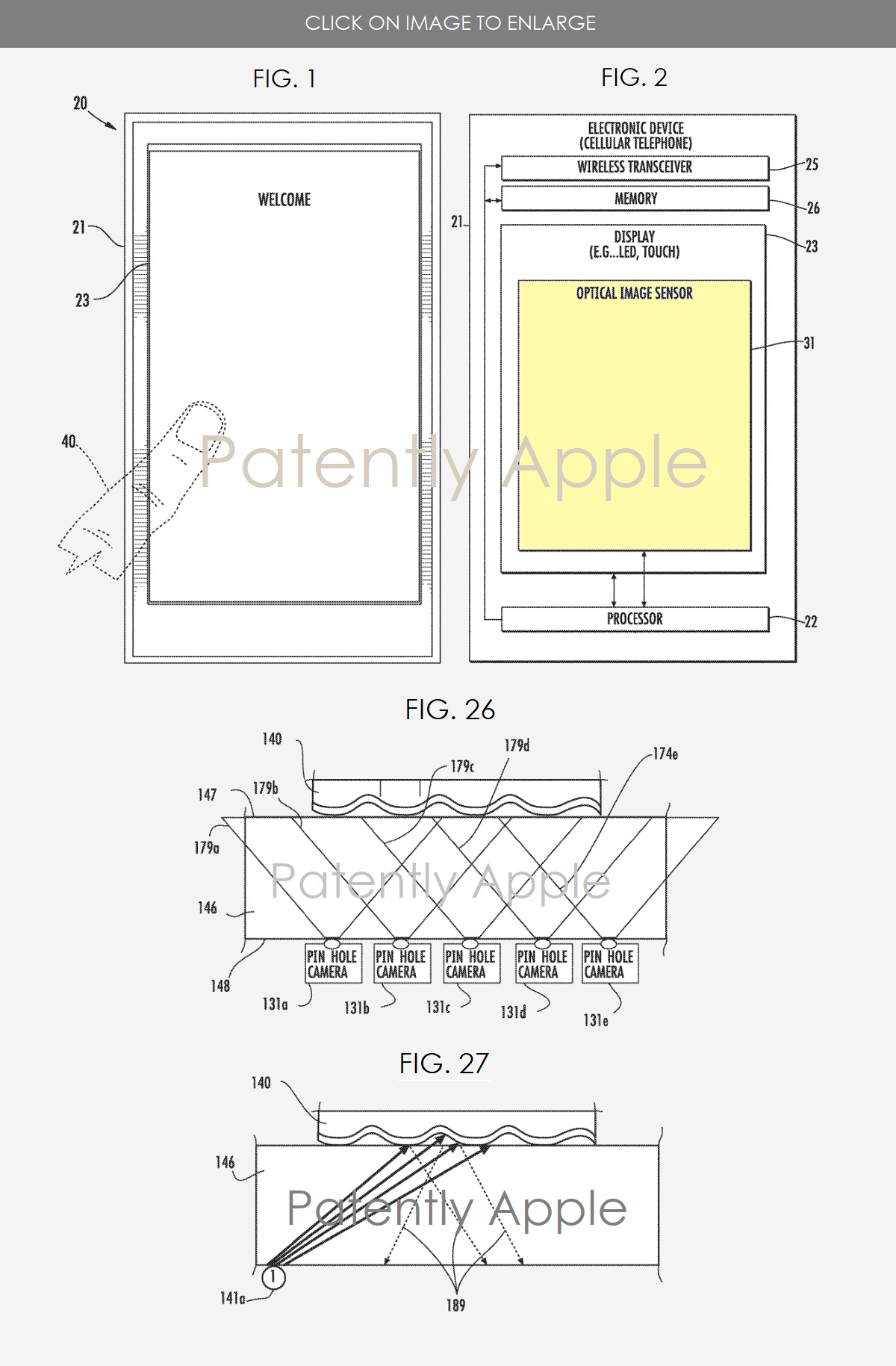 As Patently Apple explains, Apple's solution is similar to the optical in-display fingerprint readers currently available on some Chinese smartphones. It utilizes several cameras that are positioned beneath one of the layers of the display itself. These cameras would not be visible to the user, but they would be able to capture 3D image data of a fingerprint through the display in order to authenticate.
"In patent FIG. 27 above we're able to see that the multiple cameras can determine the 3D structure of the fingerprint pattern of the user's finger, with the controller cooperating with the image sensors to measure the slope of the skin surface across the ridge and valley pattern," Patently Apple wrote.
It goes without saying that Apple cooks up plenty of different technologies in its labs that never see the light of day. That might also be the case with the technology described in this patent. But despite what Apple says publicly, we now know that the company continues to work on finding ways to add fingerprint authentication to its products without the need for a home button, and that will certainly come as good news to iPhone users who miss the consistency of Touch ID.