Apple's iPhone X, pictured at the top of this post, marks a turning point for Apple. The iconic design elements that people have grown accustomed to over the years are now all completely gone, and yet the phone is somehow still instantly recognizable as an iPhone. That's quite a feat considering nearly every Android phone maker on the planet has copied the iPhone X. But try as they might, they still can't manage to build a phone that's anywhere near as impressive as Apple's tenth-anniversary iPhone. They don't have the budget or the skill to eliminate the bottom "chin" bezel like Apple did. The company's solution involves using a bendable OLED screen and a brilliant feat of engineering, and no Android phone company can pull it off. Apple also uses stainless steel instead of aluminum, giving the iPhone X a distinct premium feel unlike anything you'll find out there among all the iPhone clones.
In 2017, Apple dipped a toe in the water. The iPhone X was the star of the show and it introduced the world to Apple's new iPhone design identity. But the two other models Apple released, the iPhone 8 and iPhone 8 Plus, looked almost exactly like the three generations of iPhones that had come before them. This year, however, Apple is going all in. The company plans to release three new iPhone models later this summer, and all three feature the major redesign Apple introduced with the iPhone X. You've read the rumors and you've seen the mockups, so now it's time to take things to the next level.
We've had it on very good authority since last year that Apple plans to release three new iPhones in 2018 that all looked like the iPhone X. Word came from the world's top Apple insider, former KGI Securities analyst and current TF International Securities analyst Ming-Chi Kuo, who has a fantastic track record.
According to Kuo's sources, Apple plans to launch three new iPhone models including an iPhone X successor with a 5.8-inch OLED display, a larger "iPhone X Plus" with a 6.5-inch OLED display, and a new upper-mid-range iPhone with a 6.1-inch LCD display. The chart below was put together by Kuo when he was at KGI, and it gives more details on each of the three new iPhone models we're expecting this September.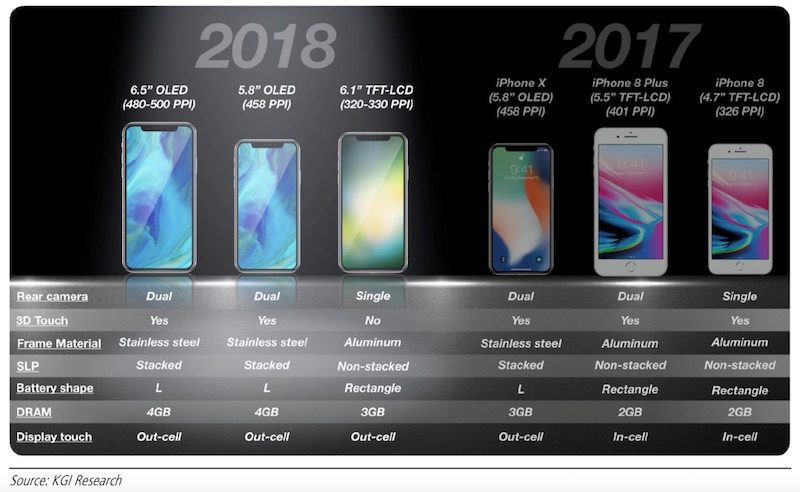 Not much has changed since Kuo's initial reports. They've been corroborated by a few independent reports from other analysts and bloggers, but it's unclear if they truly have their own sources or if they were just rehashing Kuo's reliable reporting.
Beyond the rumors, we've also seen mockups of Apple's next-generation iPhone lineup a few times now. Hobbyist graphic designers rendered the iPhone X in three different sizes to try to show people what the phones might look like, and one blogger even got his hands on 3D printed dummy models of Apple's upcoming new iPhones. That video was a neat way to see how the new "iPhone X Plus" and the LCD iPhone compare in size to the 5.8-inch model, but those dummies obviously don't look anything like the real iPhones Apple plans to release in September.
We know with near certainty that the new 5.8-inch iPhone will look just like Apple's current iPhone X. We also know that the larger "iPhone X Plus" phablet will look like a supersized iPhone X. But what about the 6.1-inch LCD iPhone model? BGR has obtained a render that shows us exactly what Apple's new mid-range iPhone will look like when it debuts later this summer.
The image above was obtained from a reliable source, and it shows Apple's upcoming 6.1-inch iPhone in a protective case made by third-party case maker Ghostek. We've gotten our hands on renders of unreleased smartphone models from this source several times in the past, and they've turned out to be accurate each time. The renders are believed to be based on detailed files obtained from the factory that builds these smartphones, which would obviously explain why they're so accurate. This particular render has been confirmed as accurate by an additional source who is aware of Apple's plans.
So what can we learn from the image above? First and foremost, the new 6.1-inch iPhone abandons the home button and Touch ID, just as we expected. Apple's TrueDepth system for Face ID can be seen in the notch at the top of the display, which in this image appears to be covered by a screen protector. We can also see that the bezels around the screen on the 6.1-inch iPhone model appear to be wider than they are on the iPhone X. This makes sense, since Apple can't use the same design to hide the display controller on an LCD screen that it uses on its OLED models. As a result, the bezel at the bottom must be a bit wider, and Apple apparently chose to maintain a uniform width around the rest of the screen.
On the back we immediately notice another big design change compared to the iPhone X. The dual-lens rear camera on the current-generation model is expected to also be used on the new 5.8-inch and 6.5-inch OLED iPhones, but the 6.1-inch iPhone will have a single-lens rear camera. It appears as though Apple will use a new sensor and new optics in its upcoming mid-range iPhone model, since we can clearly see that the rear camera here is much larger than the one on the iPhone 8.
Apple's new 6.1-inch LCD iPhone model is expected to be unveiled in early to mid-September alongside the two new OLED iPhone models, and all three new phones should be released a week or two later.