Every year we want our pocket computers to be even faster at doing amazing smarter things and be more energy efficient than last year. We look for faster chips, more RAM, more storage, and bigger batteries. Smartphone makers often deliver, making each new smartphone generation quicker and better than the previous one. As consumers, we often focus on processor types, and the amount of memory and storage to determine whether a certain smartphone is going to be good enough. One thing we don't always acknowledge is the quality of certain components, and we consistently fail to talk about the speed of one critical part of an iPhone or Android device: the speed of its "hard drive."
Having massive amounts of built-in flash memory and expandable storage isn't enough if it's not fast. Thankfully, some of the companies developing these storage solutions for iPhone and flagship Android devices are working on faster and more energy efficient storage solutions. Samsung is one of the company to keep an eye on when it comes to mobile storage, as it just announced plans to make its insanely fast smartphone storage solutions even quicker in the coming years, and that might benefit the iPhone as well.
DON'T MISS: Best Buy has 50 hot deals that will be good for just 50 hours
One of the reasons the iPhone 6s is so fast when compared to the iPhone 6 is because of Apple's way of handling memory. According to AnandTech's detailed explanation of the matter, Apple adapted its MacBook SSD controller — which makes MacBook data transfers incredibly fast — and modified it to use inside a smartphone. Furthermore, the report revealed that the iPhone 6s uses NVMe protocol with custom NAND memory which ruled out UFS or traditional eMMC. The iPad Pro and iPhone SE uses the same type of storage as the 2015 iPhones.
In tests, Apple's storage solution beat the Galaxy S6 series, which came loaded with UFS 2.0 built-in storage, itself being an incredibly fast memory.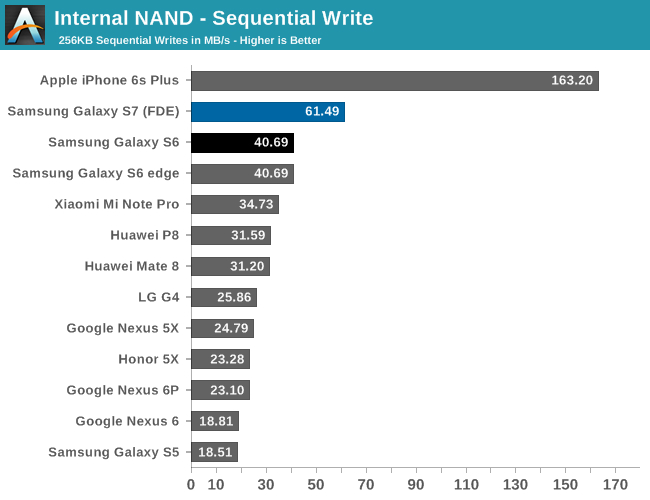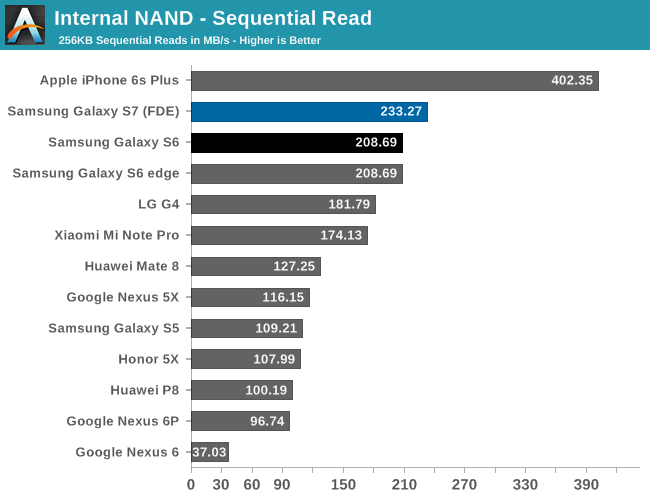 Samsung this February announced that its UFS 2.0 technology is getting even faster. Furthermore capacity increased up to 256GB as speeds went up to 850MB/s (sequential reading) and up to 260MB/s (sequential writing). But Samsung's freshly released Galaxy S7 can't beat Apple's iPhone 6s storage speeds, according to the same tests from AnandTech. Neither does the Galaxy Note 7 (see charts above).
This, however, doesn't mean that Samsung isn't looking to come up with even faster storage solutions for mobile devices. Speaking at the Mobile & IOT 2016 Forum in Seoul earlier this week, Samsung said that UFS storage would be significantly upgraded in coming years, Business Korea reports.
"4K or 8K cameras on drones make high-capacity storage devices essential parts." Samsung's Cho Hee-chang said. "The use of UFS will rise in production of VR contents or semiconductors for automobiles where camera sensors are very important." Cho expects some 50 billion of connected devices by 2020, with UFS popularity set to expand in following years.
Internal UFS 2.0 and UFS 2.1 memory, the one that goes into phones like the Galaxy S and Galaxy Note, and has theoretical speeds of 1.2GB/s should move to 2.4GB/s in the first half of 2018.
Samsung also wants to double the speed of its UFS card v.1.0 standard (for its incredibly fast new microSD cards) that supports speeds of up to 600MB/s to UFS card v2.0, which would transfer data at 1.2GB/s speeds.
And since Samsung is a major memory provider for a variety of companies, even Apple, we have plenty of reasons to be excited about the smartphones of the future, iPhone included.
Sure, some will point out that Apple uses its proprietary controller technology with PCI-E NVMe protocols for its iPhone memory, while Samsung uses the AHCI protocol for its UFS V-NAND memory. It's all sounds too complicated with all the acronyms, but so far Apple's solution is the faster one according to benchmarks, with SanDisk claiming that PCI-E NVMe is the future for mobile (see this presentation).
Samsung, meanwhile, is sticking with UFS for the foreseeable future, and that's not a bad thing. UFS memory will only get faster in future Galaxy S and Galaxy Note smartphones, at least according to Samsung's projections for the following years.
Furthermore, Samsung has plenty of competition in the storage market that will not want to fall behind when it comes to overall storage speeds and energy efficiency. Not to mention that Samsung has been known to combine V-NAND technology and NVMe standards into a single storage package: it's called Samsung 950 PRO, an M.2 SSD that features sequential read speeds of up to 2.5GB/s and write speeds of up to 1.5GB/s. It might be only a matter of time before this type of technology is miniaturized for smartphones that will have increasingly higher storage needs and speed requirements.