As part of its please-don't-sue-us apology tour following the iPhone battery throttling revelations, Apple promised to introduce new battery health features to iOS 11.3, as well as a toggle that will let users disable performance throttling on devices with weak battery.
Apple has released the promised battery health features in iOS 11.3 beta 2, which was seeded to developers today. Here's what those battery health functions look like, and how to disable power management if you're using an older iPhone.
The feature is contained within a new "Battery Health" menu, which is under the "Battery" tab on iOS 11.3. The page only really has two fields: Maximum Capacity, which shows what percentage of the original charge your battery can still hold; and Peak Performance Capacity, which tells you if your phone's performance is being throttled due to the battery.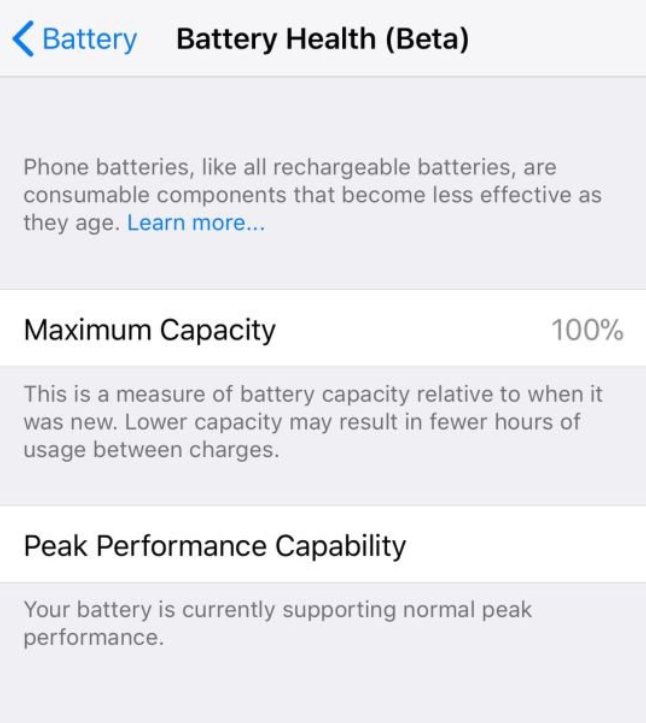 Right now, there are no options to change anything within the menu. Maximum Capacity should be at 100% for newer phones, and it should fall down to around 80% over the course of about two years of normal use. A Redditor on the iOSBeta forum uploaded a photo of his iPhone 7, which is sitting at 87% capacity. That device still shows peak performance.
On older devices with a worse battery, the phone will show that reduced Maximum Capacity, as well as detail any performance slowdowns due to the decreased battery capacity. On devices that have weaker batteries, the Peak Performance Capability will change to read "This iPhone has experienced an unexpected shutdown because the battery was unable to deliver the necessary peak power. Performance management has been applied to help prevent this from happening again." A small blue hyperlink then says "Disable," which lets you manually turn off your iPhone's performance management.
Apple explained its battery slowdown "feature" in a support document late last year:
"A battery with a high impedance is unable to provide power quickly enough to the system that needs it. A battery's impedance can increase if a battery has a higher chemical age. A battery's impedance will temporarily increase at a low state of charge and in a cold temperature environment. When coupled with a higher chemical age, the impedance increase will be more significant."

"When operations can no longer be supported with the full capabilities of the power management system, the system will perform a shutdown to preserve these electronic components. While this shutdown is intentional from the device perspective, it may be unexpected by the user."

"This power management works by looking at a combination of the device temperature, battery state of charge, and the battery's impedance. Only if these variables require it, iOS will dynamically manage the maximum performance of some system components, such as the CPU and GPU in order to prevent unexpected shutdowns. As a result, the device workloads will self-balance, allowing a smoother distribution of system tasks, rather than larger, quick spikes of performance all at once. In some cases, a user may not notice any differences in daily device performance. The level of perceived change depends on how much power management is required for a particular device."
While Apple has framed the entire debacle as a communications issue, governments and customers worldwide haven't been so forgiving. Dozens of class-action lawsuits have been filed against Apple in the US alone, the governments of Italy, France, and South Korea have begun examining any anti-consumer behavior, and the SEC has requested information from Apple regarding potential securities disclosure violations.