Reminder: leaking details about Apple's plans for upcoming devices is tricky business, especially when your "sources" have no real inside track at Apple. A new crop of "leakers" is starting to emerge, and they tend to source their information from various forums and other sites where Foxconn factory workers are thought to lurk. Of course, most people don't bother to vet these "sources" at all, and they simply post as much as they can from these people. Some of these "sources" really do work in Foxconn factories, or in factories run by other Apple suppliers, and they do sometimes share real information and photos. Other times, the "sources" are just random people who make things up because they're bored and they have nothing better to do.
On Thursday, we have a new "leak" that gives us a perfect example of what happens when people just blindly post info shared by these "sources."
Twitter user @venyageskin1 began making a name for himself last year as a graphic designer who enjoyed mocking up unreleased Apple products. He would read rumors about unreleased iPhones online, and then try to create the devices that were being described. He has done a good job in the past, and we've shared a number of his designs here on the site.
This Twitter user has been a great source of high-quality iPhone renders in the past, but again, these renders were all based on rumors that had already been circulating. When he began "leaking" things on his own from "sources" he has developed over the past year, things began to get a bit shaky.
Of course, it's easy to get carried away when you post info from your "sources" and tech blogs share that info with their readers. And when you don't bother to vet your "sources" at all, things like this happen:
Apple's iPhone 8 / 7s Keynote will be held on September 17.
Sales September 25.

— Ben Geskin (@BenGeskin) May 25, 2017
The tweet above was posted by @venyageskin1 on Thursday morning. Here's a screenshot in case the tweet ends up vanishing for some reason: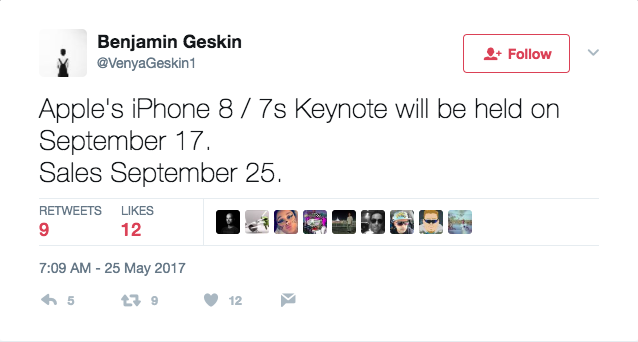 In the tweet, he states categorically that Apple plans to hold a press conference to unveil the iPhone 8 and iPhone 7s on September 17th. He also says sales will begin on September 25th.
Mystery solved!
But wait a moment. What happens when you actually bother to look at those dates on a calendar? September 17th is a Sunday, and September 25th falls on a Monday. Oops!
Then came another tweet, after people began to point out how absurd this new "leak" from his "sources" was.
Information is not 100% confirmed yet.

— Ben Geskin (@BenGeskin) May 25, 2017
Screenshot:

That's a nice way to put it. Another way to put it is that this information is 0% confirmed, and it will remain 0% confirmed. The odds of Apple unveiling any product on a Sunday, let alone the company's tenth-anniversary iPhone, are exactly… well… there are no odds. The odds are 💩 . And Apple releases iPhones on Fridays, not on Mondays.
iPhone launches are exciting, and that's why the rumor mill is so active ahead of new releases. As you read things, however, keep in mind that there's a big difference between leakers with sources, and "leakers" with "sources." The latter will come across good info from time to time, but this morning's tweets are an important reminder that not all "leakers" bother to vet their "sources," or even use common sense before sharing info they get from random people on the internet.
For what it's worth, we've heard that pre-orders for Apple's next-generation iPhones will begin on September 15th ahead of a release on September 22nd, but those dates have not been confirmed. What's more, it's still unclear if the iPhone 8 will be released alongside the iPhone 7s and 7s Plus, or if it'll launch at a later date.