iPhone fans, now's a good time to start typing up a letter to Santa if you're planning to buy the iPhone 8 this year, because there's one more report that says your best chance of getting one is by Christmas rather than at launch. Apparently, iPhone 8 production isn't experiencing any delays, but that doesn't mean Apple will have enough supply at launch.
In a research note seen by Barron's, BlueFin Research Partners say there is no delay in ordering components for Apple's next iPhones at this time. But the iPhone X, which is what they call the iPhone 8, will see a limited launch in September, with Apple seen making only 13 million units.
"Our ongoing reads reinforce our earlier view that Apple will offer only minimal units of the iPhone X at launch with improved availability in October," they say, adding that Apple is making "a total of 13M iPhone X builds through September, a reduction of 5M from our original forecast in March."
However, analysts John Donovan and Steve Mullane say the iPhone X will soon take up the majority of iPhone manufacturing in the months that follow — see the table below — a trend that will continue next year. Apple is seen, once again, adopting OLED screens for all its iPhones in the future, which may turn out to contribute to iPhone sales growth.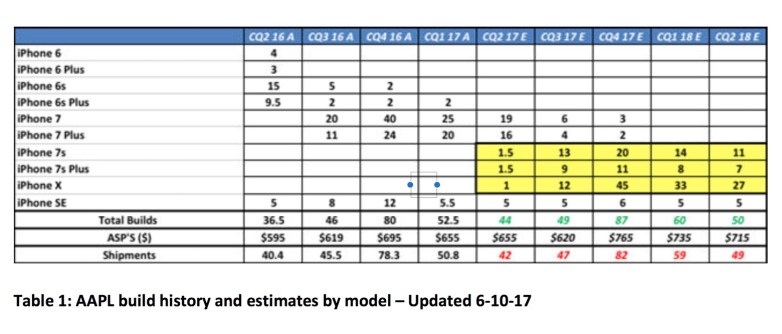 "iPhone X builds ramp in CQ4'17, projecting to represent 55% of the mix, and this ratio remains fairly steady through mid-2018," the report notes. "We continue to track increases in 2018 and 2019 build projections by tens of millions of units each year, and while forward projections are dubious, the possibility of sustained growth is welcome news indeed. The rationale behind this is that the step up to the new OLED design will filter across all offerings in future generation phones and with an installed base hurtling towards 750M in the coming year. Additionally, as many as 300M of those phones by mid-2018 will be over 2 years old and should provide fertile ground for continued growth."
The analysts also say that all component decisions have been finalized, adding that they do see "potential for a mid-cycle refresh that could expand OLED into additional models sometime in 2018."
Even if Apple won't be able to meet iPhone 8 demand at launch or in the critical December quarter, the company is apparently stocking up on OLED displays parts in preparation for the year ahead. Apple and "and the contract manufacturers are content to get in as many parts as possible as early as possible in order to satisfy what appears to be an insatiable demand for the OLED phone(s)."