With just a few days left until Apple unveils its new slate of iPhones at the Steve Jobs Theater in Cupertino, California, we find ourselves wondering whether or not the company will have anything left to announce that hasn't already been spoiled. We think we know what the next flagship iPhone is going to look, we're pretty sure we know about its most compelling features, and we might even know how much it will cost.
What we're still unclear on is what Apple is going to call its new phones, but on Friday, a new leak seems to have confirmed a recent theory that has begun to catch fire about the other iPhone models.
Last week, 9to5Mac reported that Apple's 2017 iPhone lineup would consist of three phones: the iPhone 8, iPhone 8 Plus and iPhone Edition. The iPhone Edition would be the new flagship device with the OLED display and the missing home button, while the iPhone 8 and 8 Plus would look more like the iPhone 7, but with a few design tweaks and new features to lure potential upgraders.
This was backed up by another report from iCulture which claimed that the high-end iPhone would be called the iPhone X instead of the iPhone Edition. But both reports indicated that the iPhone 8 would be the "standard" model. On Friday, a photo of a sticker posted on the Weibo social network reinforced that claim.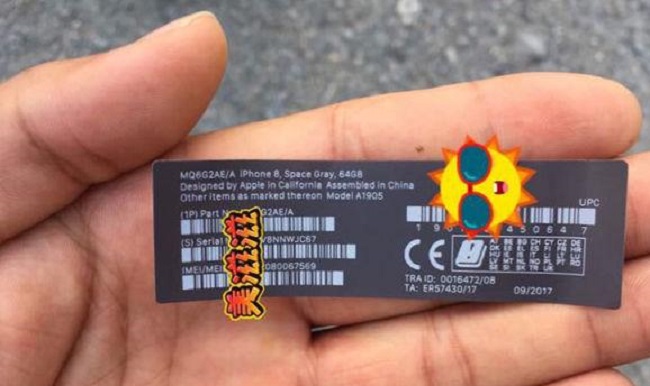 Providing it's real, this appears to be a label from the packaging of the iPhone 8. And since we don't expect to see a Space Gray version of Apple's new flagship, we can assume that this label is from the box of the lower-tier iPhone. That would support the information in the two reports referred to above.
Of course, we have no way of confirming whether or not this leak is legitimate, so take it with a grain of salt. No matter what Apple decides to call the next iPhones, we'll know for sure on September 12th.