If you listened to the pundits and armchair analysts, you'd be forgiven for thinking that the iPhone 7 was going to be a boring upgrade, nothing more than a stop-gap measure to keep consumers occupied until the release of the radically re-designed iPhone 8.
Of course, the iPhone 7 was far from boring. Sure, the device may lack one overarching killer feature, but it nonetheless sports a sufficient number of impressive enhancements that, taken together, make the device a compelling upgrade in its own right.
DON'T MISS: An iPhone feature people have been clamoring for has been hiding in iOS the whole time
Speaking to this point, new sales data from Consumer Intelligence Research Partners (CIRP) reveals that the iPhone 7 is off to a blistering start. At the close of the September quarter, the iPhone 7 already managed to account for 43% of sales, an impressive feat given that it was only available for 17 days out of a 3-month quarter.
"In a quarter with only two weeks' of sales, iPhone 7 and 7 Plus grabbed significant share of iPhones sold," CIRP co-founder Josh Lowitz said. "We attribute this to slow iPhone sales in the weeks leading up to the launch of these two new models, as well as a positive reception for the new 7 and 7 Plus models."
Broken down by model, CIRP found that the 4.7-inch iPhone 7 accounted for 31% of sales while the larger iPhone 7 Plus accounted for 12% of sales.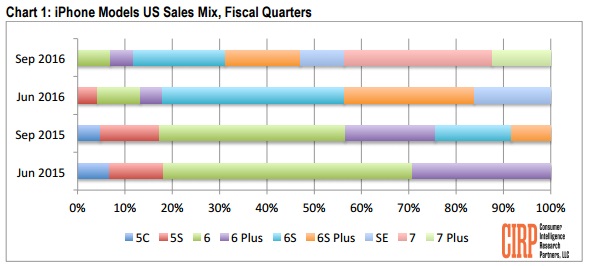 Now as to why the iPhone 7 appears to be resonating with customers, it's hard to pinpoint any particular feature. Again, the combination of enhanced hardware improvements across the board have seemingly made the iPhone 7 a much more enticing upgrade than the iPhone 6s was last year.
In addition to improved display technology and more robust water resistance, the iPhone 7's hardware bests every other smartphone on the market by a significant margin. As AnandTech pointed out not too long ago, the iPhone 7's hardware is "unparalleled and a cut above anything else in the industry."
As if that weren't enough, Apple with the iPhone 7 finally delivered marked improvements to overall battery life, at last addressing one of the more longstanding complaints about Apple's smartphone lineup. As a quick illustration, battery life on the iPhone 7 when browsing the web on Wi-Fi is 14 hours. On the iPhone 6s, battery life for the same activity checks in at 11 hours.
Last but not least, the camera performance on both iPhone 7 models was improved upon dramatically. The iPhone 7 Plus in particular has proven to be particularly popular in this respect.