The iPhone 7 was supposed to be something of a snoozer, nothing more than a relatively boring upgrade whose primary purpose was to hold us over until next year's redesigned iPhone 8.
In truth, the iPhone 7 is a compelling device in its own right. Packed with incredible new camera technologies, improved battery life and insanely fast hardware, Apple's next-gen smartphone quickly proved to be much more popular than almost anyone anticipated.
DON'T MISS:Does the iPhone 7 have any competition anymore?
If you're a current iPhone owner and are debating whether or not you should upgrade, you've undoubtedly read your fair share of iPhone 7 reviews at this point. If you still happen to be on the fence, AnandTech's new iPhone 7 review might be just what you need to push you over the edge.
AnandTech's iPhone reviews are well-regarded for being incredibly informative, technical and detailed, especially when it comes to items like hardware analysis and overall system performance.
Now it's no secret that Apple's iPhone 7 models are absolute screamers, and the latest benchmarks serve to confirm what we've already known for a few weeks: the iPhone 7 is the fastest smartphone on the market by a wide margin. AnandTech ran the iPhone 7 and iPhone 7 Plus through a gauntlet of hardware testing and both devices checked in at number 1 and number 2 in nearly every single test.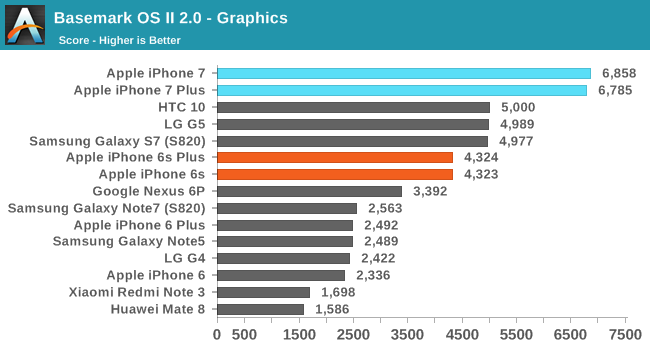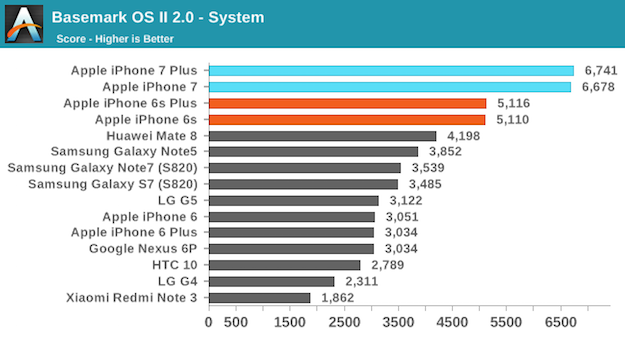 Now to be fair, it's not as if the iPhone 7 outperformed every single smartphone out there across all categories. With respect to battery life, for example, the iPhone 7 Plus had some stiff competition. With respect to battery life while browsing the web on LTE, the iPhone 7 Plus came in fourth, ranking behind the Huawei Mate 8, the Galaxy S7 Edge and the Galaxy Note 7 (RIP).
That aside, AnandTech's overall impression of the iPhone 7 was remarkably and persuasively positive. If you're looking for a broad yet incredibly detailed look into how the iPhone 7 measures up in terms of performance, battery life, camera architecture, video performance and more, the review is well worth checking out in its entirety.
As a parting shot, and speaking to how the iPhone 7 impressed, AnandTech closes with the following blurb.
Overall, I think that if there's any phone that is worth 650-750 USD at its base, it's the iPhone 7 and 7 Plus. If you're upgrading from the iPhone 6s Plus you probably won't find a ton of differences, but it's still a significant step up in display, camera, speaker quality, battery life, and system performance. There are some software bugs and minor performance issues, but there's nothing that really stands out as a showstopper and these issues are due to be fixed within the coming weeks. The iPhone might not excite like smartphones once did, but the amount of attention to detail and execution in the hardware is unparalleled and a cut above anything else in the industry.
Not too bad for a device that was allegedly going to be a dull and uneventful upgrade.
Make sure to hit the source link below for the full-length review. Whether you're a prospective or existing iPhone 7 owner, there's a whole lot of interesting information to digest.