Apple will unveil the iPhone 7 and iPhone 7 Plus in a few days, and it's likely that most of the iPhone 7 rumors we've seen so far will be confirmed, including pricing. Recent reports have already revealed prices for the various iPhone 7 versions Apple will have in stores starting in mid-September, and a new leak further reinforces an interesting development: the iPhone 7 will be a much better deal than the iPhone 6s.
DON'T MISS: This is why it's so great that the iPhone 7 is killing off the headphone jack
A Chinese website that has a reliable track record reporting Apple leaks, according to Forbes, posted the purported prices of the iPhone 7 and iPhone 7 Plus in China and Hong Kong. Anzuo.cn also offered current prices for the iPhone 6s and iPhone 6s Plus models for comparison.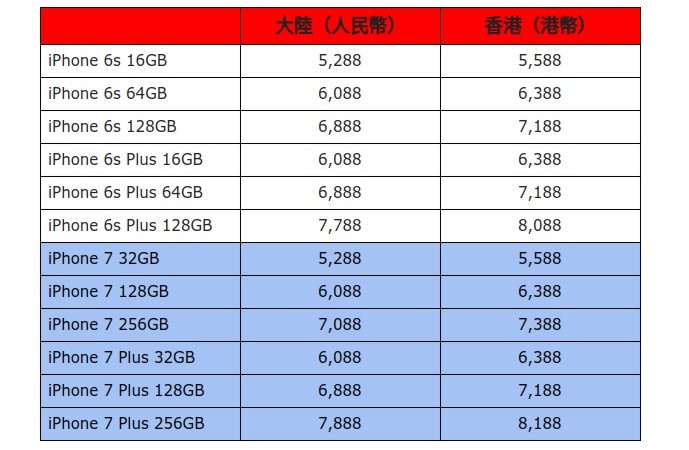 As you can see in the image above, the iPhone 7 will be a better deal than the iPhone 6s, even though prices are generally about the same. How is that possible you ask? Well, Apple is doubling storage across the board without increasing prices substantially. In case this sounds familiar, that's because Apple pulled the same trick when it moved from 16GB/32GB/64GB to a 16GB/64GB/128GB setup with the iPhone 6.
Sure, Apple is overcharging for those storage bumps, and storage represents one clever way for Apple to make more money off the iPhone. But keeping prices roughly the same means that you can buy a 256GB iPhone for about what people pay today for the 128GB option. And in the US, pricing tiers are likely to remain exactly the same.
That's still very expensive compared to what some high-end Android handsets might cost you, but you wouldn't have to buy additional cloud space or external storage solutions for the iPhone. Also, the iPhone upgrade programs that are available in some markets will make it even easier to upgrade to an iPhone 7 model that has a decent amount of storage without taking a financial hit in the process.