If you have an iPhone 7 or an iPhone 7 Plus, you've probably noticed by now that something is missing from this year's iPhones that had been present on every single iPhone up until this point. That's right, the standard 3.5mm headphone jack you used to plug your headphones and aux cables into is no more. Shocking, we know.
Okay, so Apple's move to ditch the standard audio port didn't come as much of a surprise following months of rumors suggesting that would be the case. Even still, there are some people out there who are very annoyed at Apple's decision, regardless of how "courageous" it may (or may not) have been. But if you own or plan to purchase an iPhone 7 — or any iPhone in the future — it's time to get over it. You can either use the Lightning headphones in the box, buy a new pair of Lightning headphones, buy wireless headphones, or use the headphone adapter that came in the box with your iPhone. If you decide to go with that last option, we'll show you how to make sure that you don't lose it.
DON'T MISS: One of the iPhone 8's hottest new features was just unveiled by another company
Apple loves dongles. Seriously, the company probably sells 10 times more dongles than you think it does. It has a dongle for every occasion, but Apple's new headphone adapter dongle is by far its most controversial. But if you want to plug your old headphones into your iPhone 7 and you're not sitting at your desk using an iPhone dock, this new dongle is your only hope.
Until you lose it.
The adapter is so tiny that it's bound to happen at some point. And not only will you be angry when it finally does happen, you'll also have to cough up $9 for a new one. If you want to hold onto your new adapter as long as possible though, we found a terrific DIY guide from CNET that will teach you how to make a little key chain that will hold your adapter nice and snug. All you need are three things:
An old pair of cheap headphones
A keyring
That's it, and in just minutes you'll have a little key chain that looks something like the one in the photo below from CNET (although you can mold it into any shape you'd like):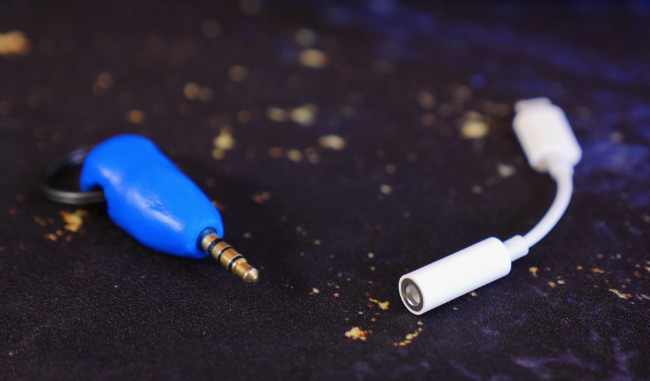 Click here to check out the full guide.