It's been six months since Apple released the iPhone 14 Pro Max, and it still holds the crown as the best smartphone for several reasons. While BGR already reported it has a better camera and a better processor, a test conducted by YouTuber PhoneBuff shows Apple's biggest phone also beats the Samsung Galaxy S23 Ultra in a battery test.
Besides the spoiler alert, his video is very interesting as it's the first time a Galaxy phone lasts for so long in a battery test. Long story short, the iPhone 14 Pro Max beat the S23 Ultra by 30 minutes, and during several hours of the 27-hour long test, it's Samsung's phone that actually reigns over the iPhone.
That said, it's worth noting that while the Galaxy S23 Ultra has a 5,000 mAh battery and the iPhone 14 Pro Max offers a 4,323 mAh battery, it's Apple's iPhone that wins the test thanks to optimized applications and better integration between hardware and software.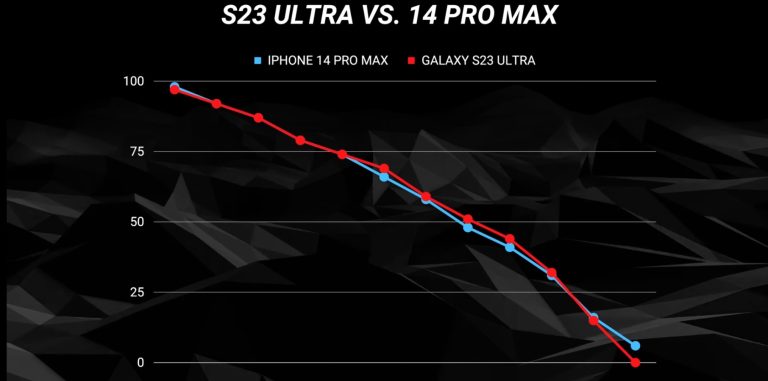 During the tests, the YouTuber starts with a call, then texting, e-mail scrolling, web browsing, and Instagram scrolling. While both phones offer a similar experience, it's during a 16-hours standby test that the iPhone's battery drops way below Galaxy S23 Ultra from 73% to 66% (S23 Ultra stays at 69%).
The experiment continues with watching YouTube videos, gaming, playing music, and sending Snapchats. That said, with the Snapchat app, Galaxy S23 Ultra loses the lead as the battery drains from 27% to 15%, and the iPhone remains with 16% of battery life.
To end the test, the YouTuber kept opening all the apps he used from the test until the battery of one of the phones died. That said, it's Galaxy S23 Ultra that turns off first. By the end of the trial, here's how each phone performed:
Samsung Galaxy S23 Ultra
Active time: 11h06
Standby: 16h
Total: 27h06
iPhone 14 Pro Max
Active time: 11h44
Standby: 16h
Total: 27h44
You can watch PhoneBuff with all testings in the full video below.