Apple's September press conferences are always the company's biggest events each year for obvious reasons. While it's true that Apple has a huge product catalog that continues to expand each year, the iPhone is still the company's most important and most popular product by a huge margin. Apple fans around the world wait all year long for the company to unveil its next-generation iPhone lineup, and then they flock by the millions to buy them. This year, fans weren't disappointed when Apple took the wraps off its new iPhone XS, iPhone XS Max, and iPhone XR. They're the fastest and most powerful iPhones Apple has ever made, and they also all adopt the iPhone's new design identity that was introduced on last year's iPhone X.
Of course, Apple has plenty more in store for fans ahead of the 2018 holiday shopping season. While Apple's October press conferences never get quite as much hype as its iPhone events, Apple often unveils more new products in October than it does in September. This year, we're expecting multiple new Mac computers, new accessories like next-generation AirPods and an upgraded Apple Pencil, and of course a pair of completely redesigned iPad Pro tablets. Now, a collection of renders might give us our best look yet at Apple's new iPad Pro design ahead of next week's big unveiling.
It can be argued that the home button that has spent the past decade on the front of Apple's iPhones and iPads is the single most iconic design element in consumer tech. As of next week, it will have been removed from all of Apple's newest and most powerful iOS devices. The iPhone X was the first Apple device to ditch the home button, which was stripped from the front of the phone to make room for a modern "all-screen" design. Every new iPhone model introduced in 2018 has done away with the home button, including the iPhone XS, iPhone XS Max, and the iPhone XR that will be released on Friday. Then, next week on October 30th, Apple will unveil two completely redesigned iPad Pro models that also lack a physical home button.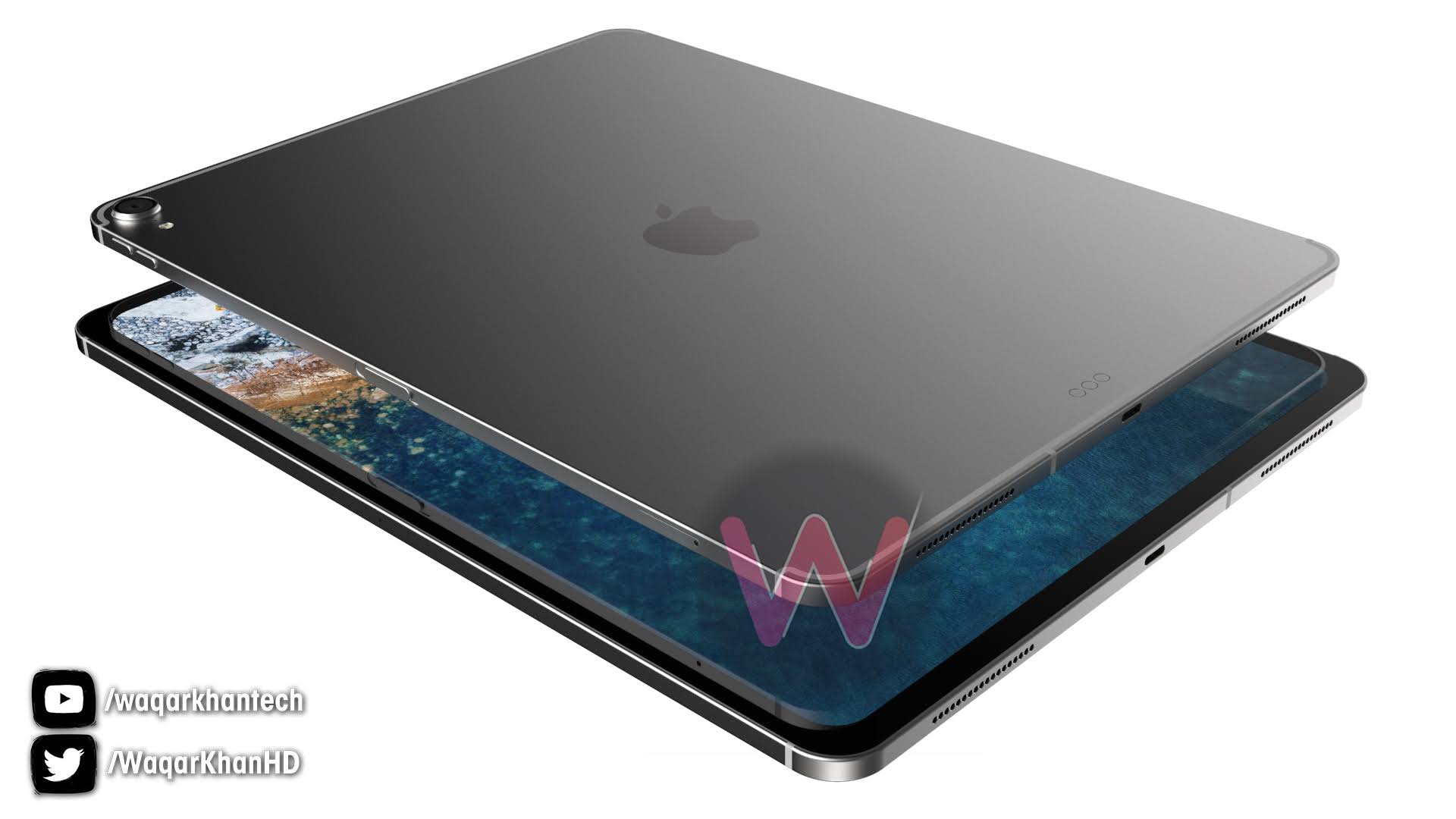 Apple's current-generation iPad models share a number of design features with the iPhone models that were introduced around the same time. In 2018, however, Apple's iPad Pro lineup will get a completely new design identity that looks nothing like the iPhone XS or iPhone XR. We've seen the new design leak a few times in the past, and now a YouTube user named Waqar Khan created a series of renders that show us exactly what to expect from Apple's press conference next week.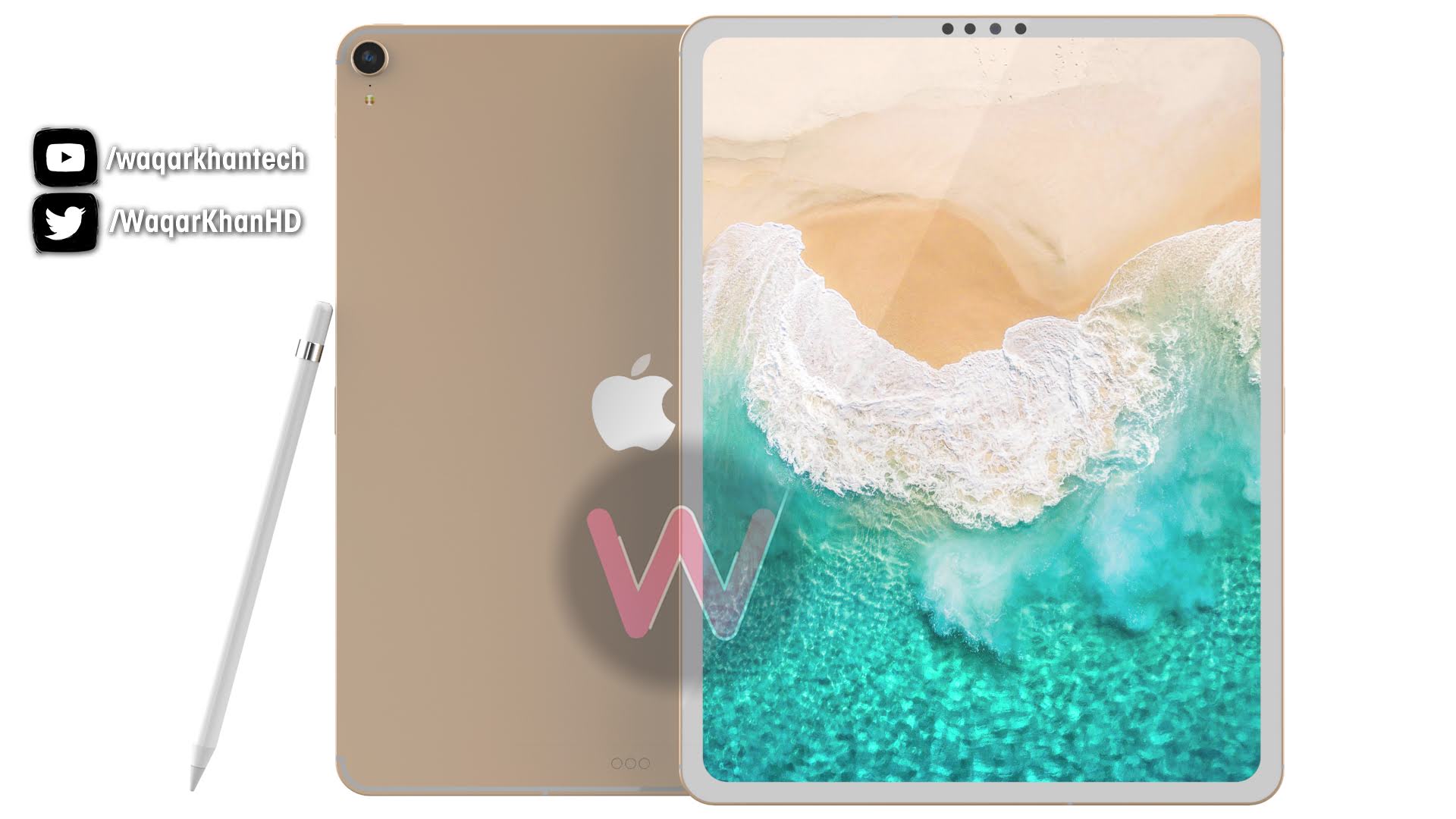 Both the current 10.5-inch and 12.9-inch iPad Pro models will be replaced with redesigned versions that feature new flat aluminum edges, new antenna lines, new speaker placement, new button placements, Face ID instead of Touch ID, and supposedly a USB-C port instead of a Lightning port. The most noticeable change will be the new design on the front of each iPad, however. The home button is gone, the bezels are much narrower, and the screen takes up almost all of the face of each iPad Pro model. According to recent rumors, the new iPad Pro that replaces the 10.5-inch model will have an 11-inch screen, and the larger model will get a slight bump from 12.9 inches to 13 inches.
Apple's October press conference takes place next week on the 30th. In the meantime, a video showcasing the aforementioned renders can be seen below.