At this point, it's quite possible that the iPad is the most unsexy product Apple sells. It's a great product, don't get us wrong, but consumers by and large simply don't care about tablets anymore. iPad sales continue to decline each quarter, and the global tablet market has been sliding as well. While industry monitors like Gartner insisted time and time again that tablets were "the next big thing," the truth is that the fill a gap that many people just don't care about. Add to that the fact that people who do buy tablets don't upgrade very quickly, and you're left with a market that doesn't seem to have much room for growth right now. If recent rumors pan out, however, it looks like Apple will look to rekindle consumers' love affair with iPads by releasing a brand new tablet with a big redesign.
According to a number of independent reports from several different tech blogs with good track records, Apple's iPad lineup will soon see a brand new addition.
The new iPad Pro rumored to be debuting sometime this year is expected to feature a fresh new design that will serve as something of a preview for Apple's iPhone 8 design. The tablet is expected to be about the same size as Apple's current 97.-inch iPad Pro, but it will feature a 10.5-inch display. How will Apple fit a larger display into a tablet that's the same size as its current iPad Pro model? You guessed it… by shrinking the bezels.
Rumor has it the new iPad Pro set to be released this year will feature a nice big 10.5-inch display with much smaller bezels than we've ever seen on an iPad. The screen will extend nearly to all four edges of the device, if recent reports hold true. Some also believe the new iPad Pro will do away with the home button and feature a Touch ID scanner embedded in the screen, though it seems unlikely that Apple would release an iPad with a new embedded fingerprint scanner before its new iPhone 8 is unveiled.
The timing of the new iPad Pro's release is still something of a mystery. Rumors had pointed to a March announcement, but March came and went without an announcement. Now, a new leak suggests that Apple could be lining up a June release for the new iPad Pro, which would make sense if the company unveils the new model during its WWDC 2017 keynote on June 5th.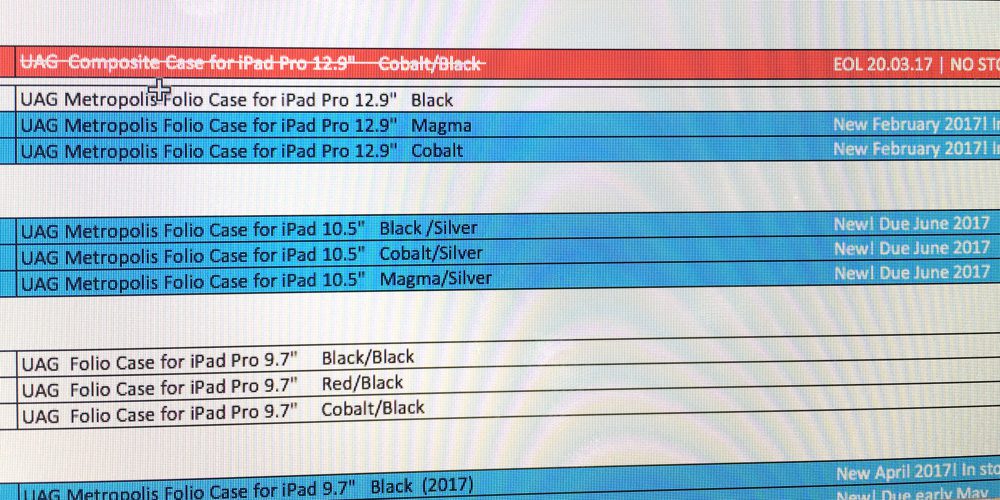 Apple news blog 9to5Mac on Wednesday posted what it claims is a photo of the inventory screen at an unspecified Apple reseller. In the image, a number of third-party cases from Urban Armor Gear are listed as fitting an "iPad 10.5″." No other information can be ascertained from the image, but we won't have long to wait before we find out since WWDC 2017 is now less than a month away.