While we had a minor emoji update with iOS 16, iOS 17, on the other hand, promises over 100 new emojis that could come to your iPhone starting next year. According to an Emojipedia blog post, there are a total of 108 new emojis when you include skin tone modifiers and gender variants that could be available with Unicode's Emoji 15.1 update.
All of these figures will be sent for approval this September. We could see them on the iPhone with an upcoming iOS 17 update if they get approved. The draft list includes a Lime, a head shaking vertically, a phoenix bird (Moltres, for Pokémon fans), and four new gender-neutral family emojis intended to be represented via silhouettes.
At the end of the day, Emojipedia says it depends on each vendor (Apple, Google, Samsung, etc.) as to whether or not to follow the design directive the company is giving. "These new direction-specifying emojis are all versions of pre-existing people emojis, but with the addition of explicitly-stated directionality," says the blog post.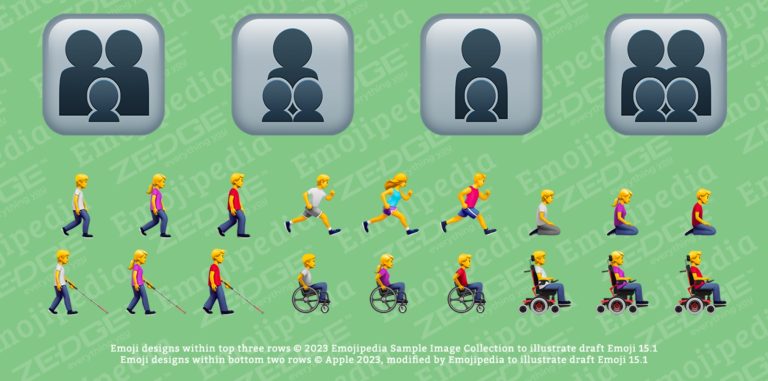 With that in mind, it's important to note that these aren't the final version of iOS 17 upcoming emojis. Emojipedia says the "images are just one way in which these emojis might look, created by Emojipedia's Head of Emoji Design Joshua Jones." The Emojipedia Sample Images have "intentionally been created in a glossy style directly inspired by the Apple emoji set, which is why we opted to reverse Apple's existing people designs for our overview image above."
After these emojis get approved in September, it's up to Apple, Google, and other companies to adopt these figures. As said above, iOS 16 waited until March to include Emojipedia 14.1 figures – the first that didn't have a person's variation. If Apple follows the trend, we could see new emojis arriving for iOS 17 also around March, when the company unveils iOS 17.2 or iOS 17.3. For iOS 17.1, the company will likely bring some already delayed features.
As always, BGR will let you know each emoji will be available with iOS 17 and when you can get your hands on them.