Apple kicked off its WWDC event with details about iOS 12, which is probably the most important update coming out of an Apple developer conference considering how much money iPhone and the iOS ecosystem brings in each quarter. As per tradition, Apple started the iOS 12 segment with plenty of talk about performance. The iPhone and iPad will be faster than ever once iOS 12 rolls out, Craig Federighi hinted, as Apple has devised several ways of improving responsiveness and increasing speed. Indeed, on the iOS 12 mini-site, the first iOS 12 feature that gets a mention is performance.
It turns out Apple worked a lot on improving performance, speed, and even memory consumption. That means current devices and especially future iPhones and iPads that will be powered by next-gen A-series chip will deliver tremendous results.
The main keynote of the show and Apple's iOS 12 mini-site don't explain what goes on under the hood, nor could they. After all, these are meant to be consumed by the general population, not just developers.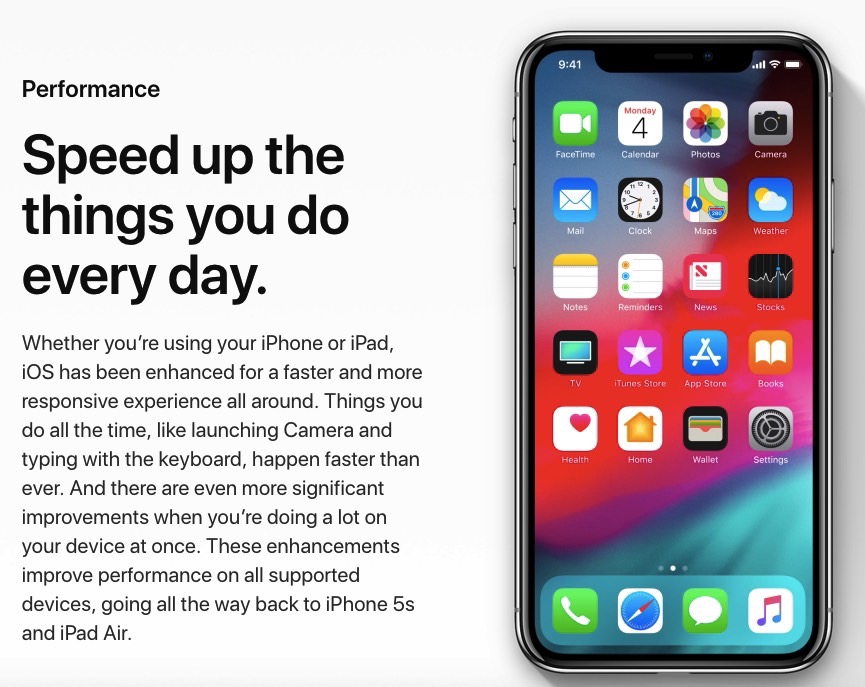 But Apple held various other keynotes in California this week, catered to its main WWDC audience, developers. One such presentation titled What's New in Cocoa Touch — and available online at this link — explains what Apple did to improve app performance.
In short, Apple has done a full audit of Apple apps to determine whether there's any lag, scrolling issues, and dropped frames, and came up with various ways to ensure the bugs it discovered in existing code would not be replicated in iOS 12.
A Reddit user perfectly summarized Apple's presentation and explained why iOS 12 should, at least in theory, deliver a much faster app experience.
Apple has looked at various ways to ensure that when you scroll through an app, the iPhone is ready to deliver consistent performance, without dropped frames or scrolling issues. As you might have guessed, it all has to do with the way the phone's resources are used, namely, the CPU, GPU, memory, and even battery.
To prevent scrolling issues, the CPU will now load the action on the screen before preloading what's coming next. In the past, the CPU would do both tasks at the same time, which could result in slowness.
The CPU will now respond even faster to big loads, increasing the clock speed to deal with the extra work. This is something that Federighi hinted on stage during the main keynote. The CPU will then go back to idle as fast as possible to ensure that battery life isn't affected.
iOS 12 also comes with significant optimizations to the auto-layout framework which allows iOS to automatically arrange app elements on the screen regardless of device type — say iPhone or iPad — without requiring any extra work from developers. That way iOS 12 will free up CPU and GPU resources that will be used elsewhere.
What's also impressive about iOS 12 is that apps might use less memory to perform tasks. Called Automatic Backing Stores, and detailed by Apple Insider, the new memory trick will reduce memory usage, by defining memory usage by the depth of the file not what's in it. Apple showed on stage a photograph and a grayscale drawn image both consuming the same amount of memory.
These sort of under-the-hood improvements that you don't even have to worry about are what will make iOS great again, especially once the final iOS 12 version rolls out running on top of A12-powered devices. In fact, the performance improvements are already visible in Apple's first iOS 12 beta, which is a lot more stable than previous beta 1 releases, and a lot faster than iOS 11.4.
The A11 chip is already the fastest mobile chip in town, but devices running inferior hardware offer a faster experience than the iPhone X — namely the OnePlus 6 and Galaxy S9. One reason iPhone X loses in real-life tests is lack of memory. The phone has to reload content in those tests, whereas Android flagships with RAM up to 8GB of RAM don't. App optimizations like the ones above and memory improvements will inevitably turn next-gen iPhones into even faster handsets. And the iPhone X Plus might be the most powerful model of all the A12-powered phones launching this year, assuming Apple equips it with 4GB of RAM, compared to just 3GB for the regular version.