WWDC 2018 is now one week away and Apple, to its great credit, has largely managed to keep rumors about forthcoming software and hardware updates under wraps. Indeed, the only substantive WWDC rumor we've seen claims that Apple with iOS 12 will allow developers to take advantage of the iPhone's NFC chip. If true, iPhone owners may soon be able to use their devices in all sorts of new and interesting ways, such as using the iPhone top open up hotel rooms and as a physical transit card replacement.
Aside from that, iOS 12 rumors have basically been non-existent. Hardly a surprise, we've seen reports that iOS 12 will primarily focus on under-the-hood improvements and that some of Apple's more ambitious iOS changes — such as a redesigned homescreen — have been pushed back to iOS 13. Still, that hasn't stopped some designers from completely re-imagining the look and feel of iOS. The most recent examples comes to us courtesy of Michael Calcada who put together a series of iOS mockups featuring a number of intriguing changes to the iOS user experience.
While some iOS mockups tend to focus on improving one aspect of the user experience, Calcada impressively reimagined multiple aspects of iOS 12. For example, there's been a growing call for Apple to make the volume control indicator on the iPhone less intrusive. Calcada's mockup imagines the volume indicator moving to the top of the display.

One of the more intriguing aspects of Calcada's design features an option that would allow users to place all of their apps on the homescreen and simply scroll up and down to access them.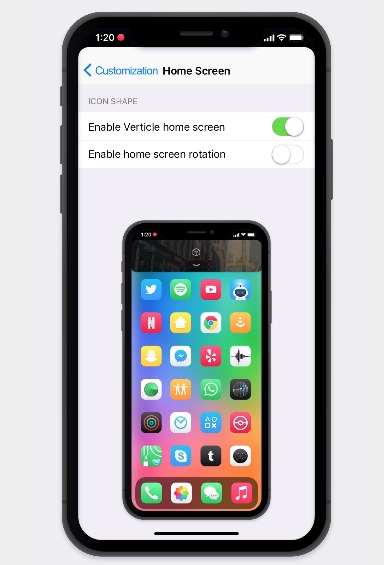 While iOS concepts tend to be a dime a dozen these days, Calcada's work here really stands out from the pack. Not only do the iOS mockups look slick and elegant, some of the ideas he came up with are quite clever. Indeed, some of Calcada's ideas are items that Apple should have implemented years ago, such as the ability to adjust the camera settings from within the camera app. Calcada's full portfolio of iOS changes can be seen over here with an accompanying video embedded below.