As great a resource as the App Store has become over the past nine years, there are certain tools that we shouldn't have to download from a third-party source in order to use them on our iPhones or iPads.
The Calculator, Calendar, Photos and Weather apps have been mainstays on iOS for years, but alongside the release of iOS 11, Apple finally added a tool that users have been clamoring for: a document scanner. Weirdly, it's kind of hard to find, but once you know how to use it, you can finally delete that scanner app.
If you want to give the document scanner a whirl, you first need to open the Notes app. (The scanner is actually built into the Notes app.) Once you have the app open, tap on an old note or create a new one and you'll see a + symbol above the keyboard, flanked by a checkmark and a pen tip. Tap on the + and a menu will pop up with four options, including Scan Documents. That's the one you want to tap on next.
The camera will appear and your iOS device will ask you to position the document in view of the camera. Once the document is in sight, the app will immediately begin to scan it and, after a moment, will automatically snap a picture. As with all of the best scanner apps, the Notes app will remove the surroundings and give you just a picture of the document, as if it had been cut out from a piece of paper with an X-Acto knife.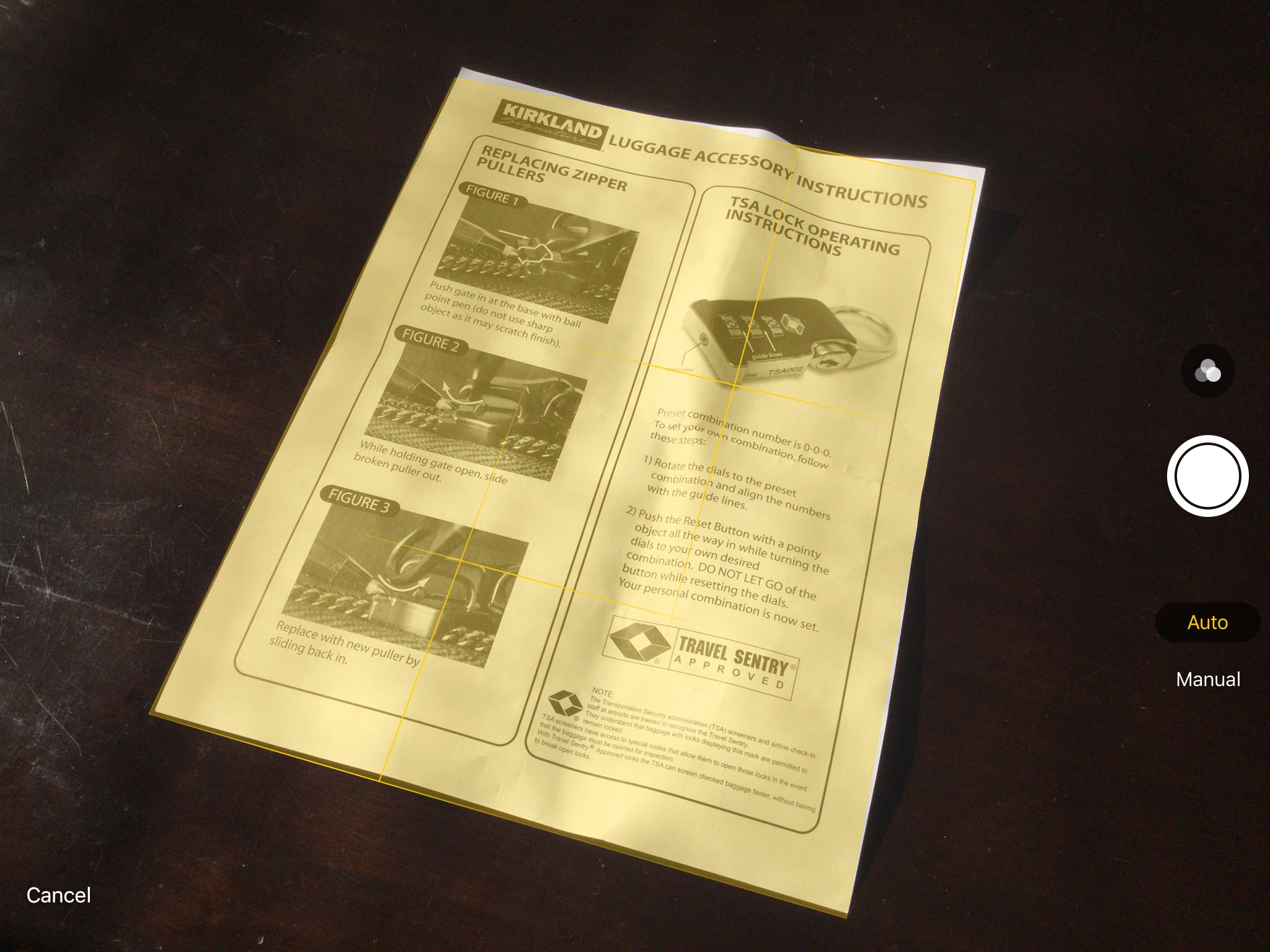 Once you've snapped a picture (which you can also do manually by tapping the shutter button), you will see a preview of the scans at the bottom of the screen and the camera will return so that you can continue scanning a multi-page document. When you're done, just hit the Save button at the bottom of the screen and any scans you captured will be placed into the note that you opened at the outset. If you want to move the document scans out of the Notes app, just hold down on the preview of the scans and hit Share when it appears.
I'm not sure why it's tucked away in the Notes app, but Apple's new document scanner is one of the best I've used on my iPhone or iPad to date. It can scan a document from any angle, it gives you the choice to capture in grayscale and black & white, and you even have the option to annotate a document once you've scanned it. It might not be the most exciting addition of iOS 11, but the new document scanner is a welcome one.