CES is an abbreviation for "Consumer Electronics Show," and it's difficult for your average consumer to get exciting about microprocessors. Most people simply don't care about what happens behind the scenes in their gadgets, they just care about the user-facing features those gadgets provide. At the same time, none of those features would be possible without the modern chipsets that run the show, and that's why two of the most exciting announcements from CES 2018 so far come from chip makers.
First up we have Intel, which unveiled upgraded versions of its 8th-generation Core i5 and Core i7 processors. But 8th-generation Kaby Lake chips are old news, you say. These new H-series chips pack a surprise: new integrated Radeon graphics modules from none other than Intel's top rival, AMD. On top of that, Nvidia finally took the wraps off its next-generation Nvidia Drive Xavier chipsets, which will provide a new suite of AI features to the wave of self-driving cars set to hit the roads in the coming years.
Intel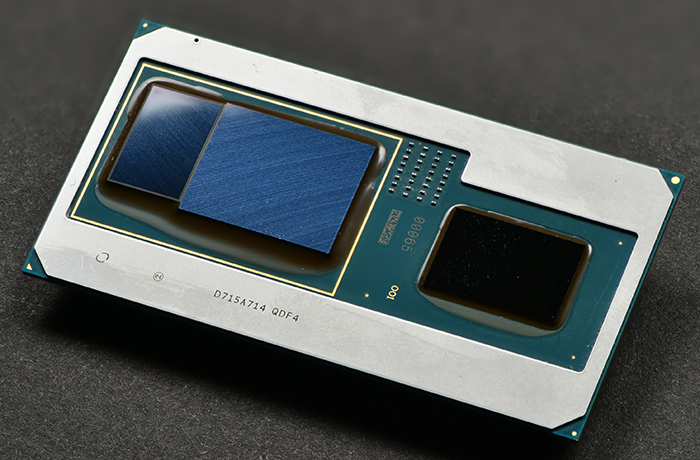 Intel on Monday morning helped kick off CES 2018 with a bang. We can't say the company's new 8th-generation Core processors come as a surprise, since Intel and AMD first announced that they would be collaborating on new chipsets back in November last year. These new H-series chips are no less exciting as a result, of course, and they're poised to give upcoming laptop and desktop computers a huge shot of adrenaline.
The fabless chipmaker's Embedded Multi-Die Interconnect Bridge (EMIB) technology comes into play here, allowing Intel to combine 4GB of dedicated HBM2 with Radeon RX Vega M graphics. As Intel puts it, EMIB technology "acts as a high-speed intelligent information bridge between the GPU and HBM2 and reduces the usual silicon footprint to less than half that of discrete components implemented separately." Intel's quad-core Core i5 or Core i7 chipsets round out the offering.
Intel says that in addition to enhanced performance, this new architecture is more compact and therefore perfect for devices with smaller footprints such as "2 in 1s, thin and light notebooks, and mini PCs." The company hasn't yet confirmed any launch partners for the new chipsets, but it did say devices with the new H-series chips will be released sometime this year.
Nvidia
While Intel's big announcement was focused on the PC market, Nvidia's new chips are aimed at a much smaller market that is currently on the brink of exploding. The company's new Nvidia Drive Xavier chipsets will be the brains that power self-driving cars of the future.
Nvidia says its new SoC is designed to "bring AI to every aspect of the driving experience," and to "provide a technological path forward for the 320-plus companies and organizations working with us on autonomous vehicles." The company added that it will begin delivering the first samples of its new Xavier chips to customers beginning this quarter.
Nvidia calls Xavier the most complex SoC ever created, each example containing more than 9 billion transistors. The chipset has been in development for four years at this point, having been the focus of more than 2,000 Nvidia engineers over that period. Nvidia says it has invested more than $2 billion into research and development for its new Xavier chips.
"While the technical details are complex, the story is simple: DRIVE Xavier puts more processing power to work using less energy, delivering 30 trillion operations per second while consuming just 30 watts," Nvidia said in a press release. "It's 15 times more energy efficient than our previous generation architecture."