People immediately started comparing Apple's Vision Pro to traditional VR headsets as soon as Apple showed the new product. I explained why that take is so wrong. But comfort and weight are two areas where comparisons might be appropriate, given that VR headsets are bulky. The first Vision Pro hands-on experiences gave us a few reference points for the headset's weight. The consensus seems to be that it can be heavy for some people, so your mileage will vary.
Since I plan on buying this thing as soon as it's out and using it for work, I'm also interested in how comfortable it is. Apple never gave us a full set of specs for the Vision Pro. Early testers told us that Vision Pro weighs about 1 pound (454g). But that isn't enough to determine whether it's comfortable to use.
That's why I used ChatGPT to figure out whether the weight of the Vision Pro might be a problem for me.
According to The Verge, the headset weighs less than a pound. That's a great start, but not enough to tell me if it's comfortable to use.
Wired found it to be hefty, which is hardly surprising. This thing is made of glass and aluminum:
I assumed this external battery pack meant the headset itself would feel as light as a feather, but it still felt hefty. Once I adjusted both a bigger backstrap and the top soft strap, I went through another calibration process, which concluded with an audible chime of approval.
Wait, there's a top soft strap? Thankfully, TechCrunch brought some clarity on that. Apple is still deciding what to pack in the Vision Pro retail box:
The optics are better, the headband is comfortable and quickly adjustable and there is a top strap for weight relief. Apple says it is still working on which light seal (the cloth shroud) options to ship with it when it releases officially, but the default one was comfortable for me. They aim to ship them with varying sizes and shapes to fit different faces.
The point here is that the default Vision Pro package will have customization options in place, possibly including a top strap to help distribute weight.
How ChatGPT helped me learn about the Vision Pro's weight
So what would it feel like to wear a 1-pound computer on my head? I could always compare it with traditional, bulky VR headsets. But I had a better idea, and that's where ChatGPT helped. Also, more people ski than use VR.
While we wait for Apple's complete Vision Pro specs, I did find a way to alleviate my concerns about the spatial computer's weight.
I asked ChatGPT to give me combos of the best possible ski helmets and goggles, and tell me how much they weigh. I asked for the lightest and heaviest combo. My thinking is that you'll wear helmets and goggles for several hours while you're skiing without worrying about the weight on your head.
The lightest setup that ChatGPT came up with includes a helmet that weighs 500g (1.1 pounds) and goggles that weigh 145g (0.32 pounds). The heaviest set goes up to 650g (1.43 pounds) and 186g (0.41 pounds).
I think I'm comfortable wearing a ski setup weighing between 645g (1.4 pounds) and 836g (1.84 pounds) for sessions of at least 4 hours. The Vision Pro shouldn't be heavier than a helmet.
I only take the helmet and goggles off for lunch break while I'm out skiing. And I don't have a problem wearing them for between 6 to 7 hours a day. With that in mind, I think I'll be fine wearing the Vision Pro for extended sessions, as the headset appears to be lighter than a ski helmet.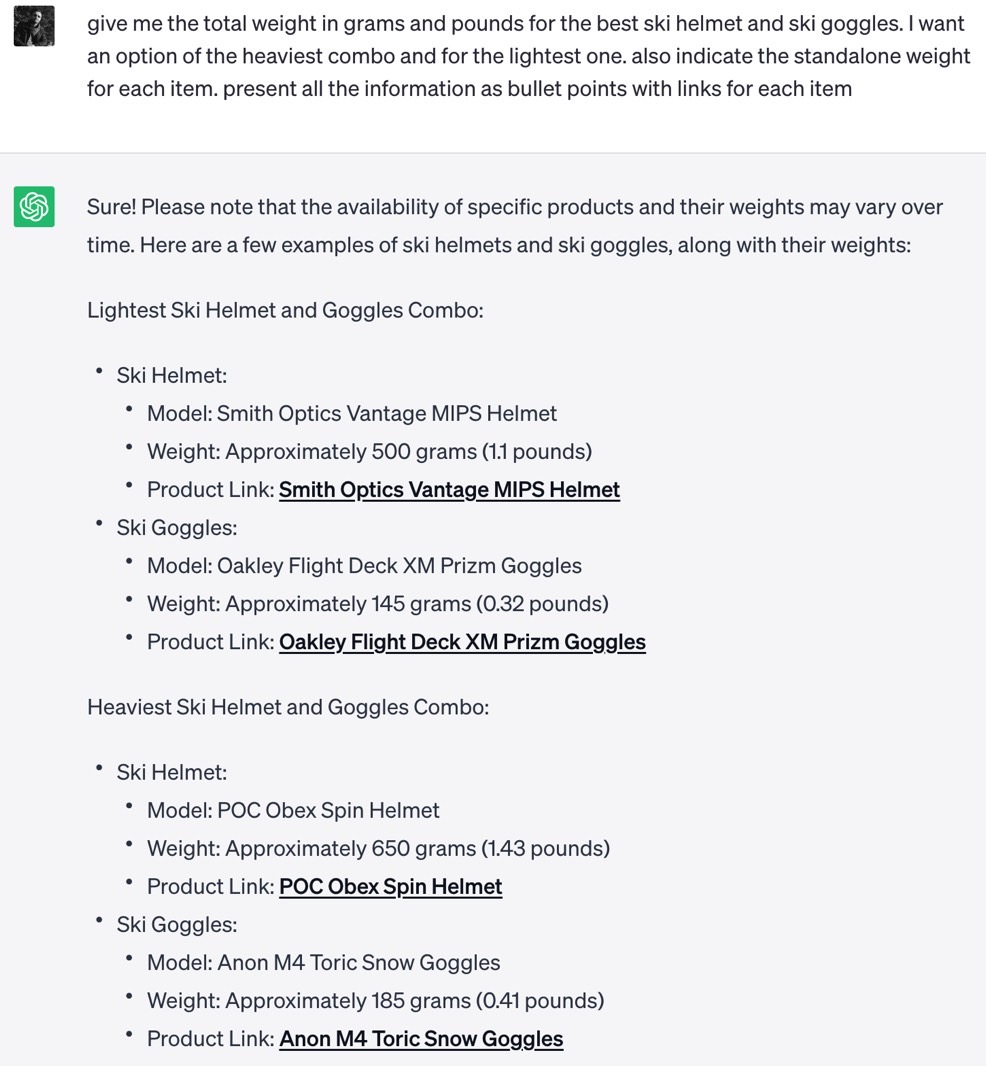 One more thing
Mind you, the free ChatGPT version isn't connected to the live internet. It works with data that's accurate up to late 2021. There could be lighter helmet and goggle combos out there by now. Then again, many people own older helmets that would probably fall within those weight limits
Still, this is just an exercise that proves the Vision Pro should be comfortable enough to use. That weight isn't going to be a problem for most people. Although yes, I expect Apple to reduce the weight in future generations.
I'll also point out that ChatGPT can give false information. I could have easily gone to Google Search to obtain the same information, but ChatGPT is the much quicker option.
All told, I think I'll be able to use the Vision Pro for several hours at a time. The problem here is that the battery only lasts for two hours. That means I'll have to be plugged in, which isn't ideal. But that's a problem for another day.