Apple markets its current-generation iPhone X as an "all screen" phone, but it's not. It's really, really not. The truth of the matter is that Apple's iPhone X is nowhere close to having a class-leading screen-to-body ratio, and this year's new iPhone models will feature the same ratio on the 5.8-inch and 6.5-inch iPhone models, or an even worse ratio on the 6.1-inch LCD iPhone Apple will launch this coming September. Samsung's Galaxy S9 and S9+ don't have a notch, but they do have large bezels above and below their displays, and the upcoming Galaxy Note 9 will be more of the same. It's quite possible that next year's Galaxy S10 will have narrower bezels to push us closer to the all-screen phone we've been waiting for, but that phone is still at least half a year away from being released.
Well, we have good news and bad news for anyone who has been waiting for an all-screen phone that doesn't have a notch at the top of the display. You're finally about to meet the smartphone of your dreams… as long as you don't live in the United States.
Remember when Trump's White House pressured US wireless carriers and retailers to stop carrying Huawei smartphones for absolutely no good reason? Well that didn't stop Huawei from passing Apple in the second quarter to become the second largest smartphone vendor in the world. But it will stop the company from releasing its upcoming new flagship smartphone in the US, and consumers in the country will miss out on one of the most exciting new smartphones of 2018 as a result.
A new leak from earlier this week reveals that the upcoming Huawei Mate 20 Pro will be a jaw-dropping handset when it's released later this year. The phone is rumored to feature a next-generation Kirin 980 processor, "GPU Turbo" technology for enhanced graphics, 40W fast charging, a triple-lens rear camera, and a new fingerprint sensor embedded right in the display. As if those leaked specs aren't impressive enough, a user on Chinese microblogging site Weibo posted a leaked photo of the handset.
As you can see, this device is as close to "all screen" as any major smartphone vendor has ever come. It puts the iPhone X and Galaxy S9 to shame. Here's another look at the leaked Huawei Mate 20 Pro photo, but this time we've enhanced it a bit so you can see just how thin the bezels are around the display.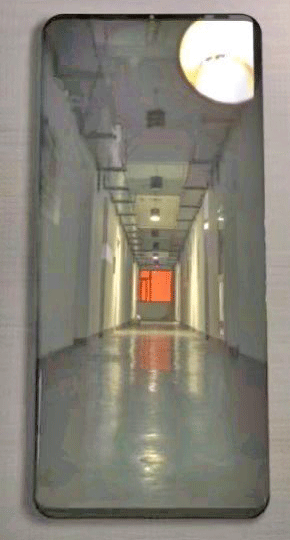 The Huawei Mate 20 Pro is expected to be released sometime around the middle of October in numerous markets around the world. Unfortunately, the launch will not include the US. You might be able to get your hands on it if you're willing to pay full price — the Huawei P20 Pro and its class-leading triple-lens camera can be purchased right now on Amazon for $200 less than an iPhone X — but don't expect to see it on any store shelves at your local wireless carrier.