Apple's built-in security features and the massive Find My network should deter thieves from stealing iPhones. Yet thefts still happen. Some involve thieves glancing over your shoulder to see your Lock Screen password so they can unlock the phone and then try to lock you out of your Apple ID. That's a nightmare scenario that Apple needs to fix. Until then, I've already shown you what you can do to bolster your security and prevent an Apple ID takeover on a stolen iPhone.
But what happens if someone steals your iPhone from your hand while the screen is unlocked? Well, this is a rather unusual decision on their part, as you'd still be able to track the handset. The problem is that the thief might access sensitive data on the phone while it's unlocked. And they can enable Airplane Mode. Thankfully, there's a brilliant Apple Watch trick that you should deploy as soon as possible to lock the iPhone screen from a distance.
Key prerequisites
For this iPhone safety trick to work, you need to ensure a few things are in place.
First, you should use a Lock Screen password/PIN and Face ID/Touch ID on your phone. If you don't, your handset is practically unencrypted. Also, the Apple Watch trick doesn't work, as it won't unlock the screen. The thief would still be able to unlock an iPhone lacking password protection.
Second, you need an Apple Watch connected to that iPhone. And you'd better hope this thief didn't stick around to also grab your watch and other belongings once they swiped your iPhone from your hands.
Finally, you might want to have Control Center disabled on the iPhone Lock Screen so the thief won't be able to access Airplane Mode once you unlock the display.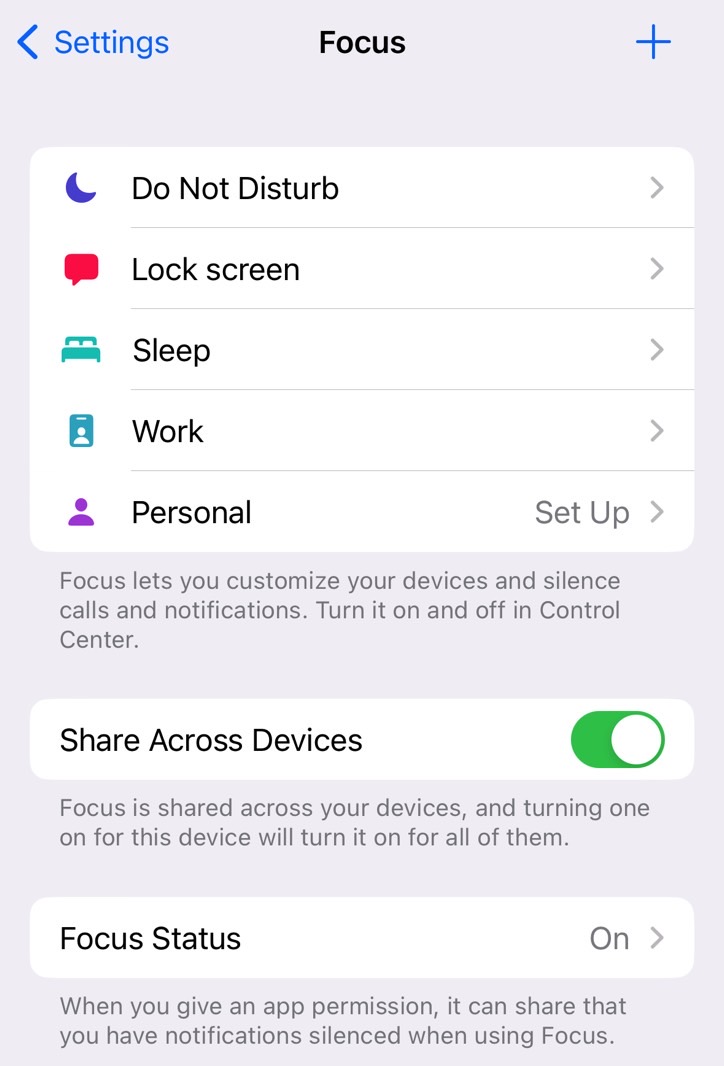 How this Apple Watch trick works
Detailed by Gizmodo Australia, the trick relies on an automation you'll set up from the iPhone's Shortcuts app.
The automation will let you create a custom Focus Mode on the iPhone that does the following things:
it locks the screen
it turns off Airplane Mode
turns on mobile data, Wi-Fi, and Bluetooth
sets Low Power Mode on
shows a notification
The purpose of this automation is to allow you to remotely enable the Focus Mode that performs all these actions so you can lock the iPhone right after the thief leaves via Focus Mode.
You need to be quick enough for the iPhone to remain within Bluetooth range from the Apple Watch. You'll want the Focus Mode to turn on all wireless connectivity and turn off Airplane mode so you can reach the iPhone. With Control Center off on the Lock Screen, the thief will not be able to enable Airplane mode again.
That said, here's what you need to do to enable this automation.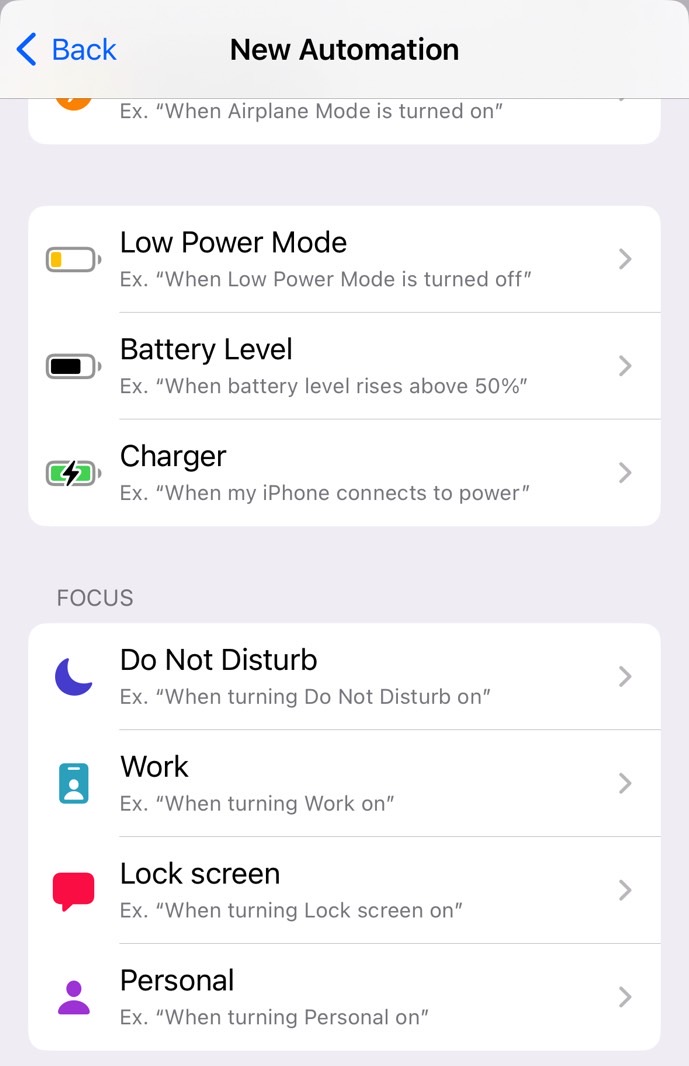 Locking the iPhone screen from the Apple Watch
First, set up a Focus Mode on your iPhone by going to Settings, Focus Mode, and tapping the + button. Give it a name you'll remember, like Lock Screen. Make sure you share access across devices.
Now open the Shortcuts app and go to the Automation tab to look for Create Personal Automation.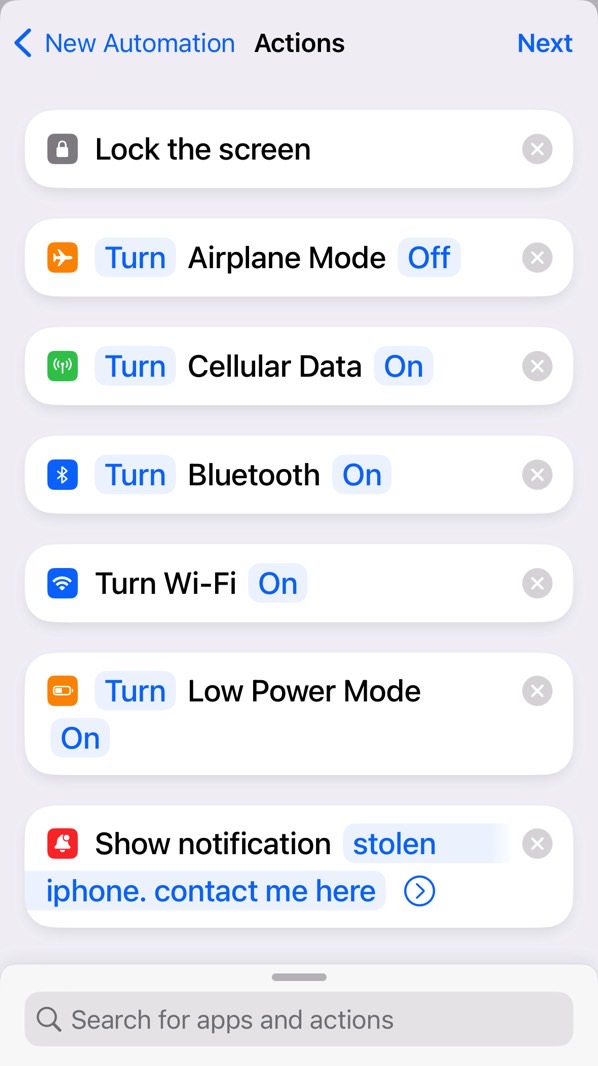 You will want to tap the Lock Screen option in the Focus menu. Then choose When Turning On before you click on Next. This is the page where you'll use the Add Action command to find the actions mentioned above and setting these parameters:
Lock the screen
Set Airplane Mode (Off)
Set Cellular Data (On)
Set Bluetooth (On)
Set Wi-Fi (On)
Set Low Power Mode (On)
Show Notification (custom message to the person finding the phone)
Once you've set them up, tap Next, turn off Ask Before Running, and hit Done.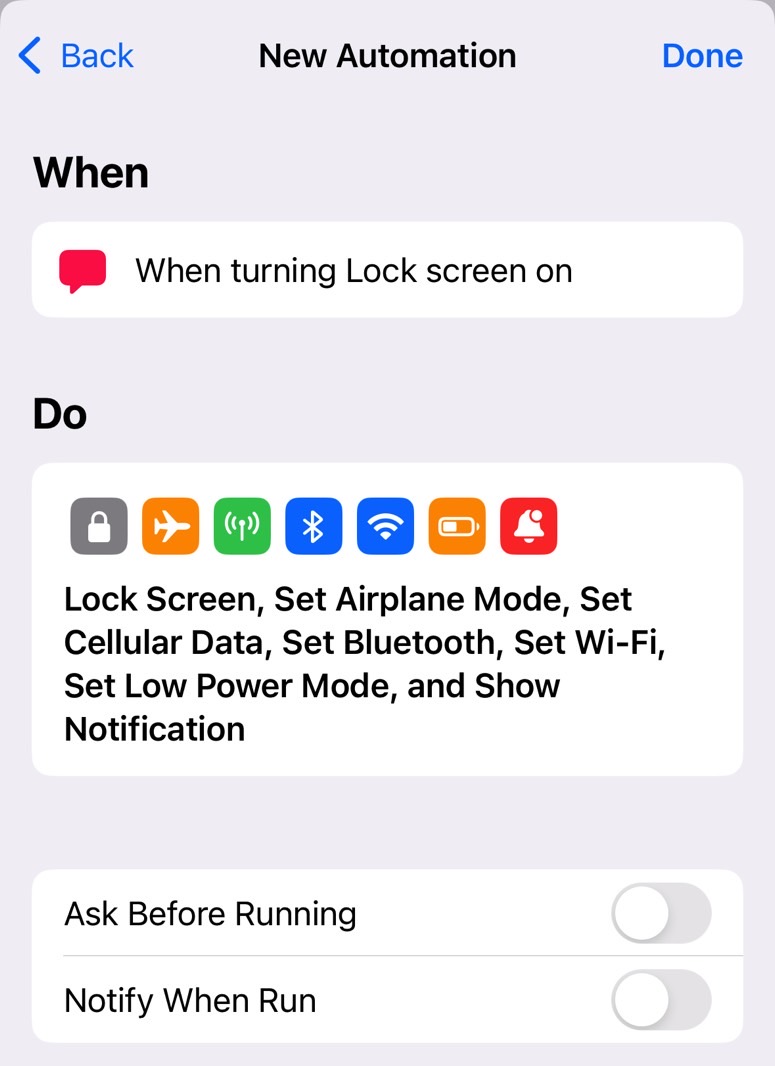 If anyone snatches your iPhone from your hands while the screen is unlocked, you can then swipe up on the Apple Watch screen to bring up Control Center. Tap the Crescent moon icon and choose the Lock Screen focus. Enable the Focus Mode, and you're good to go.
Be sure to test the feature at home so you know what to do. Hopefully, you'll never have to use the automation. But testing it at home will tell you if you've done everything right or not.