Remember back before Amazon acquired Woot when it was, you know, good? The site used to offer a deep discount on a single item each day beginning at midnight. A single product, as in I. There was always only a limited supply of each product, so really good deals would sell out in a matter of hours. If you wanted to guarantee you got in on the action, you had to be awake at midnight to see the day's new deal as soon as it went live. Ahh, the good old days. Now Woot is basically a collection of stuff sold on Amazon, except sometimes it's sold at a slightly lower price. Slightly. It's also no longer just one product a day, which completely ruins the fun.
If you miss the old Woot, you'll be happy to know that the company's founder actually quit Amazon a while back and relaunched his original concept as Meh. But Meh isn't the only game in town when it comes to the original Woot sales model, and we recently came across an app that Woot fans will definitely want to check out.
We rarely cover individual apps here on BGR, but sometimes we find stuff we really like and feel compelled to share. Such is the case with a relatively new app called Cayenne Clothing. It's an iOS-only app that uses the original Woot model, but it applies that model to men's fashion. The result is one single deeply discounted article of men's clothing each day, and it's only available until inventory sells out.
We've been using the app for about a month now and we've seen some truly impressive discounts on designer clothes. We've also been introduced to a bunch of new brands we had never heard of before, which is an added bonus of using the app. The quality of the discounts vary from day to day, but on the whole we've found that prices are indeed lower than what we were able to find elsewhere. We've placed a few orders as well, and we've been pleased with both quality and with shipping each and every time.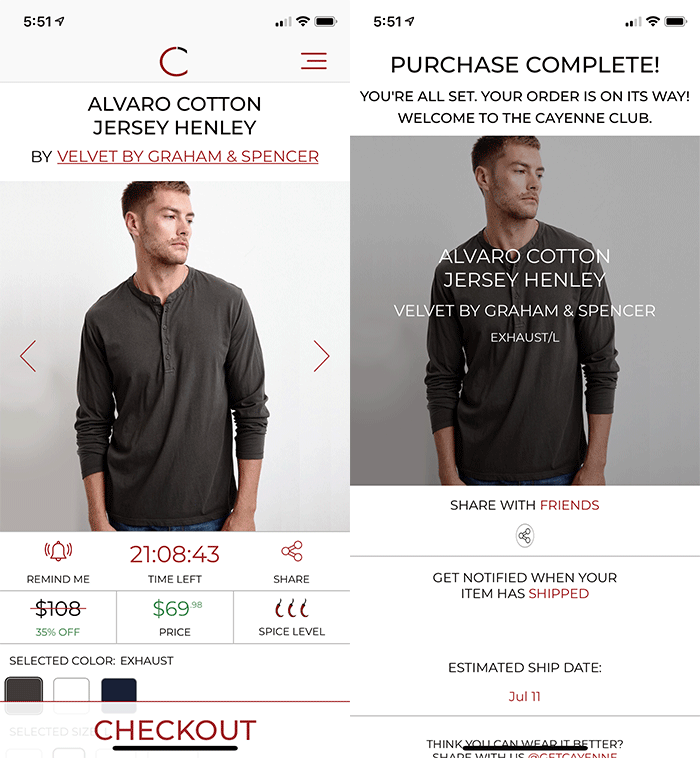 Here's the full description of the Cayenne Clothing app from the iOS App Store, and you'll find a download link at the bottom of the post.
Go live your life, stop wasting your time shopping.

Cayenne Clothing is the easy way for men to dress well. We feature one new item a day, with a focus on saving you time, listing only timeless and high quality apparel. Cayenne doesn't sell clothing on a website, so we can offer you great prices that you can't find anywhere else.

Cayenne is designed to allow men to find great clothes, watches, belts, and shoes without taking time out of your day. Confidently buy a great product in as little time as it takes to ride the elevator.

Cayene is nordstrom quality, at nordstrom's rack prices, with stitchfix amount of decision making (without the stitch fix commitment), ease of amazon, and surprise factor of woot, whiskeymilitia, and touch of modern. Don't forget the huckberry style without the huckberry prices.

No password required. No box subscription. No messy marketplace.

Best of all, you can pay with Venmo or Apple Pay :)

Finally you can save time, dress well, and have some money to spend on yourself.

Start dressing well and impressing those around you. Get compliments and get noticed.
Spend more time doing what you love, less time trying to look good, and more time looking good.

Be Bold.
Dress Hot.
Get Cayenne.