When Google launched the Pixel 3 in October, it was generally well received. We gave it a positive review ourselves, but it was impossible to ignore the elephant in the room: Google's new phones were fundamentally broken. It was not the notch or the design that was flawed, but the software and the way the phone worked. You can read about some of those issues here, but at long last, Google is releasing substantive fixes for the Pixel 3 and 3 XL.
On Monday, December 3rd, Google pushed out the December 2018 Android security update, which just so happens to address more than a dozen functionality issues affecting the Pixel 3 and 3 XL. If you've been frustrated with your Pixel up to this point, you should have an easier time with the phone once the update is applied.
The most substantial of the thirteen functional patches included in the update is the "improved memory performance in certain circumstances," which should solve the baffling memory management issue that was causing apps running in the background to unexpectedly shut down. Some users reported that music playing in the background would stop when they took a picture — that's how terrible the Pixel 3 was at handling RAM.
Some of the other improvements focus on camera capture performance, notification visibility when using Pixel Stand, Android Auto compatibility, and USB-C accessory detection. Here's the full list of fixes: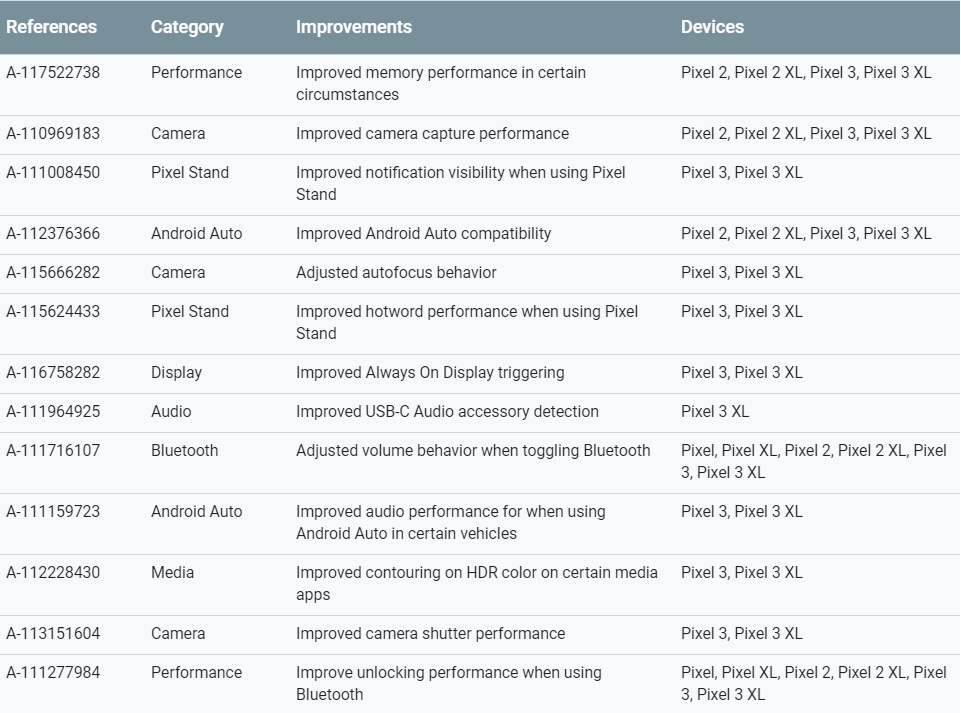 As you can see in the chart above, some of these fixes address older Pixel phones as well, including the previous generation and the original Pixel and Pixel XL. The update should be available on your Pixel today.