Google's new Nexus devices are supposed to arrive at some point after Android 7.0 Nougat is released but don't expect them in stores quite yet. However, more and more reports reveal interesting details about the two devices, from hardware to software features. The HTC-made Sailfish and Marlin are going to have a brand new launcher, that does away with two key elements of the usual vanilla Android user interface, a report said on Tuesday. However, that's not the only change in store for the devices, which are supposedly going to offer users a new fingerprint sensor-related gesture.
DON'T MISS: Samsung is already making fun of the iPhone 7's lack of headphone jack
Because it's a feature that needs a fingerprint sensor on the back, only those Nexus devices that have one will support it. That includes the upcoming 2016 Nexus smartphones, and might cover last year's Nexus 5X and Nexus 6P, Android Police reports.
The feature is quite simple, as seen in the following animation. Swiping down on the fingerprint sensor on the back of the phone will bring up the notification shade. It's a handy trick, but hardly a novelty. The feature is already available on Huawei Honor devices, but Google apparently wants to bring it to the Nexus line as well.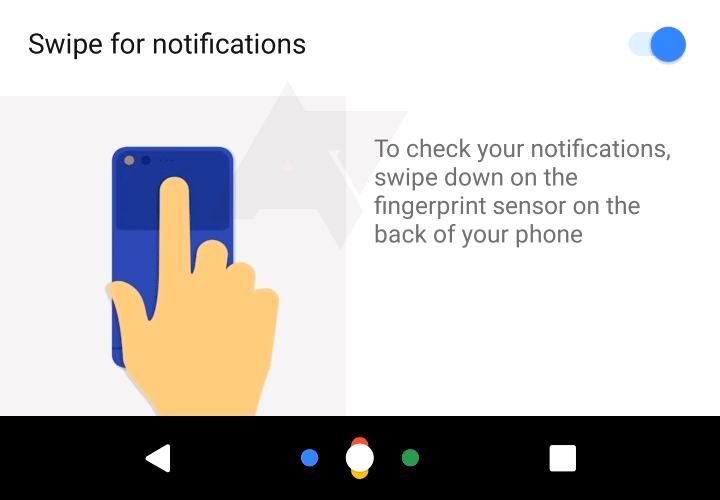 The image above also seems to confirm that the new HTC devices will come in some sort of blue version and that they might feature a hideous rear design. One other thing to notice in the image is the new button design for the Nexus phones, including the "flower" home button that will supposedly activate Google's Assistant.
Google is expected to release the final version of Nougat at some point in the coming weeks, and launch the new Nexus smartphones by October 4th, according to a recent report on the matter.