Remember when Google's CEO Sundar Pichai said that future Nexus devices would have a more prominent personality when it comes to software features, hinting they might not run vanilla Android like their predecessors? A new series of leaks indicates that Google is indeed working on a bunch of brand new features for the 2016 Nexus devices, including new Google apps and launcher experiences, as well as a new set of wallpapers.
DON'T MISS: Why you should hurry up and preorder the Galaxy Note 7 as soon as possible
According to sources familiar with the matter who have talked to Android Police, Google is preparing some radical changes for the upcoming Nexus devices – at this point, it's not clear if the following new features will be available on all smartphones and tablets that will be running Android 7.0.
Google is supposedly going to replace the app drawer with a brand new drawer, one that doesn't even have an app assigned to it. That means you'll have five static icons at the bottom of the home screen. To bring up the app drawer, you'll have to slide up from anywhere in the "frosted" zone at the bottom of the display, or press an arrow. Swiping down does the opposite, and the app drawer goes away.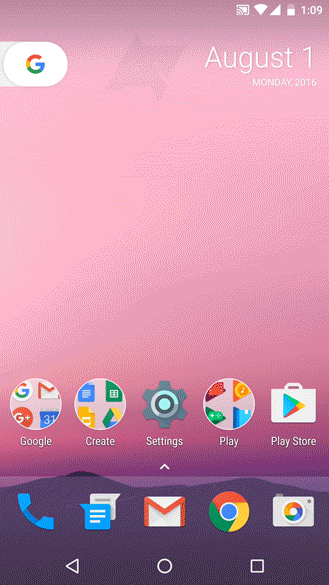 More puzzling is Google's decision to remove the search bar altogether from the home screen, which is one of Google's most prized possessions on an Android device, especially Nexus-branded ones.
But Google Search and Google Now aren't going away. They're going to be replaced by a Google button on the left side of the screen that has a colored "G" logo on it, and a fixed calendar widget on the right side of it. These are present only on the home screen, and Google offers users the ability to hide the Google app if they so desire. Could this be related in any way to Google's various antitrust headaches it has to deal with in Europe, one related to how it's seen taking advantage of Android to place its web services in prominent positions?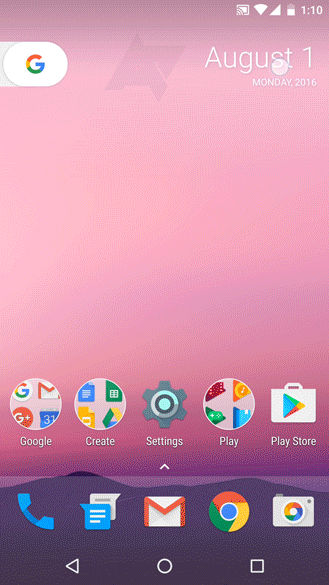 Tapping the G launches search, but you can't pull it. Google may further refine the feature, as these GIFs do not show a final Android 7.0 Nougat in action.
Android Police speculates that the G button will also get Google Assistant features in the future and that Google's recently unveiled Assistant may play a key role in the new launcher.
The site also says that new nav buttons are in order, including "some form of the 'flower' home button," meant to usher in a new era of Now/Assistant functionality that would be powered by new gestures, like a long press on the home button.
Finally, Google's new Nexus devices will feature a variety of new wallpapers, a slew of which are available for download at this link. What's interesting about them, aside from the impressive imagery, is that some of them will be live wallpapers with varying animations and functions.