Navigation apps like Google Maps are what you might need the most this holiday season. In addition to getting you to your destination safely for Thanksgiving and Christmas, Google Maps also collects plenty of data to help you plan your shopping spree, especially around Black Friday.
As a result, Google can offer trends of the various businesses you'll be visiting in the coming weeks for those in-store deals that you might be eying. Or maybe you're just running quick errands and want to avoid busy times. Then there's always the actual travel planning for Thanksgiving. Google Maps knows when you should leave and when to return to avoid traffic jams.
Google analyzed last year's Thanksgiving traffic patterns across more than 20 major US cities to come up with the best times to travel on Thanksgiving. Here's what it found:
Best time to drive: Monday or Tuesday before Thanksgiving around 8:00 PM local time.
Busiest time to drive: Tuesday or Wednesday around 4:00 and 5:00 PM.
Best time to drive on Thanksgiving: Before noon or after 4:00 PM
Best Black Friday driving times: Travel before noon and after 7:00 PM
Best time to drive during the Black Friday weekend: Avoid roads between 3:00 and 4:00 PM on Saturday and Sunday. Leave the house around 7:00 or 8:00 PM.
Google also put out Google Maps trends for the best times to travel, shop, and run errands during the holiday period. Don't expect to avoid all crowds, but keep an eye on the Google Maps trends below when deciding when to travel, shop, run errands, and a combination thereof.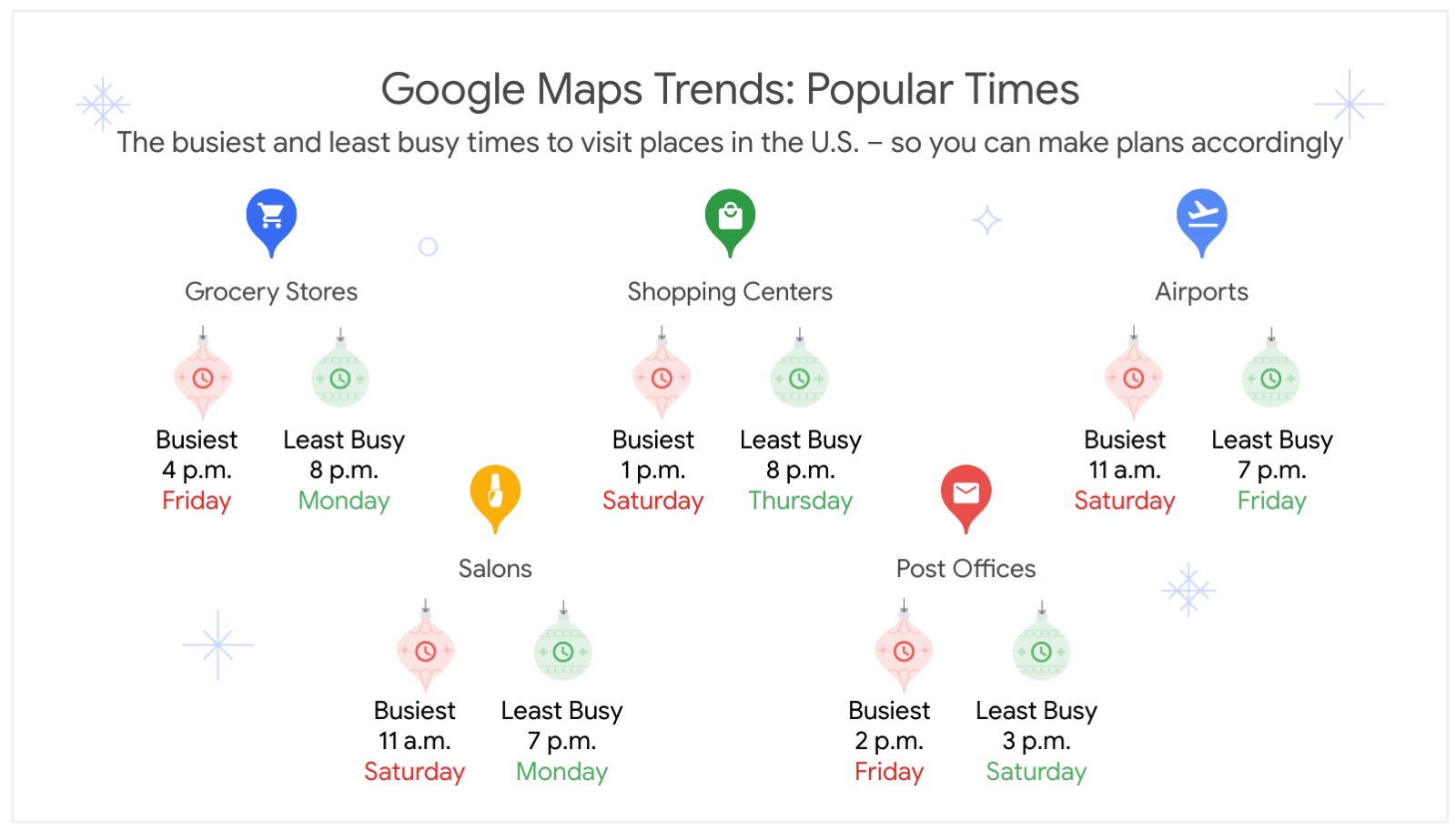 Airports: US airports are at their business Saturdays at 11:00 AM. The best travel times are Friday at 7:00 PM and Monday at 3:00 PM.
Bakeries: The longest wait is on Saturday between 10:00 and 11:00 AM. I guess we know where the people who don't fly at this hour go. Monday at 9:00 AM is your best bet to avoid crowds.
Grocery Stores: You'll get the biggest lines on Friday at 4:00 PM. It's the least busy on Monday at 8:00 PM.
Post Offices: People rush to the post at Saturday around 3:00 PM. But it's a lot better on Friday around 2:00 PM to get your shipments sent.
Shopping Center: With malls, you have everything in one place, so it's easier to shop. You'll want to hit them on Thursday at around 8:00 PM. You should avoid them on Saturday between 1:00 and 2:00 PM.
Needless to say, these trends can't possibly apply everywhere, no matter how good AI might be. But you can always check local stores in Google Maps to see more detailed stats about how busy it can get.