Google is slowly rolling out a brand new Google Maps feature that should further improve your real-time navigation experience: The app will now tell you whether there's parking available at your destination.
If it sounds familiar, that's because we learned back in August last year that Google Maps was working on making it easier for Google Maps users to find a parking spot. The feature, Android Police reports, has finally started showing up for more users who are on Google Maps v9.44 beta.
As seen in the images above, Google Maps will mark parking availability with a small rounded P icon next to your route duration estimate. Parking availability has three levels, including easy, medium, and limited — the limited level comes with a red P icon that should give you a visual warning that you might not find a parking spot at your destination.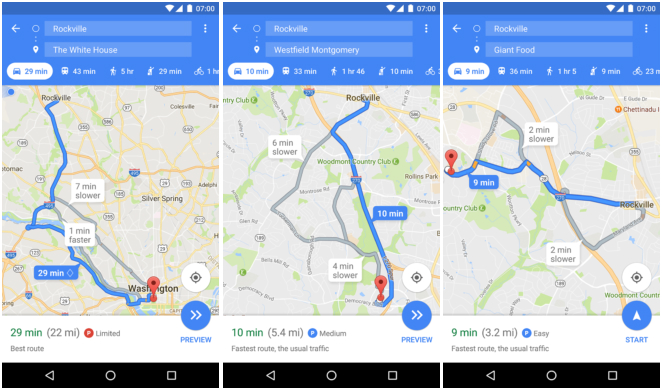 Android Police says that parking availability will show up for public destinations including malls, airports, and other attractions, assuming you're running the same beta version, and that your area is covered.
It's likely Google will gradually expand it to more markets and bring it to the stable versions of its mobile Google Maps apps. However, there are no official details about it. It's not clear how it works, or where Google gets the data from. In case you were wondering, Google is also using location data from you to help it predict real-time traffic conditions along your route. So the parking feature might also have a similar component in it — but this is just speculation at this point.
Meanwhile, if you want to test out the feature, you have to get on Google Maps v9.44 beta for Android and hope that your area is supported.