If you want to buy a foldable phone right now, you should check out the ZTE Axon M (above). Unfortunately it happens to be one of the ugliest phones the world has ever seen. Samsung may be the first company to launch a foldable phone that's truly exciting, although we haven't seen any design leaks just yet. Samsung proved it can design good-looking smartphones, so there's hope that the Galaxy X will look a lot better than the Axon M. What we do know so far is that Samsung already confirmed the existence of the handset, which may soon see a limited release.
But Samsung isn't the only company toying with foldable smartphone designs. That's right, it looks like Apple is making its own foldable iPhone.
A report a few weeks ago said Apple is working on a revolutionary iPhone design that's so secret it had to partner with LG instead of Samsung to develop its screen. Why? Because Apple is understandably afraid that Samsung will steal the design.
The report said this mysterious iPhone will debut in 2020 at the earliest, and will offer users a foldable OLED screen in a brand new design. The iPhone X has a foldable display as well, but it folds at the bottom and can't be seen while using the phone — this is the trick that makes possible the edge-to-edge screen design, since Apple is able to hide the display controller at the bottom of the panel.
Getting back to the report in question, it also said that this new iPhone itself may be foldable.
Fast-forward to Thanksgiving Day 2017, and you can read this new patent application that describes an Electronic Devices With Flexible Displays. Apple filed the patent on September 22nd, 2016, which means it's a relatively new invention.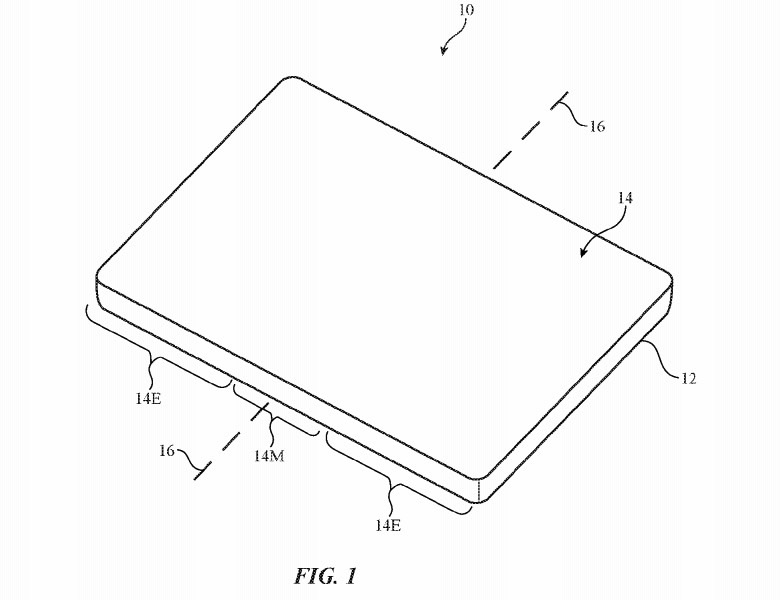 As you can see in the schematic above, a foldable iPhone would have an all screen design (14, 14E, 14M) that would bend around an axis (16), with a central flexible display area (14M) separating two screen halves that may be flat (14E).
Such a device could bend so that the 14E screen areas would face each other, or away from each other. Should both modes be available to users, then a foldable iPhone may be used as a regular iPhone with displays on both sides, or like a smaller iPad with an available laptop mode, of sorts.
The patent application mentions micro-LEDs as the potential display technology to be used by such a device, which is an interesting detail considering that reports already say that Apple is exploring micro-LED display as a replacement for LCD and/or OLED screens.
Even though Apple is already patenting technology ahead of its future foldable iPhone X successors, there's no telling whether the innovations described in this particular document will be used for actual Apple devices. After all, Apple cooked up several ways to place a fingerprint sensor under the display of a device, and it looks like those patents aren't coming to the iPhone anytime soon.
While we wait for a foldable iPhone X, Samsung may soon unveil its Galaxy X and share its own vision of foldable screens with the world.