The new iPhone X represents the biggest design shift in Apple's iPhone lineup since the original model was released a decade ago. The company's tenth-anniversary iPhone ditches the iconic home button in favor of a nearly all-screen design, and it's also the first iPhone ever to feature an OLED display rather than an LCD displays. Apple's move to OLED screens is long overdue, and the iPhone X is just the first in a long line of iPhones that will sport the newer screen technology.
OLED screens are also believed to play a huge role in an upcoming iPhone design shift that is even more radical than the iPhone X. Interestingly, however, Apple is believed to be ditching its current display supplier — Samsung Display — as it works on this exciting new design. Why? It's not a question of display panel quality or technology. Instead, Apple is reportedly afraid Samsung Display will steal its ideas and pass them along to Apple's top rival, Samsung Electronics.
Samsung and Apple have a long history, as anyone who has been following the smartphone industry over the years knows all too well. Back in 2011, Apple filed the first in a long line of lawsuits claiming that Samsung was infringing its patents and stealing its software and hardware designs.
Apple's claims were of course entirely true. Samsung fans will deny it until they're blue in the face, but facts are facts and Samsung rose to the top of the smartphone industry thanks in large part to its efforts to copy Apple as much as possible. Documents exposed during the court proceedings prove this. Just one example is the 132-page document Samsung created to help its engineers copy the iPhone pixel by pixel. You just can't make this stuff up.
The companies went back and forth with lawsuits for years, and in the end Apple was awarded massive damages in excess of $1 billion. Those damages were then reduced time and time again during the appeal process, and now Apple and Samsung seem to have moved past their differences. Sort of.
To Apple, Samsung has become a necessary evil. The company is one of the world's largest suppliers of consumer electronics parts, and Apple has no choice but to use Samsung for many of the components needed for its iPhones, iPads, and Mac computers. One such example is the new OLED screen in the iPhone X; only Samsung Display is able to meet Apple's volume and quality demands.
According to a new report, a new type of OLED display will play a major role in the near future in the most radical iPhone redesign the world has ever seen. But these exciting new screens apparently will not be supplied by Samsung Display.
South Korean market news site The Investor reports that Apple has already begun work on a new type of iPhone that could debut sometime in 2020 or later. The new handset will supposedly utilize foldable OLED display panels, which isn't exactly a surprise. The screen inside the iPhone X is foldable as well, and Apple makes use of the tech by folding the bottom of the screen so that it's able to hide the display controller and extend the usable portion of the display all the way to the bottom of the phone.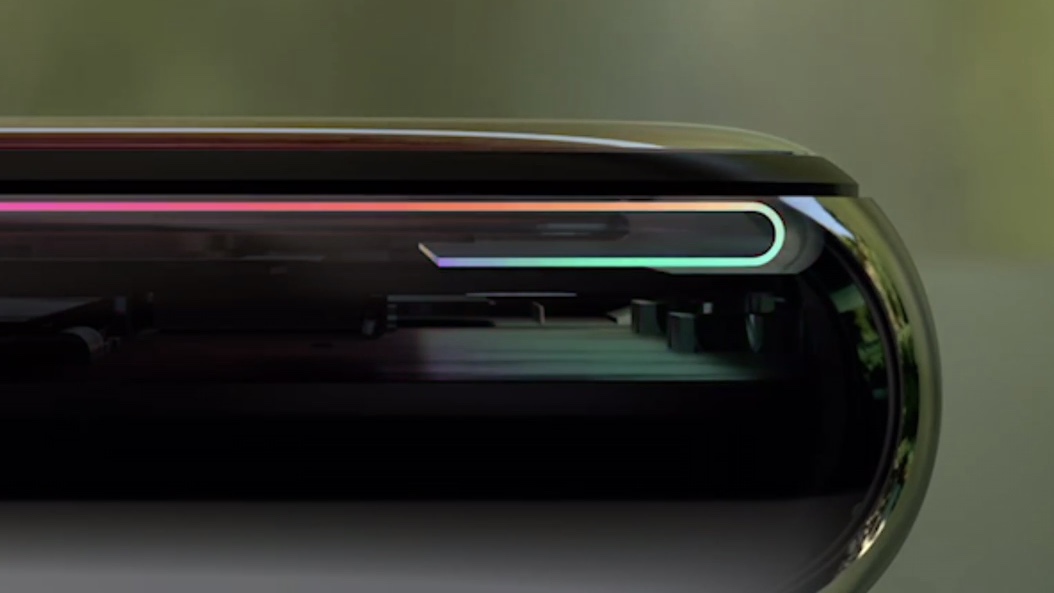 In the case of this mysterious new iPhone Apple is said to be developing for the future, however, the foldable OLED panel will be used in a different way. According to the report, which cites a separate report from Korean-language news publication The Bell, the iPhone itself may be able to fold.
Samsung is expected to release its first foldable smartphone with a flexible OLED screen next year, but Apple apparently has something special brewing behind closed doors. In fact, it's so special that the company supposedly thinks Samsung Display will steal its ideas and pass them off to Samsung Electronics, so Apple has turned to Samsung rival LG Display to help develop this new OLED screen technology.
"LG Display recently created a task force to develop a foldable OLED screen for the new iPhone model, while its parts-making sister firm LG Innotek has also setup a team dedicated to developing the rigid flexible printed circuit board," the report claims.
It's unclear exactly what Apple's plans are for a potentially foldable iPhone, but they must be pretty intriguing if the company feels it needs to dump its current OLED screen provider in order to keep the plans a secret.