Who buys a $600 tablet? No one really seems to know. It's a weird mix of people who don't want to own a laptop, business travelers who voraciously consume email, hardcore artists, and people who just like nice things. That's the understanding you get looking at the Galaxy Tab S3. It's a tablet designed to be all things to all people, and for the most part it delivers.
It has one of the best screens I've ever seen on a consumer-level mobile device, period. The stylus is slim and a genuine pleasure to use. Battery life is sufficient that when I roll over, pick it up, and fire up a movie, I don't have to go find a charger.
But I think Samsung's tried too hard here. Occasionally, the design just doesn't make sense. Bad software makes some simple tasks infuriatingly hard. It goes most of the way to replacing a laptop, but the last 10 percent is so frustrating. It's partly Samsung's fault; mostly, it's a problem the fact that tablets in general, and Android tablets in particular, are having a real identity crisis.

So what about the Galaxy Tab S3 in particular? Well, let's start with the good, and with a tablet, there's no better place to start than the screen. The Tab S3 is sporting a 9.7-inch AMOLED display with a 1536 x 2048 resolution.
It's more than enough pixels that everything is crystal sharp, and the screen itself is genuinely stunning. Blacks are, uh, extra-black, the contrast is great, and colors are vibrant and rich. I know those terms get thrown around a lot when describing screens, but this genuinely has to be seen to be believed.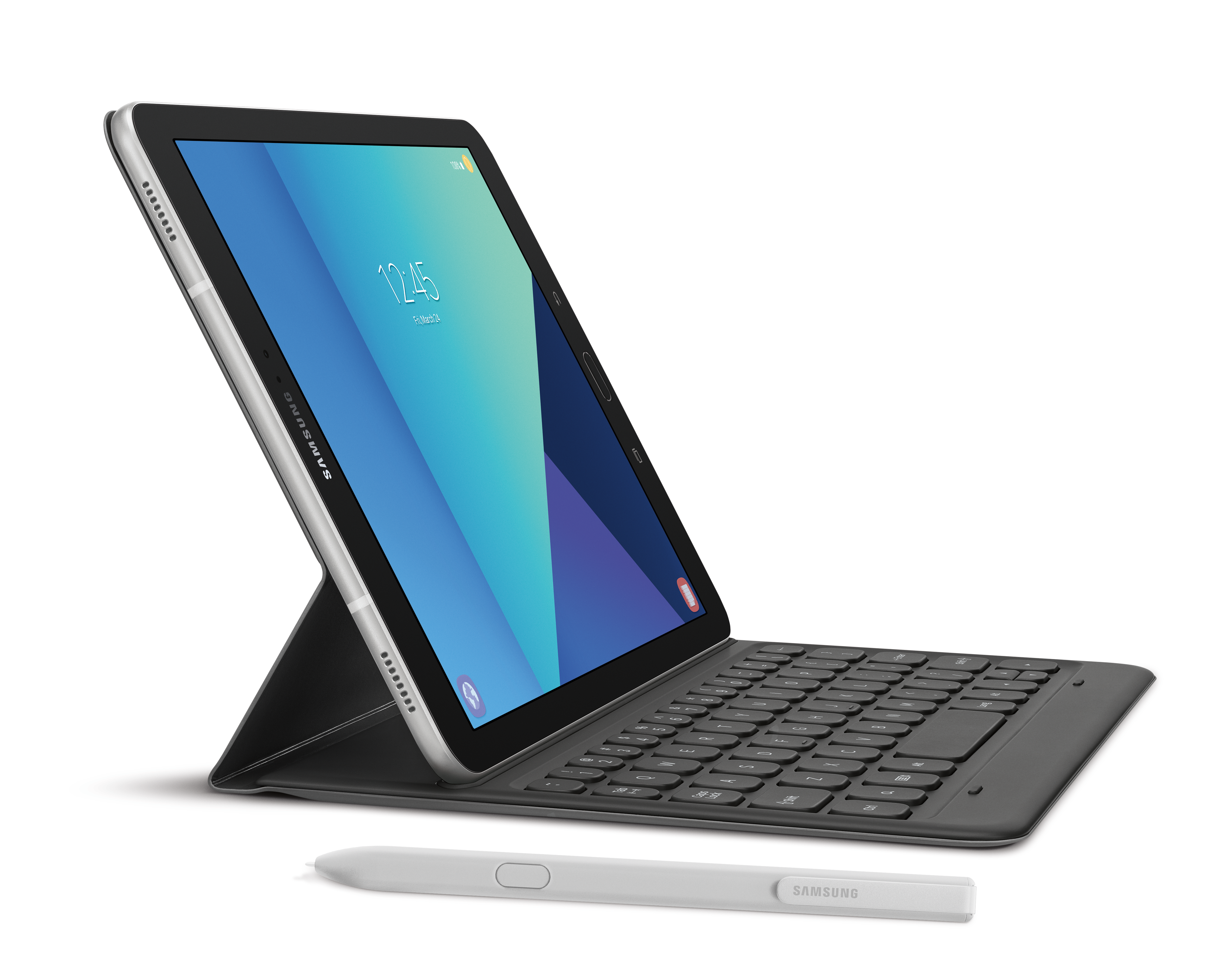 Messing around with a coloring app is a real pleasure, and not just because of the stylus. The colors have punch and power but also the subtlety you need when you're trying to find just the right skin tone for a portrait. Without wanting to sound all gushy, it's the first time in a while that a piece of technology has really given me an interest in something (drawing) that I basically wrote off in sixth-grade art class.
Holding onto that screen is also a good experience. The Tab S3 still has bezel, but I feel like it's just enough that you can hold the tablet without encroaching on the screen. On the back, there's a glass pane that makes this feel less like a tablet, and more like an oversized Galaxy S7. It's easily thin and light enough to hold in one hand, and overall has a literal wow factor. Hand it to someone without the case, and they'll literally say "wow."
About that case. Samsung provided a keyboard case, which it sells as an optional extra, but you'll probably want to buy to protect your shiny new fondleslab. It has a magnetic back cover, a keyboard, an attachment for the stylus, and a physical connection for the tablet to make the keyboard work, so it doesn't require a Bluetooth connection or separate charging.
Typing on the keyboard is about as pleasurable as using any 10-inch keyboard: not perfect, and requires a learning curve, but miles better than the on-screen keyboard. Paired with the stylus, it's a good system for churning through emails, Word docs, and other "business things" that I'm reliably informed real adults do.
You can keep doing that stuff all day, thanks to the battery that Samsung put inside. It has a 6,00mAh battery that doesn't explode and lasts for a good 10 hours of movie watching, which you could stretch to 12 if you dim the screen and save battery. Charging is handled at speed through the Galaxy Tab S3's USB-C port. A frustration with older tablets that charged via microUSB was the lethargic charging speed, but there's none of that here.
When it comes to fun stuff, the Tab S3's hardware also delivers. Gaming is fun, thanks to the crisp screen and light weight, plus you can use the stylus for pinpoint accuracy in games that were designed for touch control.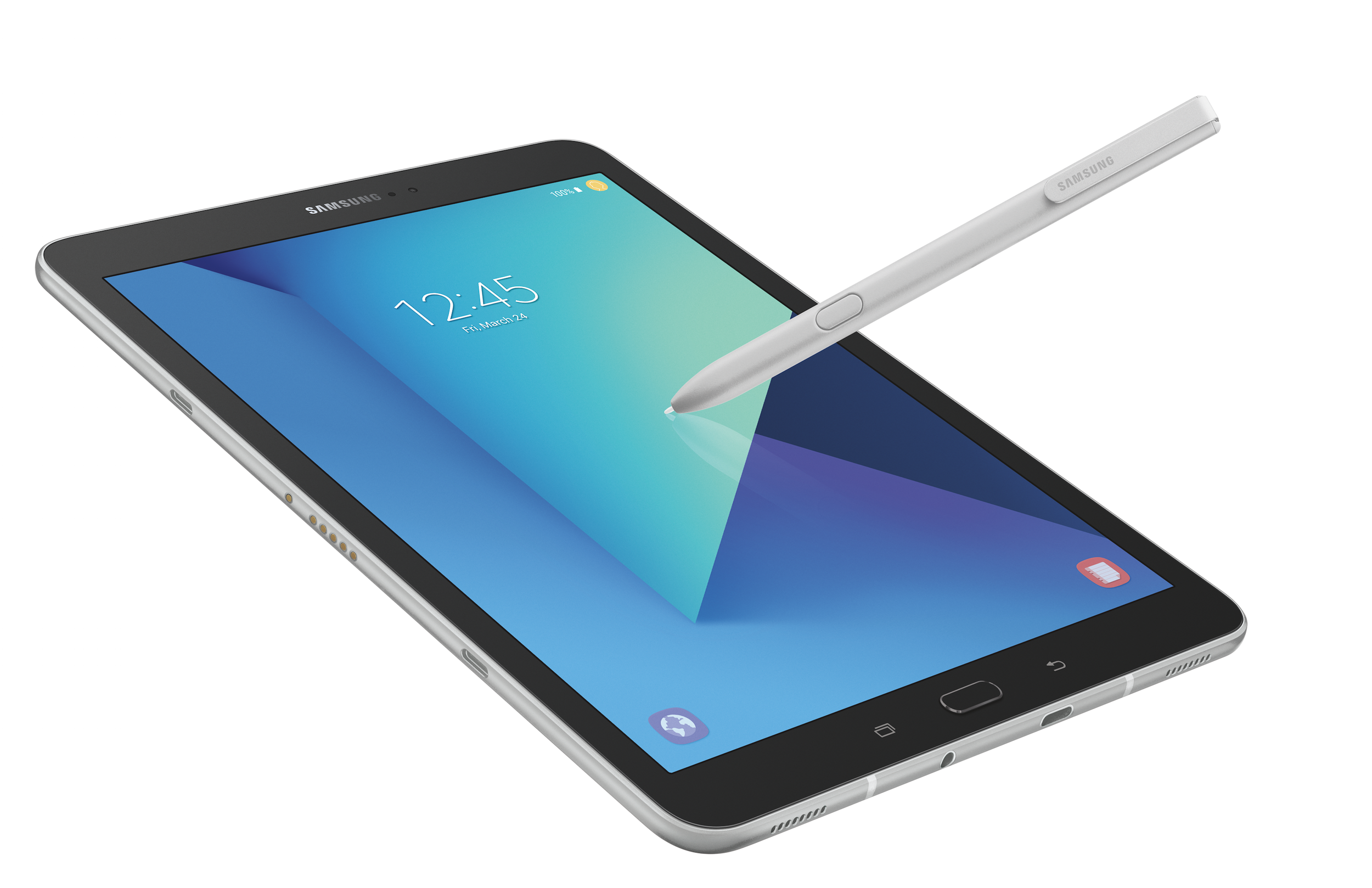 Movie-time is a mixed bag, and here's where we're going to start running into flaws. The keyboard case puts the screen a little too far back to enjoy while lying down, and a little too upright when you're sitting down (or on a plane). The screen's 4:3 aspect ratio is great for web browsing, but up close and watching a movie, the black bars get distracting.
The software is even worse, and this tablet's real problem. Samsung has its own custom version of Android on this tablet. It's similar to what you get on a smartphone, but it just doesn't feel right on a tablet.
An example: changing the screen brightness mid-movie, something that you're likely to do all the time, requires a bunch of tapping. You have to swipe down to get the quick access menu, hit the (tiny) Settings button, go to the Settings app, choose Display, and then change the brightness. It sounds like a tiny niggle, but compared to the quick-access brightness on an iPad or the brightness buttons you get on most laptops, it feels like a real chore.
It's just an example, but this tablet is littered with stupid glitches and half-baked design choices. The worst is that every time you disconnect the tablet from the keyboard cover (which just requires the tiniest nudge — it's only connected when you have it deployed in typing mode) the tablet locks. Maybe there's a setting somewhere to disable this, but I couldn't find it for the life of me, because the Settings app is a mess of menus.
There are good things in the software. Samsung's optimizations for tablet life, like the quick-access menu when you press the stylus button, are a godsend. Split-screen mode is welcome and cleverly designed, with options to resize windows to take up a particular amount of screen area, and the button that lets you annotate anywhere, on any app, is perfect.
But overall, it's just frustrating. A lot of this is the fault of Android itself: basic apps like Twitter don't make full use of the tablet's screen size, and it feels like you're using a smartphone, but everything is five times bigger. Notifications are still a mess and disturb you in the middle of working, and the fight between Samsung and Google (all of Google's apps are bundled, but Samsung's apps are also there, leading to some weird duplication) is unfortunate.
This tablet should be perfect. The Galaxy Tab S3 does all the hard things right: a stunning screen, good battery life, impressive physical design and a stylus that's actually been thought about are all crucial parts of a great machine, and Samsung's done those things well.
But repeated software glitches, a terrible keyboard case and a dose of bad luck just doesn't make the Tab S3 a good buy. For people who are after a tablet for work, the newly-announced 9.7-inch iPad is just as good, and a lot cheaper. With its screen and processor, the Tab S3 is the best tablet around for movies and gaming, but $599 is a painful amount of money to spend on a dedicated Netflix machine.