You shouldn't expect an early Galaxy S9 launch early next year, a new report says, seemingly putting to rest rumors that said Samsung will unveil its next big thing at CES in early January.
Apparently, Samsung isn't that afraid of the iPhone X anymore, which is why the company decided to revert back to regular schedule for the Galaxy S series.
According to The Bell, Samsung did consider an early Galaxy S9 announcement event to counter the iPhone X. Samsung wanted to both take advantage of Apple's rumored iPhone X supply issues, the report notes, but also to prevent sales losses of its own flagships.
However, Apple's ability to ramp up iPhone X production, and the fact that Galaxy S8 sales were not significantly affected by the iPhone X's arrival, convinced Samsung to dial back the Galaxy S9's early launch preparations.
The report explains that Samsung would have the ability to unveil the Galaxy S9 in January and have it in stores by February, as component production is already underway. But Samsung feels there's no need to launch it early.
The Bell says the Galaxy S9 should be unveiled at a press event in Barcelona, Spain, on February 27th Korea time. That would mean the actual launch would take place a day earlier, due to time zone differences, if the report is accurate. The Bell also included the following spreadsheet that includes the announcement dates and launch dates for every Galaxy S and Galaxy Note model since 2014: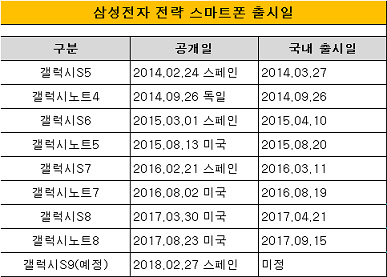 However, MWC 2018 debuts on February 26th and Samsung usually unveils its products a day before the trade show starts. That's what the company did with previous Galaxy S launches, except for the Galaxy S8 which saw a late March 2017 introduction. So a February 25th Galaxy S9 press conference would make more sense.
The phone should hit stores in March, if this report is accurate, which would be regular schedule for Samsung's Galaxy S line.