Last year when SquareTrade performed its standard breakability tests following the Galaxy S8 and Galaxy S8+ launch, Samsung fans got some bad news: no phone had ever performed worse in the company's tests. Samsung's design featured glass on both the front and back of the phones, and it turned out to be the most fragile construction we had ever seen. That's exactly why Samsung decided to step things up in 2018 with the Galaxy S9 and Galaxy S9+. In meetings ahead of the phones' official debut, Samsung representatives stressed that the new Galaxy S9 models featured stronger glass on the front that was 20% thicker than the glass used on the Galaxy S8 last year. What's more, they said the phones also utilized much stronger 7000 series aluminum than the metal in last year's flagship phones.
Did those changes pay off? Are the Galaxy S9 and Galaxy S9+ flagship smartphones that were just released this past weekend really less prone to breaking than last year's Galaxy S phones? SquareTrade put Samsung's new handsets through the paces in its professional breakability tests, and the results were not good news for Samsung fans.
Did you buy a new Galaxy S9 or Galaxy S9+ over the weekend? Do yourself a favor and buy a protective case. Immediately.
SquareTrade is a third-party gadget warranty provider, so it obviously has a vested interest in showing how fragile popular new smartphones really are. That said, the company's breakability tests are far more scientific than all the amateur drop tests we see YouTube gadget reviewers post when a new phone launches. While YouTubers typically drop phones by hand in an effort to gab views, SquareTrade takes its time and uses professional equipment to put multiple handsets through its battery of tests. As a result, we can see how durable new smartphones are in a range of different scenarios.
So, how did the Galaxy S9 and Galaxy S9+ fare in SquareTrade's breakability tests? Not well. Not well at all.
The good news is that both the Galaxy S9 and Galaxy S9+ performed better in SquareTrade's tests than last year's Galaxy S8 and Galaxy S8+. The bad news is that the difference was marginal.
SquareTrade grades phones on a scale of 0 to 100, where 0 is indestructible and 100 is the highest possible risk of breakability. As such, a lower score is better in the company's tests. Handsets are scored in eight different categories, and then those scores are averaged out to give a final "breakability score."
In 2017, the Galaxy S8's breakability score was found to be 76 and the Galaxy S8+ got a 77. At the time, those were the two worst scores the company had ever rated any phones. This year's Galaxy S9 showed the most improvement over its predecessor, managing an overall score of 71 — a five point improvement. The Galaxy S9+, on the other hand, only improved by one point for a final breakability score of 76.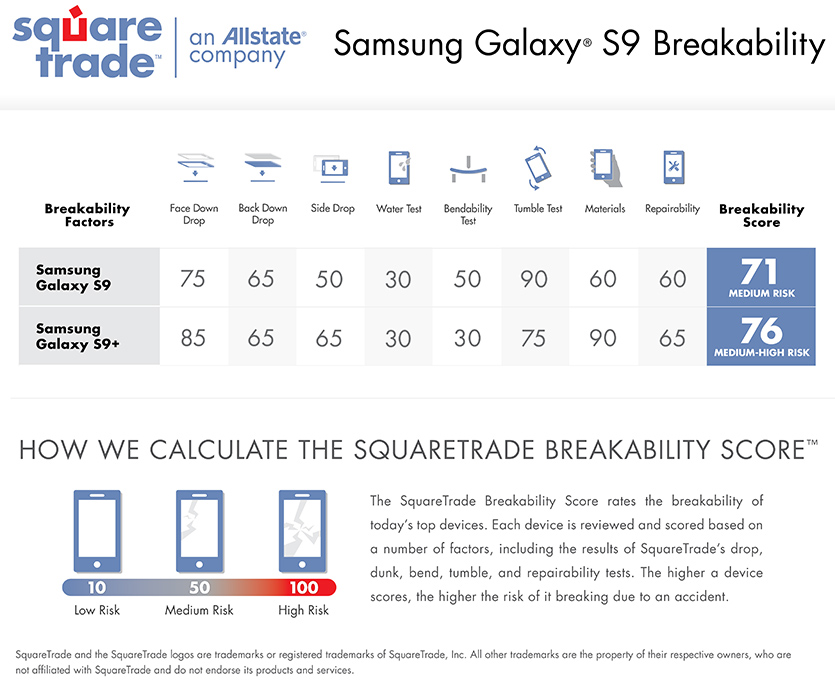 "With the Samsung S9 and S9+, and the iPhone X last year, we're continuing to see a trend of beautiful all-glass designs that come with a high price tag and high risk of damage from drops and mishaps," SquareTrade VP Jason Siciliano said. "Our tests and claims data show that even when in cases, they still experience damage. So, while water resistance has improved across the board, all of that glass means that durability has actually gone backward over the past year."
Here are some of SquareTrade's key findings, which were shared in a press release:
Face Down Drop Test: It was a crash landing for the S9 and S9+ on their first face down drop, with both phones suffering extensive damage across their screens. However, they were missing the sharp shards of glass that were seen during last year's tests on the S8.
Side and Back Drop Tests: A big difference from the S8 was the result of the side drop test. The S8 shattered on both its display and back panels, while the S9 was only damaged on its back panel. However, during the back drop test, the S9's back panel completely shattered, which is in line with last year's model.
Tumble Test: Although their thicker glass held up a little better to repeated impact simulated by the tumble bot, there was still considerable damage on both the display and back panels of the S9 and S9+.
Repairability: SquareTrade's Master Technician reported that the S9 and S9+'s repairability didn't improve from the previous generation, noting difficulty in removing its back panel and preserving its LCD display, which techs could break and have to replace.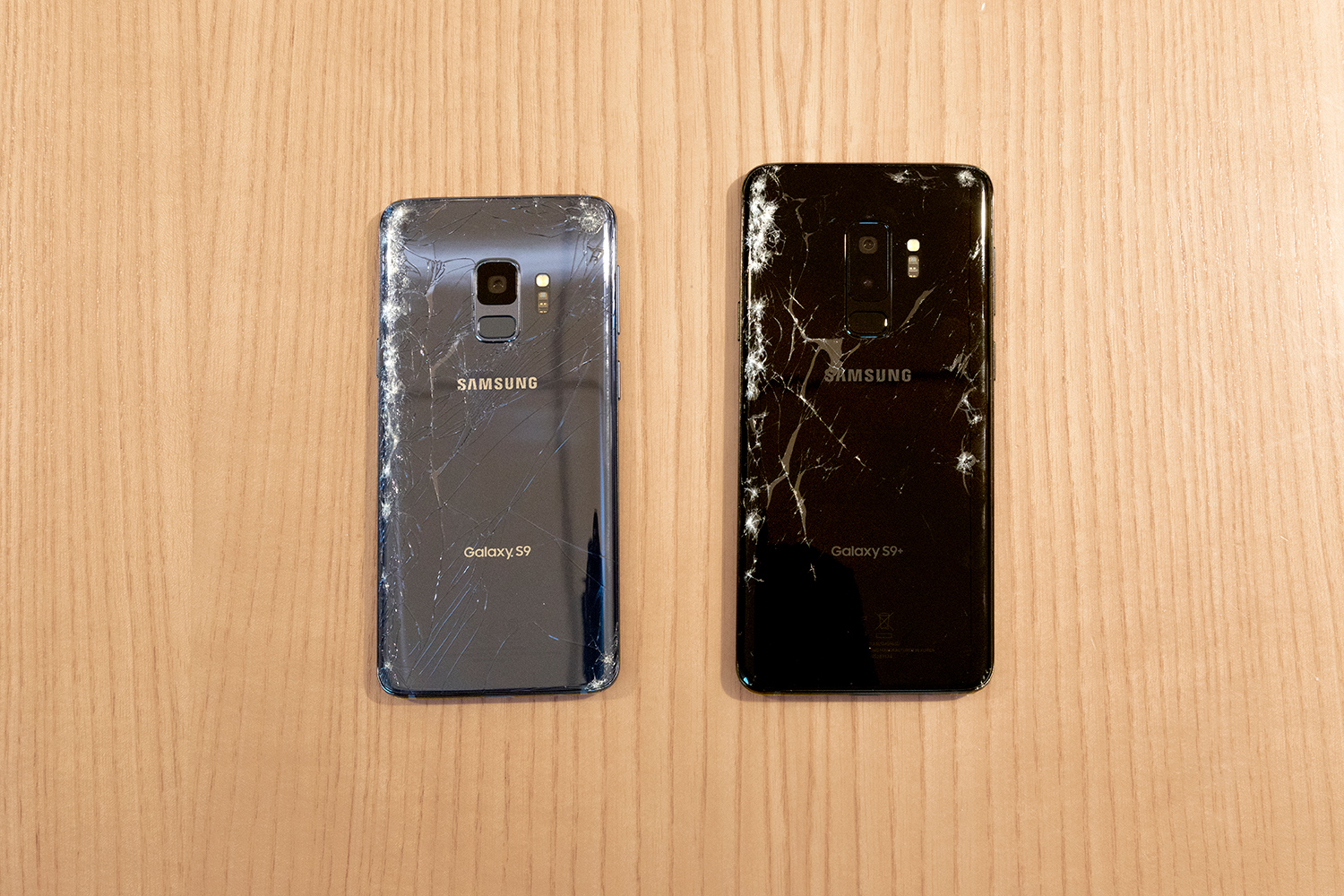 So, what are the key takeaways here? Samsung's new Galaxy S9 and Galaxy S9+ will almost certainly break if you drop one and it's not protected by a case. What's more, a case might not actually save either phone in certain circumstances, which means getting a high-quality case is of the utmost importance. It's clearly no coincidence that Samsung began offering a same-day Galaxy phone repair service just as the Galaxy S9 and Galaxy S9+ were released.
Below, you'll find a video from SquareTrade showing Samsung's Galaxy S9 and S9+ as they go through a variety of breakability tests.