Samsung announced the Galaxy S8 during a press conference on Wednesday, revealing two phones that we already knew were coming. If you had been following the avalanche of Galaxy S8 leaks that preceded the event, then you probably knew everything there was to know about the phone. However, some little details were somehow kept secret until the event, and that includes details on battery life.
The Galaxy S8 will represent Samsung's biggest test following the Galaxy Note 7 debacle. The company emphasized that its new battery testing procedures should prevent future accidents, and it revealed that the Galaxy S8 and Galaxy S8+ will have the same battery as their predecessors, at least when it comes to capacity.
However, Samsung developed a new battery technology that will significantly diminish battery degradation. According to Android Police, the new batteries will be able to preserve about 95% of their original capacities after a year of typical use. The Galaxy S7's battery only keeps 80% of its original battery capacity after a year.
Samsung didn't explain this particular feature, but it's certainly an exciting one.
But there's also "bad" news when it comes to the Galaxy S8's battery life. Phone Arena says that the Galaxy S8 and Galaxy S8+ won't offer any meaningful improvement in battery life when it comes to most normal usage.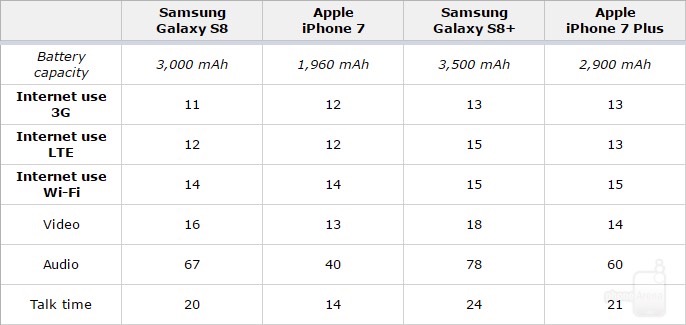 Even though the Samsung phones have bigger batteries than iPhones, they fall short of Apple smartphones in a few key areas, as you can see in the chart above.
What's interesting is that the Galaxy S8 phones' 10nm chips should be far more efficient than the iPhone 7's processor. But while the chip may conserve battery life, other components probably consume more power. The big beautiful Infinity Displays found on the Galaxy S8 and Galaxy S8+ might be the biggest culprits. And although the Android operating system has seen improvements in recent years, iOS is still better when it comes to conserving battery life.
It'll be interesting to see whether Apple's iPhone 8, while is also supposed to pack a 10nm chip, will have better battery life than Samsung's new flagships. Apple's tenth-anniversary iPhone is also rumored to have a big edge-to-edge display and a bigger battery than its predecessors.